K-State Alumni Association announces updates to staff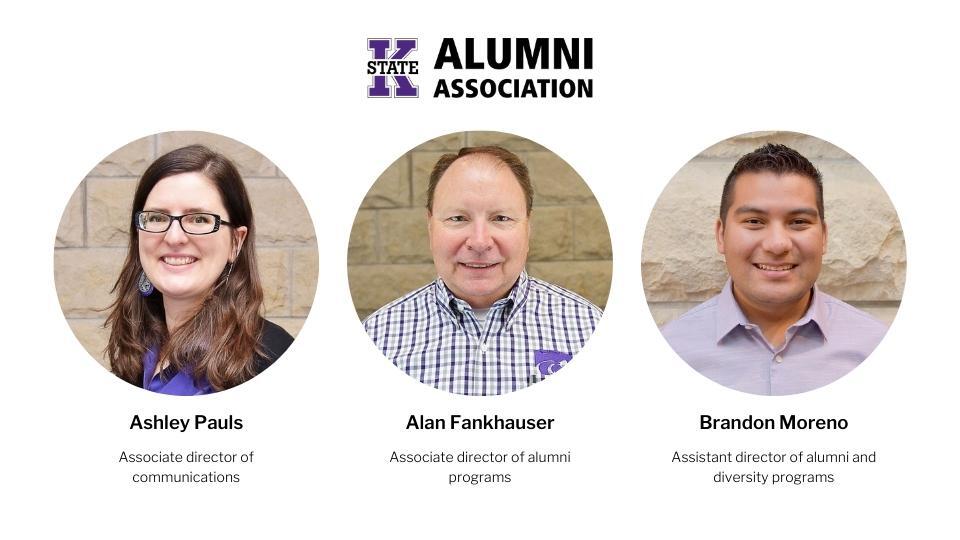 The K-State Alumni Association has promoted two staff members. Additionally, the Association has hired a staff member to oversee diversity initiatives.
Ashley Pauls, who held the title of assistant director of communications, was promoted to associate director of communications. Pauls started with the Association in 2015. She manages and edits the monthly e-newsletter and blog, At K-State, and supports the K-Stater magazine and assists with other communications initiatives.
"Ashley continues to create and develop our digital communications and engagement initiatives," said Amy Button Renz, Alumni Association president and CEO. "She also was the lead creator of the Alumni Association blog while writing and publishing its content. Along with collaborating to create and execute emails, she works with the Association website and the K-Stater magazine."
Alan Fankhauser, who held the title of assistant director of alumni programs, was promoted to associate director of alumni programs. Fankhauser started with the Association in 2018. He works with the programs team in directing in-state and out-of-state alumni club events, along with assisting the K-State Athletics department with planning and coordinating Catbacker Club events and the Junior Wildcats Club.
"Alan has been instrumental in working with Athletics in re-establishing the Catbacker tour this summer with a very successful new format," Renz said. "Alan also was the lead coordinator and liaison for the Alumni Association in scheduling and setting up the very first listening tour for President Linton that has been received with much success by the communities they have visited so far."
Brandon Moreno has joined the Association as assistant director of alumni and diversity programs. Moreno will coordinate activities and sponsorships with multicultural and international student organizations and K-State alumni and work with the Association's diversity and multicultural leadership and service awards. Additionally, Moreno will also be a co-advisor for the Student Alumni Board and coordinate several other programs. Moreno is a graduate of Washburn University with prior experience working for the Kansas Department of Health and Environment, the Ichabod Success Institute and Washburn University. While at Washburn, Moreno served the diversity and inclusion director for the Student Government Association and mentored low-income, high-risk, underrepresented and first-generation students through the Ichabod Success Institute.
"We are thrilled to have Brandon join our staff and lead our diversity initiatives," Renz said. "Additionally, I would like to congratulate Ashley and Alan on their promotions. Their hard work has continually helped the Alumni Association and we look forward to their future successes."
---