K-State Alumni Club awards scholarships to students in the Wichita area
Fifty-one area students have been awarded scholarships to Kansas State University totaling $21,400.
The scholarships were awarded on March 22 by the Wichita Area K-State Alumni Club, K-State Alumni Association, Compton Family Endowment, McCandless Family Endowment, Vanguard Endowment, Trumble Family Scholarship, the Schawe Family and the Frey/Wells Family Scholarship.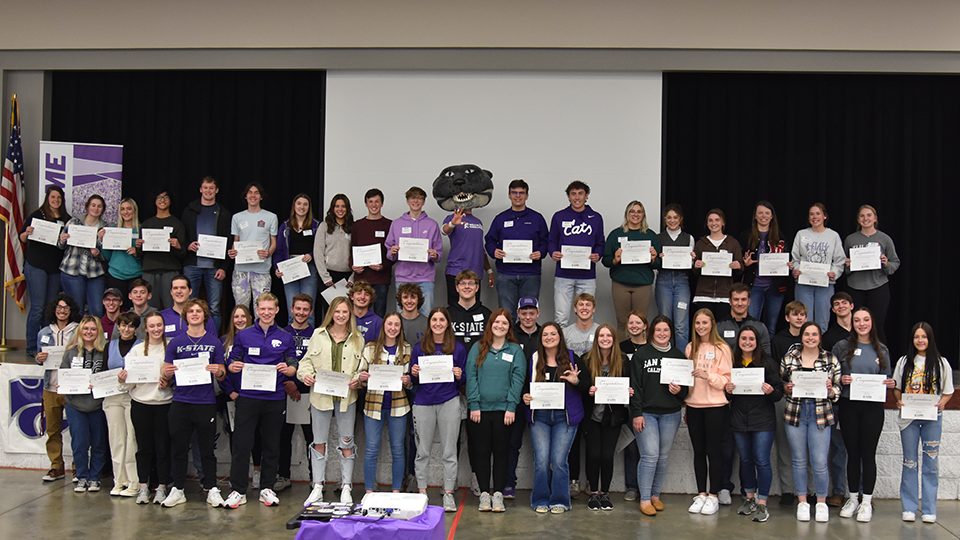 Forty-three students received alumni club scholarships. The recipients are: Mary Meyer, Andale, Kansas; Kayla Schroeder, Andover, Kansas; Jacob Dieter and Reese Ratcliff, Augusta, Kansas; Cameron Connolly, Bel Aire, Kansas; Lanie Nelson and Sophie Smith, Garden Plain, Kansas; Jillian Holt-Lofgreen, Maize, Kansas; Laura Doll, Mount Hope, Kansas; Cole Deutschendorf, Newton, Kansas; Jackson Shipley, Norwich, Kansas; Peyton Allman, Austin Alpers, Mackenzie Anderson, Holli Asmussen, Elliott Bise, Eli Bothell, Autumn Carver, Brady Claassen, Caleb Conyers, Kylie Dauber, Jack Elliott, Zoey Ellis, Pedro Garcia, Audrey Hansen, Alex Hoppas, Jake Jackson, Aiden King, Emma Landwehr, Alexandria Martinson, Nathan McPheeters, Josie Morris, Brianna Nece, Hiep Nguyen, Kennedy Pearson, Jasmyn Peterson, Julia Poorman, Cael Sanderson, Braxton Shay, Sarah Sinclair, Lillian Taylor, Sonora Vossen and Anna Wineland, Wichita, Kansas.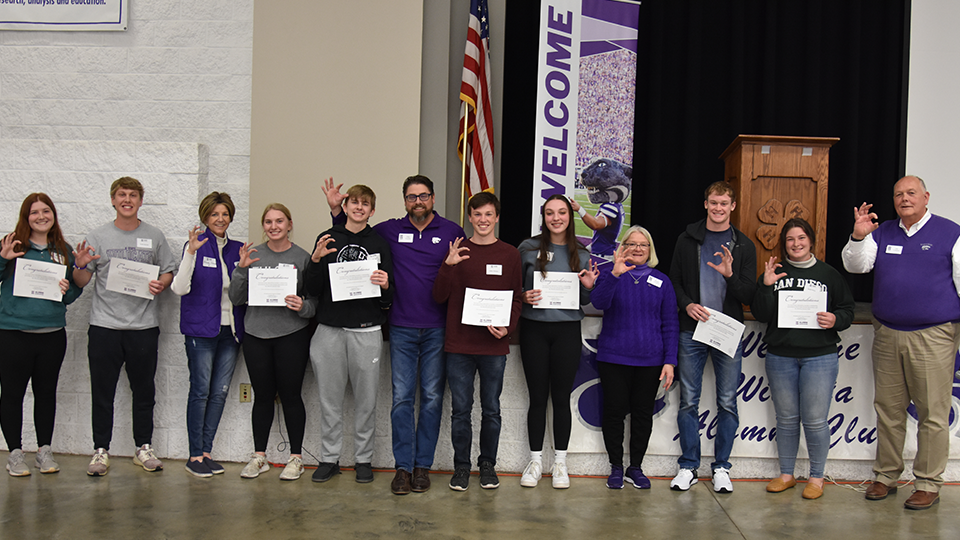 Additionally, Matthew Seiler, Andale, and Heidi White, Wichita, received the McCandless Family Endowed Scholarships; Sophia Schmidt, Wichita, received the Compton Family Endowed Scholarship; Aiden Werner, Wichita, received the Trumble Family/Baird Private Wealth Management Scholarship; Lucas Dexter, Wichita, received the Ed Frey and BJ Wells Family Scholarship; Noah Heeren and Lilly Koehnand, Wichita, received the Schawe Family Scholarships; and Megan Martin, Hesston, Kansas; received the Vanguard Endowment Scholarship.
"We are so pleased to congratulate these outstanding students and are excited to welcome them to K-State," said Amy Button Renz, president and CEO of the K-State Alumni Association. "The Alumni Association and its board of directors are committed to helping prospective students attend K-State. We greatly appreciate local alumni and friends who have helped make these scholarships possible through their loyal support."
There are approximately 15,000 K-State alumni and friends in the Wichita area.
The scholarships are for the 2022-23 academic year. The Alumni Association annually awards approximately $550,000 in student scholarships with funding provided by local K-State alumni and friends and Alumni Association programming.
---