K-State students select 2023 Student Ambassadors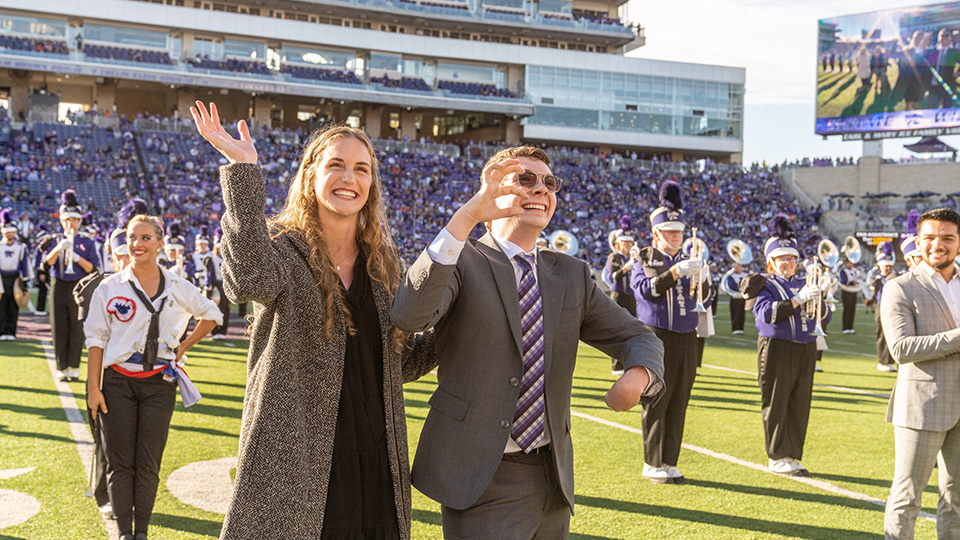 Two students have been chosen to represent Kansas State University as the 2023 Student Ambassadors.
Ethan Brown, junior in marketing, Salina, Kansas, and Elle Eilert, junior in mathematics and secondary education, Beloit, Kansas, were announced as the ambassadors Oct. 29 during halftime of K-State's Homecoming football game against Oklahoma State University.
Established by the K-State Alumni Association in 1977, the Student Ambassador program elects two students each year to represent the student body at Alumni Association events throughout the state and at university activities.
Brown and Eilert will visit with prospective students and alumni; attend Student Alumni Board meetings and activities; assist with programming on campus such as the Alumni Fellows program, All-University Homecoming Committee and other special events; and assist the President's Office as needed.
They were elected during Homecoming Week by a student vote from a group of six semifinalists. The ambassadors serve a one-year term, and each receives the Kirk Family Student Ambassador Scholarship of $2,500, clothing from Manhattan clothing store Borck Brothers and an official K-State ring from Balfour and the Alumni Association.
Typically, ambassador candidates excel academically and are extensively involved in volunteer and philanthropic activities. Brown and Eilert are role models for these qualities.
Brown is a member of Delta Chi fraternity. Additionally, he serves as campus access director for Student Governing Association and as vice president of allocations for Student Foundation.
"Kansas State is a university for everyone," Brown said. "It doesn't matter where you come from or what your physical or financial limitations are, I believe Kansas State is the place for you and can provide the best education and inclusive community. K-State welcomes us wherever we come from, which is why we remember K-State wherever we go."
Eilert is a member of Gamma Phi Beta sorority. Additionally, she serves on the Student Opportunity Awards Committee for Student Foundation.
"I have loved my time at Kansas State, specifically the community and experiences it has given me," Eilert said. "There is nowhere like it, with opportunities of a large university but the experiences of a tight knit community. I truly believe there is something for everyone here, and I can't help but want to share that with those that I encounter."
"Like their predecessors, Elle and Ethan show great pride in our university," said Alan Fankhauser, associate director of alumni programs and adviser to the ambassadors. "The Alumni Association is excited to host them at our upcoming events for the year. We look forward to when they can meet more of our Wildcat Community."
For more information on the Student Ambassador program, visit k-state.com/studentambassadors.
---