K-State license plate now available in Oklahoma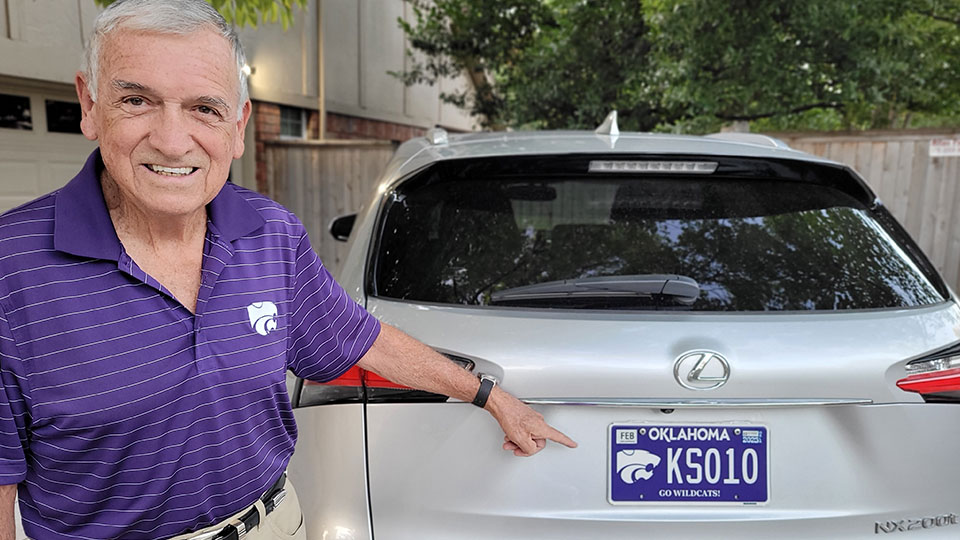 Calling all K-Staters in Oklahoma: you can now rep purple pride on your vehicle. The state of Oklahoma has officially started issuing K-State license plates.
Oklahoma already has 200 K-State plates on the road thanks to the loyal K-Staters who participated in the pre-paid campaign to take the plates statewide. These purple plates feature the Powercat logo and help the K-State Alumni Association spread Wildcat pride and raise money for student scholarships.
The first-year fee to get a K-State plate is $40. Following that K-Staters will pay $36.55 to have the specialty plate along with their annual tag and registration fees and taxes at renewal. Of that fee, $20 will go to the K-State Alumni Association and this money will help provide scholarships to K-State students from the state of Oklahoma.
"Thank you to the many loyal Wildcats whose support has allowed us to bring the K-State plate to Oklahoma," said Amy Button Renz, president and CEO of the K-State Alumni Association. "Through your display of Wildcat pride with a K-State license plate, we'll be able to provide students from Oklahoma with K-State scholarships. The Alumni Association would also like to thank the state of Oklahoma for their efforts to make this possible."
Since the license plate program began in 1996, the tax-deductible royalties paid on K-State license plates have raised more than $6 million for student scholarships and recognition of achievements. The program has issued plates in four states: Kansas, Maryland, Texas and now Oklahoma. There are currently more than 11,000 K-State plates on the road in those states combined.
To learn more about the license plate program or to purchase a plate, visit k-state.com/drive.
---