K-State fans share favorite bowl memories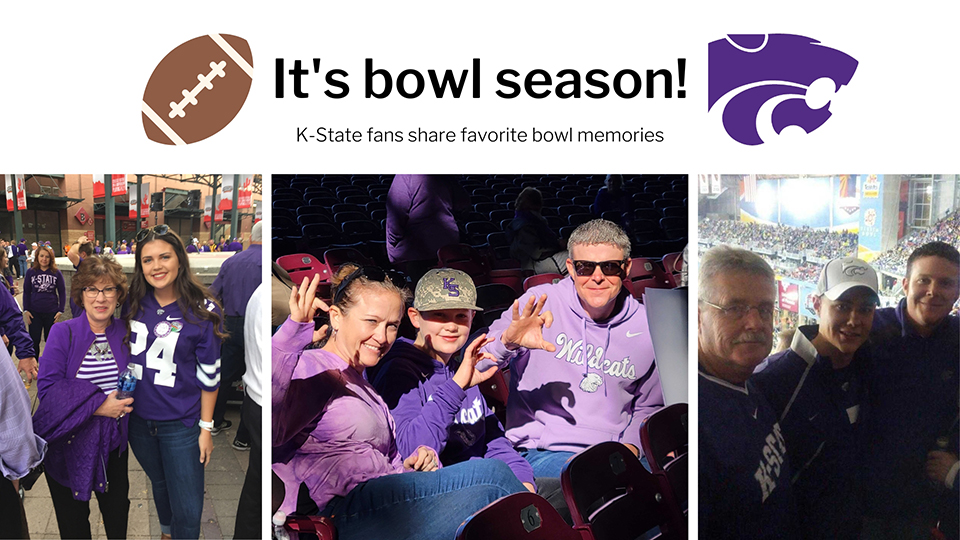 If you're like us, you're already hyped for Sunday's bowl game announcement and finding out where the 'Cats will be playing. While we wait, here are some favorite K-State bowl memories shared by fans. Also, be sure to check out the K-State Alumni Association's bowl page for updates on travel packages, pregame and pep rally events, and more!
Tyler Darnell '03
Attending K-State bowl games with my dad and brothers has been a tradition in our family for many years. Over the past few years, we have carried on the tradition with our own kids and they've attended the games with us. Seeing the players at the pep rally is definitely a highlight and we also enjoy gathering with other fans. It is a lot of fun to see everyone in purple when K-State is in a town for a bowl game.


Phil Stroupe '76, '77
Pat and I have taken part in at least seven bowl games with the K-State Alumni Association. Before the game, the Alumni Association takes care of transportation to pregame events, planned social events and the game. This allows us to relax and socialize with friends. We also like the hotels that the Alumni Association arranges which are usually centrally located and have amenities we enjoy.


Brynnan Norris '22
Growing up, my dad and I attended every home football game and a few away games. When I was in eighth grade, we went to my first bowl game: 2013 Fiesta Bowl against Oregon. It was the most fun and exciting experience to be able to be surrounded by the K-State family in another state and stadium. While the game did not turn out the way we wanted, the atmosphere was unforgettable. From the pep rally to the parade, the whole town of Glendale, Arizona, was rocking with purple.

Since that first bowl game in 2013, my dad and I have been to four others and the K-State family always brings their best. K-State football and bowl games are something my dad and I will always look forward to for the new memories they bring. I am excited to see where the Wildcats go this year as they wrap up another great season!

A special thanks to BriggsAuto.com for sponsoring the K-State Alumni Association's official bowl pregame event.

---