Meet 2022 DYA Award recipient James E. Millsap Jr. '11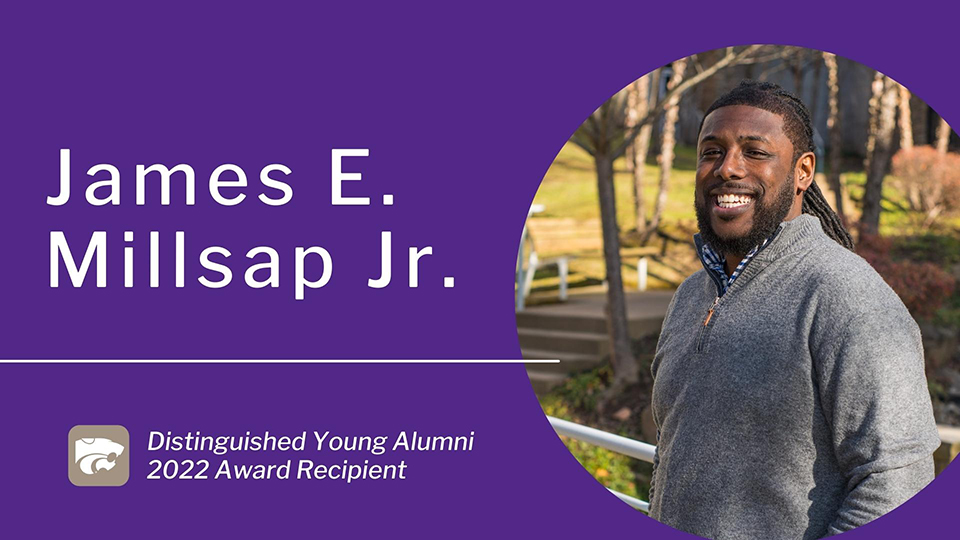 As a first-generation college student arriving on the Kansas State University campus to pursue a degree in agricultural economics, James E. Millsap Jr. '11 knew that one of the first things he had to do was build a "village." He surrounded himself with a community of mentors and peers that could help him learn and grow as a student, and that he could support in turn.

Now, as a manager of inclusion and diversity strategy for DICK's Sporting Goods Inc., he still maintains ties to his alma mater and the village that helped him succeed. This year, he'll be returning to campus as a recipient of the 2022 Distinguished Young Alumni Award.

In its ninth year, DYA recognizes two K-State graduates who are excelling in their professions and contributing to their communities. The program is sponsored by the K-State Alumni Association's board of directors and Student Alumni Board.

"It's a privilege and honor to be selected for an award of this magnitude," Millsap said. "I share this honor with my family, my friends who I made while I was attending K-State, and most importantly I share this with my village who helped me along the way. I wouldn't be where I am today without the network I cultivated while attending KSU, being a student in the College of Agriculture, and maintaining those relationships still to this day."

Get to know James E. Millsap Jr. more in our profile below:


At K-State: What are some of the things you learned during your time at K-State?
James E. Millsap Jr.: My experiences at K-State set the foundation for what would be the life-changing career I'm blessed to be a part of now. I didn't know it at the time, however, working in the Diversity Programs Office of the College of Agriculture was connected to my purpose. Each lesson that I learned from Dr. Zelia Wiley (assistant dean for diversity), Dr. Andrew Barkley (my academic adviser) and Mary Ellen Barkley '00 would be a steppingstone on the path to understanding my power as a student and later in my career.

During this time, I learned to use my life as a class. I learned to use my experience to help others understand inclusion. I learned invaluable concepts about life and leadership while serving in many student organizations. I didn't know it then, but these skills shaped how I showed up to everyone I encounter even today. These ways of interacting with others helped to shape my character and they speak volumes about me before I have to say a word. I will always be thankful for this as well.


How has your K-State experience impacted your career or made a difference in your life?
I was a first-generation college student. I had no one to teach me the ropes, I made many mistakes, I dropped the ball, and with each of those experiences I learned a lesson. I learned that when you approach any new venture, approach it with courage and discipline. You can't practice any virtue without courage. You must have the courage to try, fail, learn and do it all over again tomorrow. That's where discipline comes in, as motivation is fleeting.

These virtues have followed me in each role I've had since I graduated. K-State and my "village" gave me the space and opportunity to lead. And when I failed, those people also gave me the gift of grace to learn from my missteps. I'm grateful to everyone who was and still is a part of that village.


What are your career goals for the future?
I'm excited to be embarking upon a new journey this year that will challenge me to believe in myself. Using those same lessons of courage and discipline to carry my life purpose forward, I'll be starting my own small business dedicated to consulting on diversity, equity and inclusion concepts in practices specifically tied to storytelling. I'm going to help individuals, groups and organizations shape the narrative of what's possible when we're inclusive in company messages, marketing and overall content creation.


What advice would you offer to other young K-State alumni?
1. Find your village. Personal and professional. Sometimes they overlap. Just make sure they can also hold you accountable. And I promise you that accountability will come from a place of love.

2. Life will teach you however you need to learn. My life lessons have always been connected to courage and discipline. What are your life lessons trying to teach you?

3. Following your passion will lead to your purpose. And if you trust this process, it will likely become your profession.
---