Meet 2022 DYA Award recipient Sruthi Narayanan '11, '15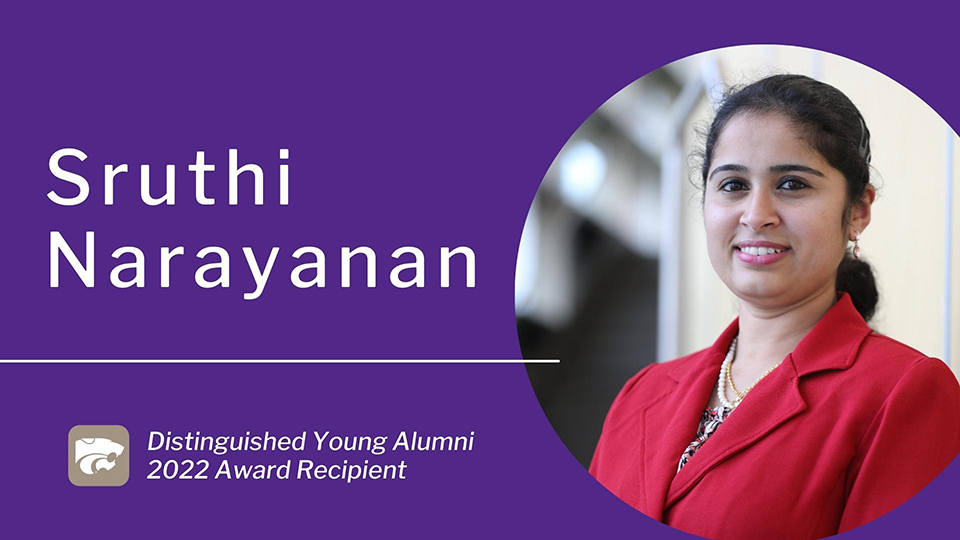 When Sruthi Narayanan '11, '15 was a student at Kansas State University, earning her master's degree and doctorate in agronomy, she remembers listening to talks from Distinguished Young Alumni Award recipients and interacting with them, learning more about their careers and the impact they were making on the world around them.

Now, it's Narayanan's turn to stand behind the podium, as an assistant professor of crop physiology at Clemson University and a recipient of the 2022 Distinguished Young Alumni Award.

In its ninth year, DYA recognizes two K-State graduates who are excelling in their professions and contributing to their communities. The program is sponsored by the K-State Alumni Association's board of directors and Student Alumni Board.

"It is a great honor for me to be recognized by my alma mater," Narayanan said. "More than that, as someone who considers K-State as a second home, I consider this award as recognition by people who are close to my heart. When I was a graduate student at K-State, I was greatly inspired by DYA award recipients' invited talks and interactions, organized by the K-State Alumni Association. That to me was a unique model of what it means to give back to society and make an impact. I am extremely happy and humbled to be one of the recipients of the 2022 DYA Award. I consider this as a responsibility to continue undertaking impactful research and contribute to society through research, education and service."

Get to know Sruthi Narayanan more in our profile below:


At K-State: What are some of the things you learned during your time at K-State?

Sruthi Narayanan: I was a graduate student at K-State during 2009-2015 to pursue my master's degree and Ph.D. in agronomy. During my time at K-State, I learned how a plant scientist can make a big difference in people's lives by addressing two of the biggest challenges in today's world: climate change and global food insecurity. I learned how international collaborations and research spanning across continents are important for addressing the grand challenges. K-State showed me what it entails to be a global citizen. I was always fascinated by the inclusiveness K-State offered. As someone who came from a totally different cultural background, from the other side of the globe, I always felt welcomed by K-Staters, let it be faculty, staff, administrators or fellow students. This helped me inculcate the value and necessity of inclusive excellence.


How has your K-State experience impacted your career or made a difference in your life?
The faculty advisers I had at K-State are my lifelong mentors. The training and guidance they provided during my graduate education are incomparable. The world-class education and opportunities that K-State offered shaped the researcher in me. The graduate program at the Department of Agronomy offered research projects with national and international scope, while at the same time, they were rooted in local stakeholder needs. This training helped me build my own research program later as a faculty member at Clemson University, a program that caters to the needs of stakeholders and communities at different levels — local to global. Furthermore, the experiences I had as a student at K-State have positively impacted my teaching program at Clemson. I look up to the depth and breadth of courses and the contemporaneity of teaching at K-State when I develop my own course curricula at Clemson. The friendships I made at K-State that spanned across countries have now transformed into important collaborations that are critical for my research and teaching programs.


What are your career goals for the future?
We toil to address the grand challenges of climate change, deteriorating soil health and global food and nutritional insecurity. My vision is twofold: invest in developing the future generation of scientists and continue undertaking cutting-edge, multi-disciplinary research. The focus would always remain on developing climate-resilient crops and cropping systems that can support global food security and sustainable development.


What advice would you offer to other young K-State alumni?
As Helen Keller wrote, "When one door of happiness closes, another opens; but often we look so long at the closed door that we do not see the one which has been opened for us." If we have a dream, the world will support us in achieving it, even if we may not recognize that. Hard work, passion, determination and open-mindedness will surely pay off. Finally, science without humanity is meaningless, and it is our responsibility to be good human beings with high ethical standards in life.
---