K-State President Richard Linton travels across the state for Listening and Learning Tour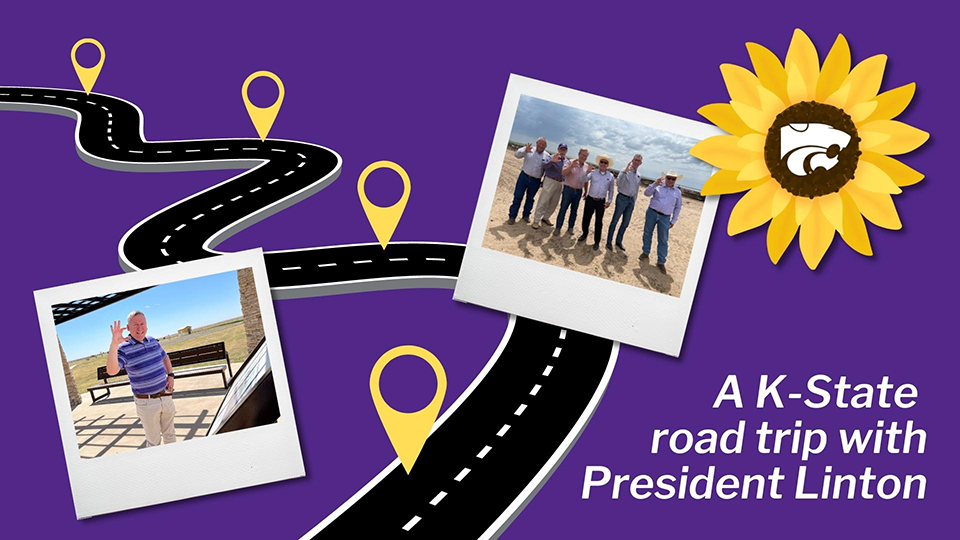 K-State's new president Richard Linton enjoyed an authentically Kansas experience during his recent trek across the state — visiting Little Jerusalem Badlands State Park in Logan County; a cotton gin in Pratt; the state fairgrounds in Hutchinson; and even a replica of Dorothy's House from The Wizard of Oz in Liberal.

Yet even more important than all these stops along the way was Linton's mission to get to know the people of Kansas and learn more about how K-State can serve residents across the state.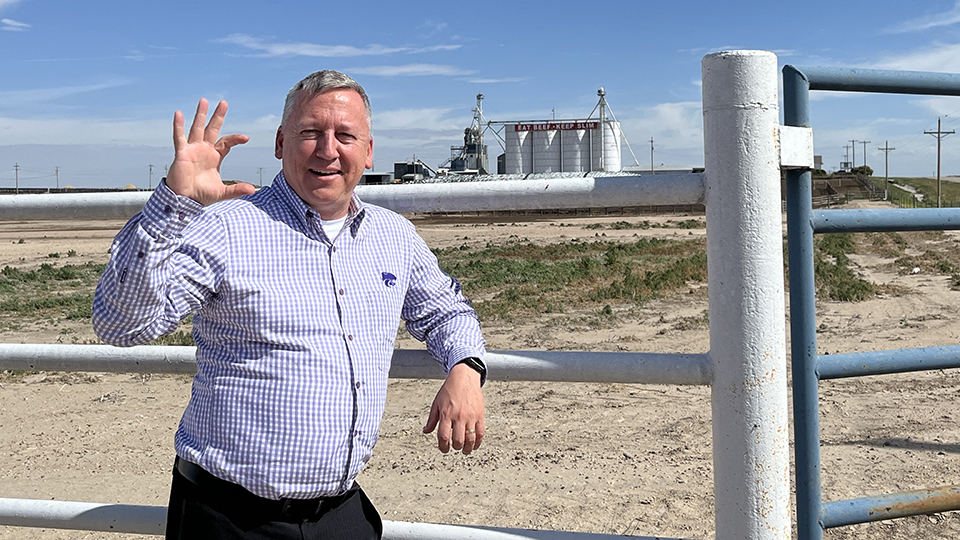 In late June, the K-State Alumni Association, along with representatives from the KSU Foundation and members of the President's Office, traveled the state of Kansas on the first "Linton Listening and Learning Tour," introducing President Richard Linton to K-State alumni and friends.

"Stops included alumni homes, local unique restaurants and cafes, farms and ranches and a multitude of other unique-to-Kansas stops," said Alan Fankhauser '82, assistant director of alumni programs at the K-State Alumni Association. "The K-State family's new leader jumped out of the license plate No. 1 vehicle, hand extended, and visited with hundreds of welcoming family members. He even tried to trade the No. 1 plate for a purple SUV, always asked people to call him 'Rich,' and the first question was most often 'tell me about your K-State experience.'"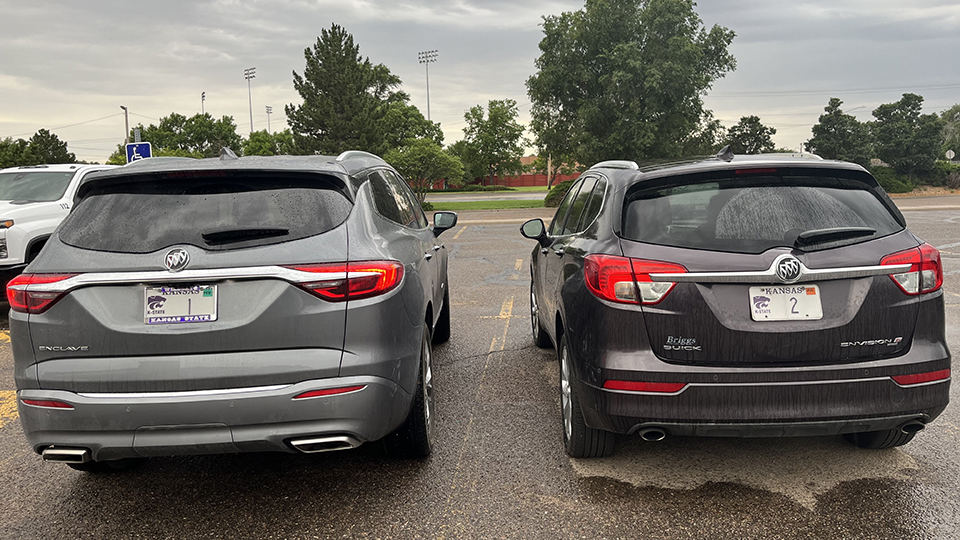 We asked Fankhauser to share more about his first-hand experiences traveling with the president:
President Linton heard about innovative new agriculture procedures, saw the Spencer Flight and Education Center in Scott City, chased hunting dogs in Oakley, listened to milk and cattle producers, visited numerous feed yards, talked to industry leaders, bankers, philanthropists and most importantly first-generation to fourth-generation K-Staters. He visited with community college leaders in six communities and conducted town hall meetings.

The stop in Stafford County at the St. John home constructed as part of the Net Positive Studio in the K-State College of Architecture, Planning and Design showed the president how challenging affordable housing is and the strides forward Stafford County is making.

Two town hall meetings were held on Tuesday and Thursday evenings, offering the more than 50 people in attendance the opportunity to ask questions of President Linton.

He was able to meet with two Kansas Board of Regents members and multiple state senators and representatives throughout the week. On Friday morning he toured the Cargill Innovation Center in Wichita, where his background in and passion for food science was on full display.

And let's talk food unique to K-Staters — apple pie with a Powercat on the top, barbecue, steaks and how about a beverage? He visited a dairy and a distillery and was invited to numerous fall tailgate parties and heard about food that only loyal K-Staters could produce for upcoming Saturday afternoons at the Bill.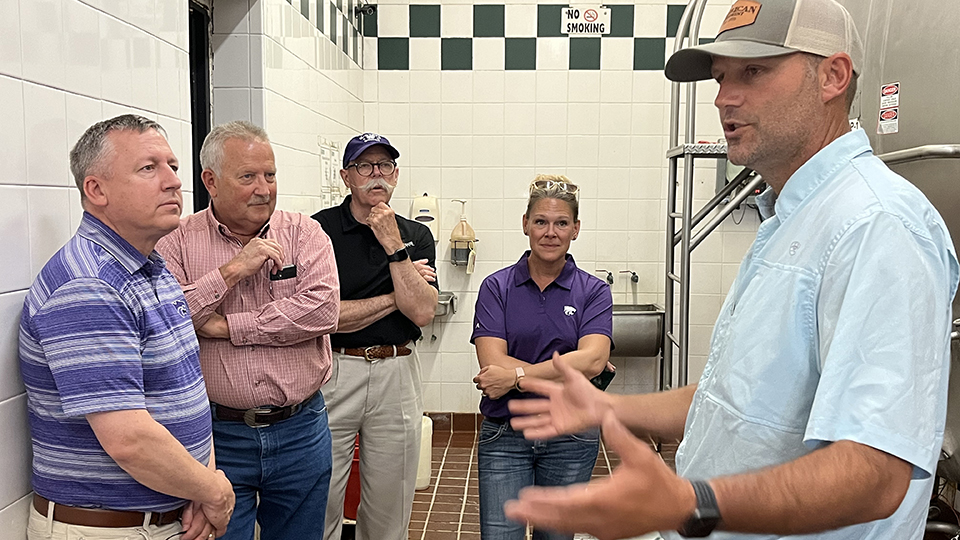 Most importantly, K-Staters have told the president over and over again they are ready to roll up their sleeves and get to work helping him with agricultural facilities initiatives and getting student enrollment numbers back on the up-swing. Also, they told him that they were just really glad to see him. He was always listening and quick to take note and offer a plan or a comparison to something he's done at a previous career stop and how he might be able to apply it to this situation. He told Kansans about his vision for Kansas State University over and over again and that he's committed for the long haul.

The reoccurring theme is always: "Tell me about your experience. Was there a professor who made a difference? What can we do to help?"

This is how I witnessed it, and I have to tell you this experience has been right up there with my experiences traveling with Willie G. Davidson, the grandson of the Harley-Davidson founders. I was very impressed with President Linton's interest and energy and his desire to make K-State better.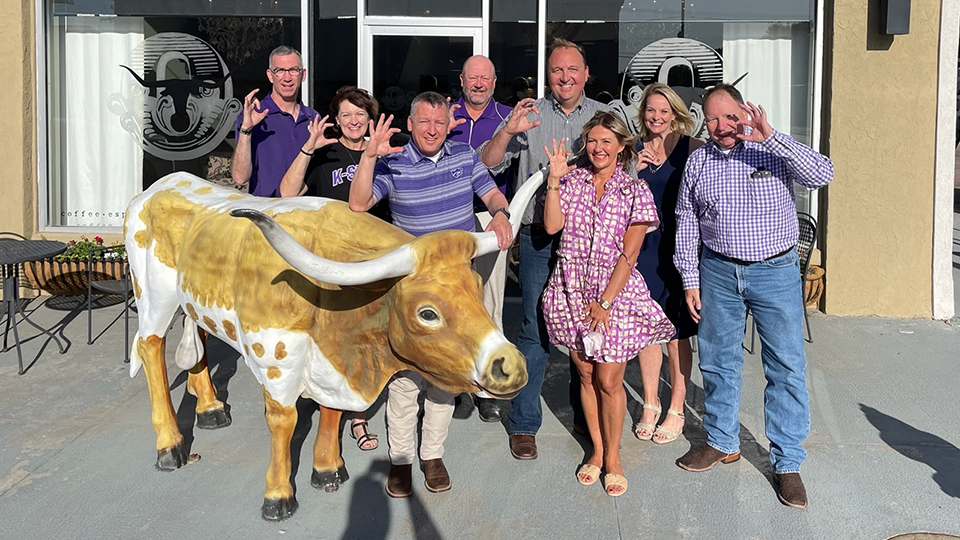 ---