Get to know our 2023 K-State Student Ambassadors: Ethan Brown and Elle Eilert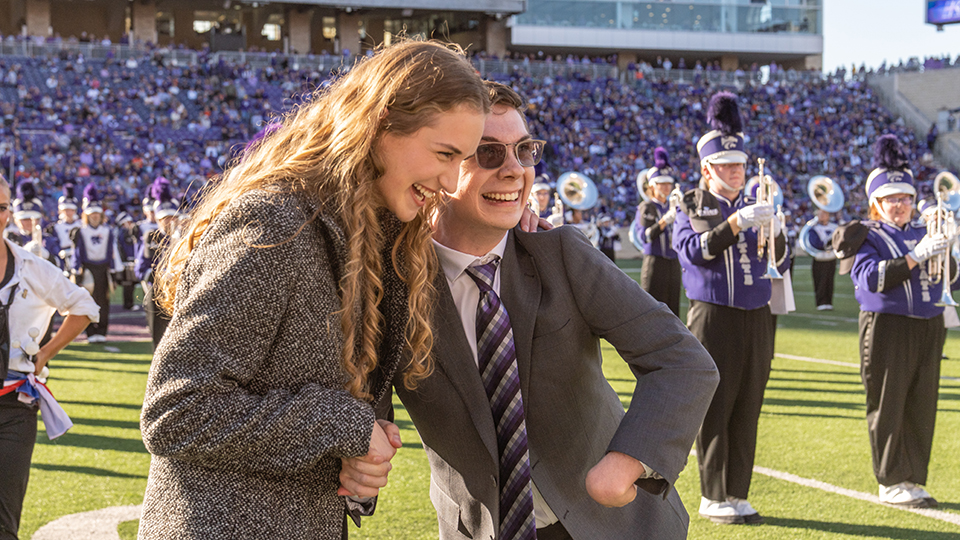 By definition, an "ambassador" is a person who represents, speaks for or advertises a particular organization or group of people. However, for Ethan Brown and Elle Eilert, their new role as K-State Student Ambassadors runs much deeper than that simple definition.

For them, purple pride is a way of life. They love K-State, and they want prospective students to fall in love with this university too. They represent all the best things that K-State is known for: community, camaraderie and a can-do attitude.

When their names were announced as the 2023 K-State Student Ambassador winners on the field at the Homecoming football game Oct. 29, they joined a proud tradition of Student Ambassadors dating back to 1977, when the K-State Alumni Association established the program.

"When I walked onto the field at halftime, I was honored just to have been a candidate," says Brown, a junior in marketing from Salina, Kansas. "I was shocked when I heard my name announced as the 2023 Student Ambassador, but that quickly gave way to the greatest feeling. Even now, it means so much to me that the student body put their trust in me. I am both honored and humbled. The theme for Homecoming week was Wildcat Dreams, and hearing my name that day was the realization of mine."

"When my name was announced, I definitely did a double-take," echoes Eilert, a junior in mathematics and secondary education from Beloit, Kansas. "I was just so pumped. I immediately looked at my dad who was on the field with me. He was extremely excited for me and it was really special to share that experience with family and friends. Being ambassador is such an honor, I am still shocked whenever I think about it."


About the program
So, what exactly is involved in a Student Ambassador's duties?
Visiting with prospective students and alumni
Attending Student Alumni Board meetings and activities
Assisting with programming on campus such as the Alumni Fellows program, All-University Homecoming Committee and other special events
Assisting the K-State President's Office as needed
Ambassadors are elected during Homecoming week by a student vote from a group of semifinalists. They serve a one-year term, and each receives the Kirk Family Student Ambassador Scholarship of $2,500, clothing from Manhattan clothing store Borck Brothers and an official K-State ring from Balfour and the Alumni Association.


About the 2023 Ambassadors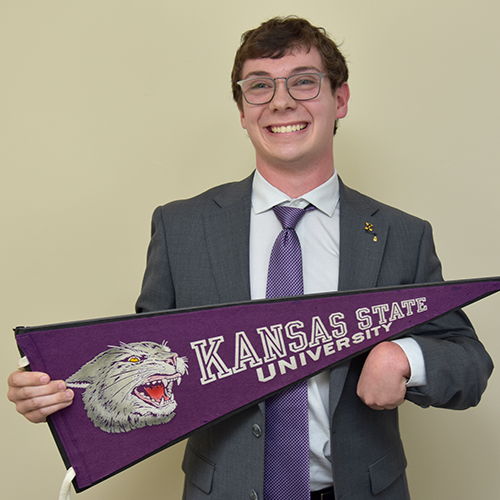 Brown and Eilert were already familiar faces on campus before becoming Student Ambassadors. Brown is a member of Delta Chi fraternity. He also serves as campus access director for the Student Governing Association and as vice president of allocations for Student Foundation. In his free time, his interests include western sports (especially bull riding) and researching Professional Bull Riders (PBR) stats for CBS Sports' play-by-play announcer.

Brown said he ran for Student Ambassador with the goal of spreading the message that K-State will do whatever it takes to help students overcome possible barriers and help them thrive in their education. He believes K-State is a place for everyone.

"Throughout my life, I have been challenged in terms of accessibility," he said. "K-State has always cleared a path for me to take advantage of the opportunities both in the classroom and in organizations I'm involved with: Student Foundation (student philanthropy), Student Government and my fraternity."

He's ready to help prospective students come to know the university the same way he does.

"As a Student Ambassador, I want to impart my enthusiasm for our university into every community in Kansas and beyond, help build the future group of the Wildcat family through recruitment, and share in the remembrances of various alumni of their experiences at Kansas State," Brown said. "I am most looking forward to making connections and talking about the amazing things that make K-State great."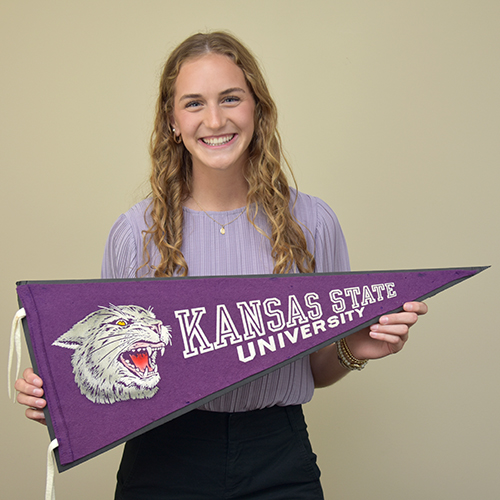 Eilert is a member of Gamma Phi Beta sorority. Additionally, she serves on the Student Opportunity Awards Committee for Student Foundation. Her interests include spending time with friends, enjoying a good cup of tea and going for jogs around town.

"I have always loved Kansas State — the 'Alma Mater' was practically a lullaby around my house growing up," Eilert said. "Family is the building block of society and K-State captured this culture in a bottle. Just like a loving family, K-State offers the safety to learn, grow and fail so its students are marked by resilience, empathy and greatness. K-State is more than a university; it's a home that I dearly love."

She's excited to share that love for K-State with prospective students.

"I have loved my time at Kansas State, specifically the community and experiences it has given me," she said. "There is nowhere like it, with opportunities of a large university but the experiences of a tight-knit community. I truly believe there is something for everyone here, and I can't help but want to share that with those that I encounter."
---