Amy Button Renz '76, '86 to retire after 45+ years of service to the K-State Alumni Association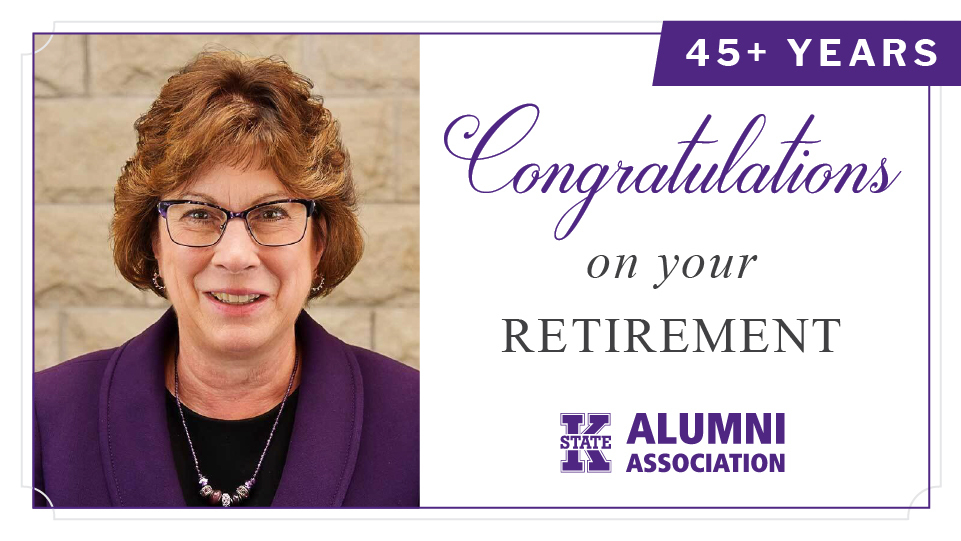 K-State Alumni Association president and CEO Amy Button Renz '76, '86 will retire from the K-State Alumni Association after more than 45 years of service to Kansas State University.
Her last day will be at end of the Alumni Association's fiscal year on June 30.
Renz began her career with the Alumni Association in 1977. She was named president and CEO in 1994, becoming the first female alumni director in the Big Eight and later the Big 12 conference.
Renz was instrumental in the creation of many programming efforts including the Student Alumni Board and the K-State Student Ambassadors. She served as the lead fundraiser for the Alumni Center building campaign. The $12.7 million facility was dedicated in October 2002. Additionally, she chaired search committees that brought several administrators to K-State: two athletic directors, John Currie and Gene Taylor, respectively, and vice president for student life and dean of students, Thomas Lane.
Under her leadership the Alumni Association has raised more than $6 million for student scholarships and recognition through the K-State License Plate program. Since 1996, the program has expanded to include four states. Additionally, the Alumni Association has raised more than $3.7 million for student scholarships through Wabash CannonBall galas in Kansas City, North Texas, Houston and Colorado.
She has served as a member of the CASE International Board of Trustees twice. In 1995, she received the District VI Distinguished Service Award from CASE. Additionally, Renz served as president of her peer organization the Council of Alumni Association Executives from 2001-2002.
Over the course of her career Renz has been recognized for her service and leadership many times. Some of her accolades include: In 2009 she received the Staley School of Leadership Mike Holen Outstanding Leadership Award. The K-State Marching Band selected her for the Directors Award in 2012. That same year, she was honored by K-State with the inaugural Amethyst Award, the highest honor bestowed by the university in recognition of extraordinary contributions. In 2014 she was named the Blue Key Outstanding Faculty Advisor. In 2016 she received the Alpha Phi Alpha Fraternity, Inc. Brandon L. Clark Alpha X-Cellence Award. In 2020, Renz was recognized with the Lyle Butler Distinguished Leadership Award from the Manhattan Chamber of Commerce.
Renz is a third-generation K-Stater. She earned two degrees from K-State, a bachelor's degree in political science in 1976 and master's degree in public administration in 1986. Her husband, Allen Renz '87, is also a graduate of K-State, as are their three children. They have three grandsons and four granddaughters - including one K-State graduate and one current K-State student.
"I have given my decision considerable thought and while it is a bittersweet decision, as I truly love my job, I feel the time is right," Renz said. "I want to spend more time with Allen and our family. Our grandchildren already have lots of plans to spend more time with us and we can't wait! I have been blessed with a wonderful career at the K-State Alumni Association and have enjoyed my time here."
K-State's leadership offers the following congratulations to Renz for her upcoming retirement:
"Amy defines what it is to be a K-Stater. She has been an incredible champion for inspiring and cultivating lifelong connections between our alumni and our university, and her leadership and vision transformed our Alumni Association into what it is today, always holding the university's traditions and values at its core. We couldn't be more grateful for all she has accomplished in service of the spot she loves full well," said K-State President Richard Linton.
"There is no one more passionate about K-State than Amy! She has been an excellent leader for the Alumni Association for many years. Her passion for creating a link for life for all K-Staters – prospective and current students, alumni and fans everywhere – has impacted thousands of people. Additionally, she has been a leader in alumni relations nationwide. Her expertise and counsel has benefited many other universities and associations. We congratulate her on all that has been accomplished over her 45 years with the Alumni Association," said Candace Hart Duncan '75, chair of the K-State Alumni Association board of directors.
"Amy epitomizes K-State and has made a lasting impact on our entire university community. The partnership we have with the Alumni Association has been nothing short of phenomenal and that is because of her leadership and love for her alma mater. Personally, I will forever be indebted to Amy as she served as the chair of the search committee that brought my family to K-State, which has enriched our lives in ways unimaginable. She will be missed but her mark and support will forever be felt," said Gene Taylor, director of athletics.
"Amy's passion for Kansas State University has inspired me since the day I arrived in 2015. Much of the DNA of our institution has been derived from her decades of exceptional leadership and shining example. I couldn't have asked for a better colleague and partner to work with to advance K-State through alumni engagement and philanthropy. I'm honored to have served with her and am grateful for our friendship," said Greg Willems president and CEO, KSU Foundation.
"Amy is a shining example of lifelong service and commitment to Kansas State, and I am thankful to have had the opportunity to learn from her experience. From Homecoming to Student Alumni Board and everything in between, the K-State student body is extremely grateful for Amy's passionate support of students through her leadership at the Alumni Association. Beyond that, you will be hard-pressed to find a more thoughtful, caring, kind, intentional and purple-proud role model for students than Amy Button Renz — we wish her the best in retirement," said Parker Vulgamore, K-State student body president.
The K-State Alumni Association's board of directors will announce details on the search to replace Renz at a later date.
---