Sara Thurston, Ph.D., named the 2023 Flinchbaugh Family Wildcat Pride Award recipient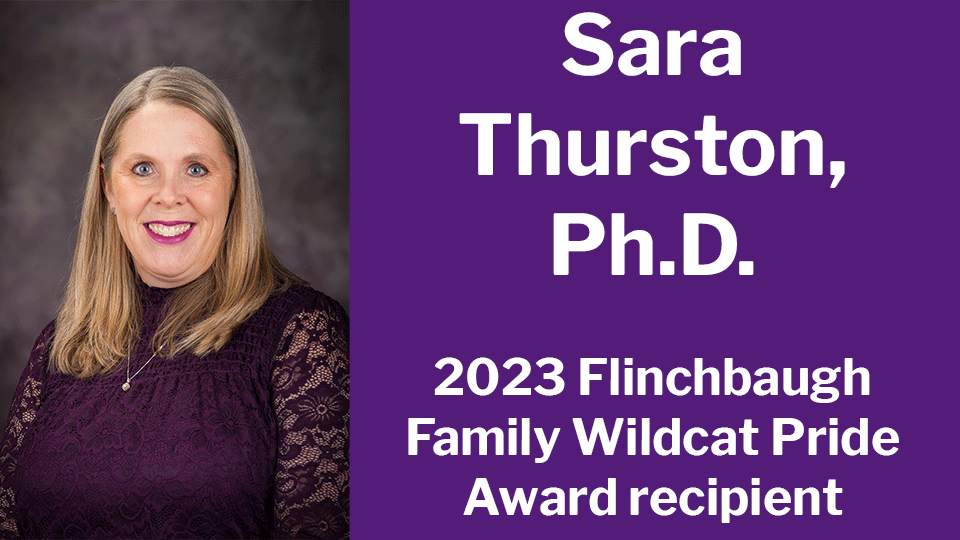 Sara Thurston, Ph.D., director of international student and scholar services at Kansas State University, has a longstanding partnership with the K-State Alumni Association.
Each semester, as the Association strives to connect with current students, there is an intentional focus on welcoming international students into the K-State community. Thurston has been a steadfast and integral partner with the Association staff in creating events and establishing opportunities for engagement and interaction with international students.
Working with Thurston's connections and guidance, the Association has established the International Block Party, launched student scholarships specifically for international students, created the International Graduation Celebration and created 4 annual Association International Leadership Awards.
Thurston's understanding and respect of the Association's mission to lead and inspire lifelong involvement that will benefit Kansas State University and all members of our Wildcat Community has led to opportunities for the Association to have a role in a student orientation specifically aimed for international students.
Thurston is also an advocate and a conduit to worldwide events with K-Staters living internationally. She not only prioritizes this for her travels but encourages other traveling K-State faculty to do the same. In 2023 Thurston hosted alumni receptions in Saudi Arabia and Dubai.
In recognition of her service, the K-State Alumni Association will honor her with the 2023 Flinchbaugh Family Wildcat Pride Award at the Association's board of directors meeting on June 9. The award honors a current or emeritus K-State faculty or staff member for their advocacy of alumni relations, with a special emphasis on support and participation in alumni programs that engage members of the Wildcat family.
"Sara is a passionate leader on campus and intentionally strives to impact the lives of our international students and their families. The opportunities she provides to the Association to establish relationships with our international students and international alumni help us to succeed in our goal to be the link for life for all K-Staters. We are a better Association because of advocates like Sara," said Amy Button Renz '76, '86, president and CEO of the K-State Alumni Association. "The Alumni Association is honored to recognize her with the Flinchbaugh Family Wildcat Pride Award."
Thurston has worked in international education throughout her 25-year career, with more than 15 years of service at K-State. In her role she is responsible for the advising, programming, and crisis/personal support for the nearly 2,000 international students, scholars and their dependents from over 100 countries.
The Flinchbaugh Family Wildcat Pride Award is made possible through the generosity of the Barry Flinchbaugh Family. To learn more about the award, visit k-state.com/awards.
---