Two K-State faculty receive $5,000 Iman Awards for teaching and research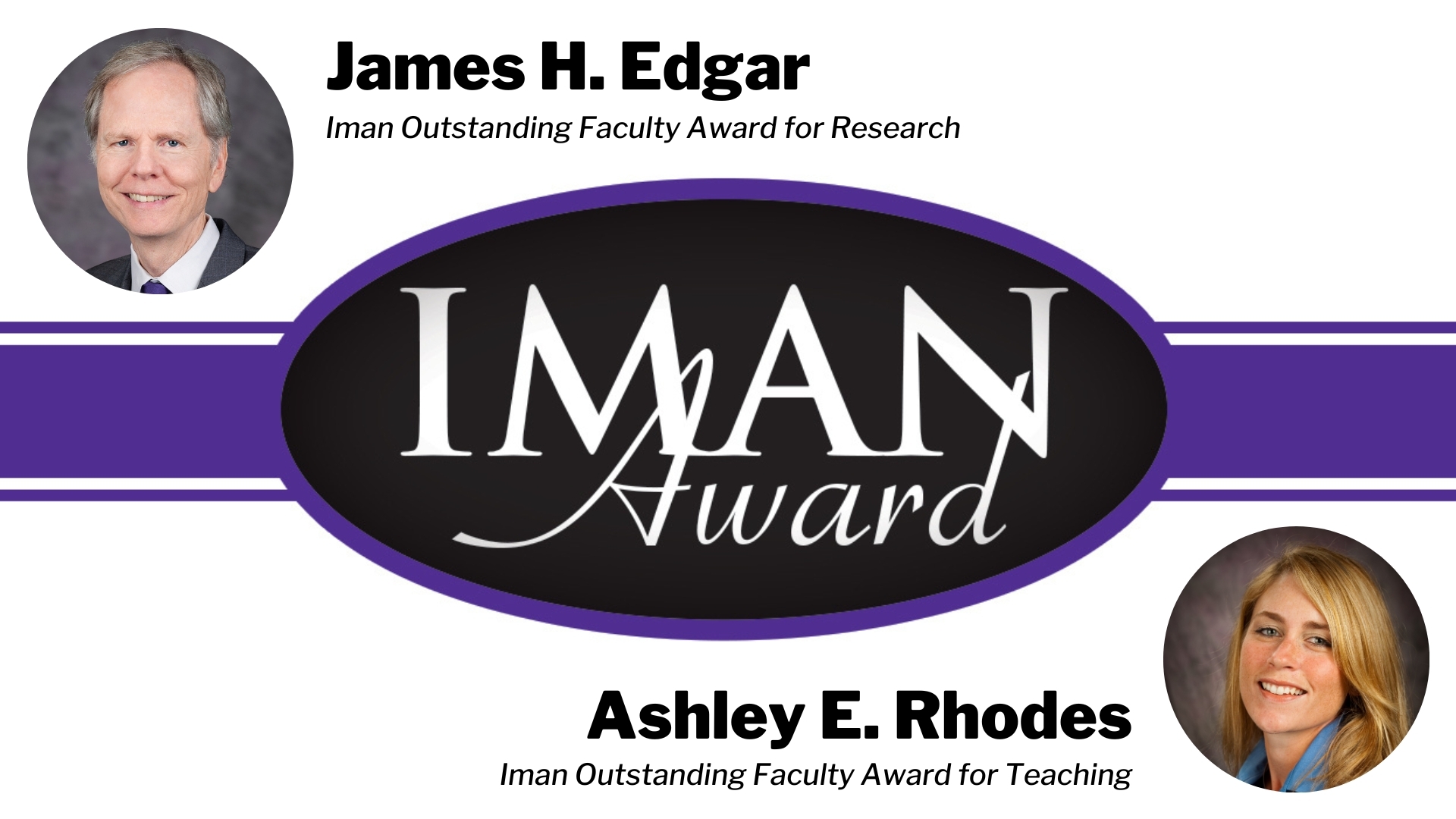 Two Kansas State University faculty members, one from the College of Arts and Sciences and one from the Carl R. Ice College Engineering, will each receive a $5,000 award in recognition of their outstanding teaching and research during a ceremony at the K-State Alumni Center. The ceremony will take place Sept. 7 at 4 p.m.
Introduced in 2007, the annual Dr. Ron and Rae Iman Outstanding Faculty Awards are sponsored by the K-State Alumni Association and are made possible through the generosity of Ron and Rae Iman.
Ashley E. Rhodes, Ph.D., teaching professor in the Division of Biology, will receive the Iman Outstanding Faculty Award for Teaching. The recipient of the Iman Outstanding Faculty Award for Research is James H. Edgar, university distinguished professor and Tom H. Barrett University Faculty Chair in Chemical Engineering in the Tim Taylor Department of Chemical Engineering.
Rhodes' award honors a full-time K-State faculty member for excellence in high-quality instruction, strong relationships with students inside and outside the classroom and a reputation for scholarship and distinguished service to the university.
She earned three degrees from K-State, a bachelor's degree in animal sciences and industry in 2001, a master's degree also in animal science in 2004 and a Ph.D. in curriculum and instruction in 2013.
Rhodes is well known within the K-State community for her innovative teaching strategies, which have garnered national and international attention. National Geographic has visited her classroom to document her methods of engagement and effective learning.
"Ashley's teaching style and ability to convey integrated physiological information in a way that requires long-term rather than short-term memory has caused the course to morph into one that pre-veterinary medicine, master's students and life sciences students have gravitated towards," said her nominator Timothy Rozell, professor of animal sciences and industry.
In support of her nomination, Matthew B. Davis, a 2023 K-State graduate with a degree in biomedical engineering, said, "Beyond the classroom, Dr. Rhodes exuded unwavering enthusiasm for her subject matter and a genuine desire to enhance the student experience. She actively encouraged us to reach out via email if we had any questions regarding missed quiz questions — an invitation I wholeheartedly embraced by sending her inquiries nearly every week. To my amazement, Dr. Rhodes consistently responded with detailed, relevant and incredibly rapid explanations. Dr. Rhodes genuinely relished the opportunity to foster a deeper understanding of the material."
Edgar's award recognizes faculty members who have distinguished themselves in their chosen profession and who have contributed significantly through research to improve the betterment of the educational experience, or whose research has had a significant impact on their area of study.
Edgar earned a bachelor's degree in chemical engineering from the University of Kansas in 1981, a master's degree in 1982 and a doctorate in 1987 both from the University of Florida. Edgar researches the synthesis and crystal growth of novel semiconductors for electronic, optoelectronic, photonic and quantum devices. These materials enable new types of devices including ultraviolet light emitting diodes (LEDs), power electronics, and infrared, terahertz, chemical, and magnetic field sensors which are more efficient, sensitive, and with higher spatial resolution. Currently, he is studying the unique benefits of hexagonal boron nitride enriched with specific boron and nitrogen isotopes. This has led to collaborations with researchers from the U.S., U.K., Spain, Germany, Hungary, Israel, France, Sweden, Switzerland, China and Australia. His research has been funded by the National Science Foundation, Office of Naval Research, Department of Energy, and Air Force Office of Scientific Research. He began working at K-State in 1988 and from 2019 to 2022, was manager of the Electronic and Photonic Material program at the NSF.
Edgar's nominator, Jennifer Anthony, associate professor and head of the Tim Taylor Department of Chemical Engineering said, "Jim has sustained an exceptionally impactful research career and is widely recognized as one of the leading experts in his field. He has significantly impacted students and faculty at K-State and around the world. He is incredibly deserving of this honor."
In support of his nomination, Josh Caldwell, director of the Interdisciplinary Materials Science program at Vanderbilt University, said, "His research covers the synthesis, processing, and characterization of an impressive range of semiconductor and optical materials. His scholarship is exemplary and is held in high regard by his peers. Many research groups from around the world seek out the opportunity to collaborate with Jim based on his expertise in materials growth and science."
"K-State benefits from great professors," said Adam Walker, president and CEO of the K-State Alumni Association. "Dr. Edgar and Dr. Rhodes are excellent examples of how our faculty have tremendous influence on not only our university community, but those communities outside of K-State. We are pleased to present them with this year's Iman Awards."
The Imans live in Albuquerque, New Mexico. Ron and Rae are life members of the K-State Alumni Association and served as Kansas State University Foundation trustees. Ron Iman earned three degrees from K-State: a bachelor's degree in math education in 1962, a master's degree in 1970 and a doctorate in statistics in 1973. He is a past member of the Association's board of directors, served as the Association's representative to the KSU Research Foundation board and is a past chair of the Arts and Sciences Advisory Council. He received the university's Arts and Sciences Distinguished Service Award in 1996 and, in 1994, served as national president of the American Statistical Association. Ron Iman was named a Highly Cited Researcher by the Institute for Scientific Information in 2004.
For more information on the Iman Awards, visit k-state.com/Iman.
---