How K-Stater CharMaine Hines '21 and her research are changing the conversation about diversity in educational leadership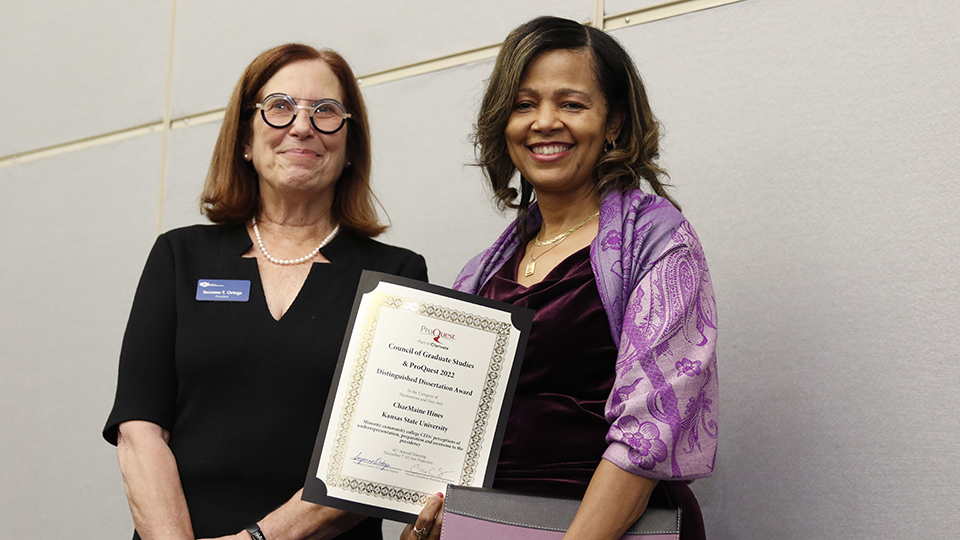 For CharMaine Hines '21, her dissertation project was more than just an assignment, or a milestone to check off her list on a path to a doctoral degree. She was digging into data, uncovering stories that needed to be told, and giving voice to people who historically hadn't been provided a platform to share their experiences and opinions.

Hines (pictured above at right) earned a Doctor of Education in community college leadership from Kansas State University and connected with 34 minority community college chancellors/presidents as part of her research. Her study examined the multiple factors that contribute to the persistent underrepresentation of racial and gender diversity in community college leadership.

Her work was recently recognized with a Council of Graduate Schools (CGS)/ProQuest Distinguished Dissertation Award in the social sciences category, sparking conversations about this topic at a national level.

Not only is Hines the first K-State recipient of a CGS/ProQuest Distinguished Dissertation Award, she also is the first graduate of an institution of higher education in Kansas to be selected for this award. Past honorees have hailed from prestigious institutions such as The University of Massachusetts-Amherst and Stanford University.

"We are turning out and producing graduates who are making an original and distinguished and significant contribution to the field," Hines said. "We're recognizing that Kansas State is about that business, is about that rigor. That is inspiring."

Hines is from Detroit, Michigan, and was educated in Detroit public schools. She has worked at private universities, major public research universities and community colleges within the state. She currently serves as vice chancellor of academic accountability and policy at the Wayne County Community College District in Detroit.

"I've been in education for over 28 years, and I enjoy meeting the students where they are and helping to impact their lives and continue learning," she said.

Hines said that the need for increased diversity in post-secondary education leadership — in particular, community colleges — has been a topic of local, state and national studies since the mid-1980s.

"I was reading those, and they kept saying, 'we need, we need, we need. We need a diverse set of leaders reflecting life experiences similar to those of members of the college community' — including the most recent 2019 report by the American Council on Education," Hines said. "We're still talking about 'we need a more diverse presidency' and 'the time is upon us.' When is that time? Anytime you do research, they say the goal is to go after the 'why' of an unanswered question. And that's what led me to my study."

Hines' research participants identified as African American, Asian Pacific Islander, and Latino/Hispanic and spanned 12 states and every region of the U.S.

Participants were able to share their experiences and some of the biases they'd encountered in their fields.

One female college CEO reported:
"I have been in search committees where people will say things about women, they don't dare ask the same questions about men. Like 'She has small kids, would she really want to do this job?' or, 'She has small kids, what is her ability to accept the role?'"
A male college leader described:
"The reason you don't see a lot of people of color in the presidency is the same reason you don't see them typically at CEO positions and Fortune 500 companies. Institutional barriers that make our journey often times two and three times as difficult, or we have to be two to three times pristine or perfect in our roles. Politics in our boards and communities. There's these political realities that have not gone away, are not spoken explicitly, but you look at postings and you look at the demographics of the student body, the demographics of the board, you can almost guess who's going to get the job."
Hines also uncovered another area of underrepresented research: a gap in information on leaders from more recent generations, such as Generation X and Millennials.

"Who is that next generation of community college leaders? And not only who are they, what is their leadership focus and what drives them?" Hines said. "And what are they talking about and why equity-minded imperatives are their focus? That was a huge 'aha' moment, for identifying, naming, giving voice to, and understanding what today's leadership is about."

Leadership programs, such as K-State's Community College Leadership program, are a vital part of the pipeline for producing more leaders that are diverse.

"What are those leadership programs doing? Are they effective?" Hines highlights those as questions that institutions need to be asking. "Or if not, what are some things that they need to be looking at, because we have not had an increase in this area of persons of color for decades. These programs are producing leaders; [my dissertation project] put a spotlight on it, gave attention to that.

"While we can be impressed with what is happening at university-based doctoral leadership preparation programs, there are still questions about the level of commitment and engagement of other constituent groups and stakeholders such as boards of trustees, governing boards, administrative boards, advocacy associations, legislatures, etc. in the work of diversifying the presidency in higher education."

Hines contributed a great deal of personal time and energy to the research. She said she "worked it like a job" with a minimum of 8 to 10 hours every day. In the end, it took about six to eight months to transcribe and codify the information, and review themes.

"I can say it was a labor of love. It was hard not to work on it, because I had their voices in my head," Hines said. "Again, it was a labor of love, because I was giving voice to voices that had not been heard in this area. And so I felt that it was important. I was inspired."

So far, the study has been published in peer-reviewed research journals, and Hines has been invited to present at national conferences. She hopes the conversation continues.

"There's a lot of interest in the different areas of my study; there's a lot of interest in understanding who the new generation of leaders are; there's a lot of interest in understanding what community college leadership preparation programs can do, and/or do differently," Hines said. "And there is a lot of interest in understanding the 'why,' and how to address some of the systemic and institutional findings that were a part of the study."

Hines gives a special thank you to Debbie Mercer '84, '88, '96, '99, dean of the College of Education; Claudia Petrescu, vice provost for graduate education and dean of the K-State Graduate School; and the many other K-Staters who supported her and helped her with her doctoral research project.

"Kansas State University was the best university experience that I had," Hines said. "Even from working from home and offline, when I was having challenges, they were quick. They were responsive. I haven't had that in a lot of places. K-State is amazing. They have amazing support for graduate students. And I appreciate them all the way."


Here's what K-Staters have had to say about Hines' research:
Claudia Petrescu, vice provost for graduate education and dean of the K-State Graduate School:
"Dr. Hines being selected for this highly competitive award is a huge success for Kansas State University and for the state of Kansas. Congratulations to Dr. Hines for conducting an outstanding doctoral dissertation, as well as to the faculty in the College of Education who mentored and supported Dr. Hines' success."
Jerry Johnson, former chair of the Department of Educational Leadership in the K-State College of Education:
"It was a pleasure and an honor to work with CharMaine on this important work. Her dissertation addresses a highly relevant topic using an empirically sound study design and produces actionable results that will impact community college leadership in the future. This combination represents everything we strive for in our scholar leaders."
Terry Calaway, an adjunct and partnership faculty member of K-State's Department of Educational Leadership, as well as president/CEO emeritus, Johnson County Community College, and president/CEO emeritus, Central Arizona College:
"All of us in the Community College Leadership Program are proud to celebrate this prestigious award recognizing Dr. CharMaine Hines. Dr. Hines' study is reflective of the rigorous research expectations of our program and demonstrates the quality of the students and faculty who learn and teach within Kansas State University's College of Education. It was a joy to serve as co-chair and watch her growth and development as a scholar. We are all so pleased and proud for her."
Christine Johnson-McPhail, partnership faculty member of K-State's Department of Educational Leadership, as well as president of Saint Augustine's University, founding professor and director of the Community College Leadership Doctoral Program at Morgan State University and former president of Cypress College in California:
"Dr. Hines' research added considerable depth to the narrative on the void in higher education leadership training and the representation of leadership in the diversity gap in the workforce. One major purpose of the dissertation is to make a contribution to the field. Hines' dissertation has added significantly to the understanding of the gap in higher education leadership. Specifically the dissertation delivered answers from minority voices, gendered voices, and generational voices and challenged constituent groups to revisit the way they contribute to leadership development in higher education, specifically in community colleges."
---