How 4-H prepared young K-State alum for college and career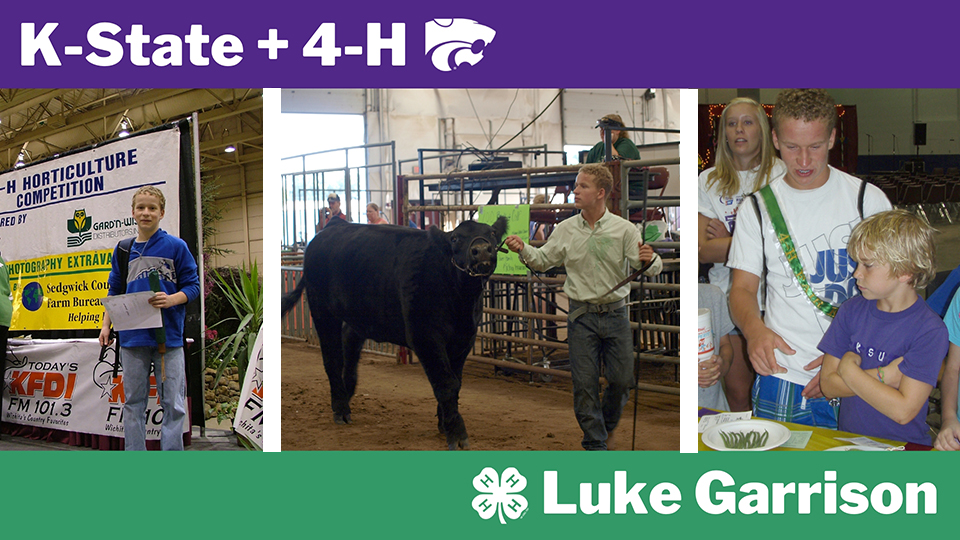 Although Luke Garrison '17 might not be raising steers, preparing vegetables or taking photos to show at the county fair anymore, he still carries with him the lessons he learned during his time in 4-H.

Garrison joined Auburn 4-H Club in Shawnee County when he was 6 years old and remained involved through high school. His favorite projects over the years included foods; construction zone (i.e. making projects out of LEGO blocks, including a replica of Bill Snyder Family Stadium); horticulture, such as growing tomatoes and cucumbers; and beef cattle.

His club was a mix of youth from city, small town and rural areas, and regardless of what projects club members were involved in, 4-H also helped prepare them to be successful adults.

"4-H has this misnomer that it is simply an agriculture development program, but there's two parts I found of special value: those intangible skills of public speaking, of impromptu speaking, and also just being able to run a meeting," he said. "Then the second part of that is those life skills: how do you wash your own clothes? How do you cook for yourself? So that when you get to that college environment, you have a lot of those foundational skills."

Some of his favorite memories from his time in 4-H included the annual county fair, where he was able to showcase his accomplishments from throughout the year and spend time with his friends.

He also enjoyed attending 4-H Discovery Days at K-State, where 400-500 high schoolers from across Kansas visited the K-State campus, stayed in the dorms and ate at the dining halls. "It was like a mini case study of what college was like," Garrison says.

Other valuable opportunities included traveling to the National 4-H Congress, a gathering for high school 4-H members that promotes leadership, civic engagement, global awareness and inclusion; and the interstate 4-H exchange program.


From green to purple
Once his time in 4-H concluded, Garrison continued his journey at K-State. Both his parents, Lisa Pfannenstiel-Garrison '89 and Jim Garrison '90, were also K-State grads.

"K-State was definitely on my radar," he said. "Before I could walk, I was attending my first K-State game. That definitely played into it."

In middle school, he was recognized by The Noyce Foundation science, engineering and technology program and had an opportunity to appear in front of the Kansas Legislature with legendary former K-State football coach Bill Snyder.

Later at 4-H Discovery Days, he ran across Coach Snyder again, and coach remembered him from their earlier meeting.

"At that point I was like, all right, I've got to go to K-State. The writing's on the wall," Garrison said.

He majored in chemical engineering with a minor in business and is now part of Black and Veatch's consulting practice in energy, recently working on control systems for electric grids.

"Engineering sets you up to really be adept at problem-solving and critical thinking," he said.


Skills for a lifetime of success
Garrison said that many of the skills he learned through 4-H — such as diligent record-keeping and report writing — he used throughout college and continues to use in his career.

4-H also taught him how to be resilient and how to not give up, even when you're not feeling motivated or you've made a number of mistakes. 4-H is a safe space for receiving constructive feedback and finding opportunities to grow.

"4-H was a good mechanism to learn and fail early in life," he said. "That way, once that inevitable moment came, you were prepared and knew how to respond."

He's grateful for all the people who paid it forward as mentors and invested in him, and he wants to look for opportunities to work with 4-H in Johnson County and find ways to give back to K-State.

"I've had so many invest in me, now how do I pay it forward to the next generation of leaders?" he said.
---