Advice with purple pride: WildcatLink connects students to K-State mentors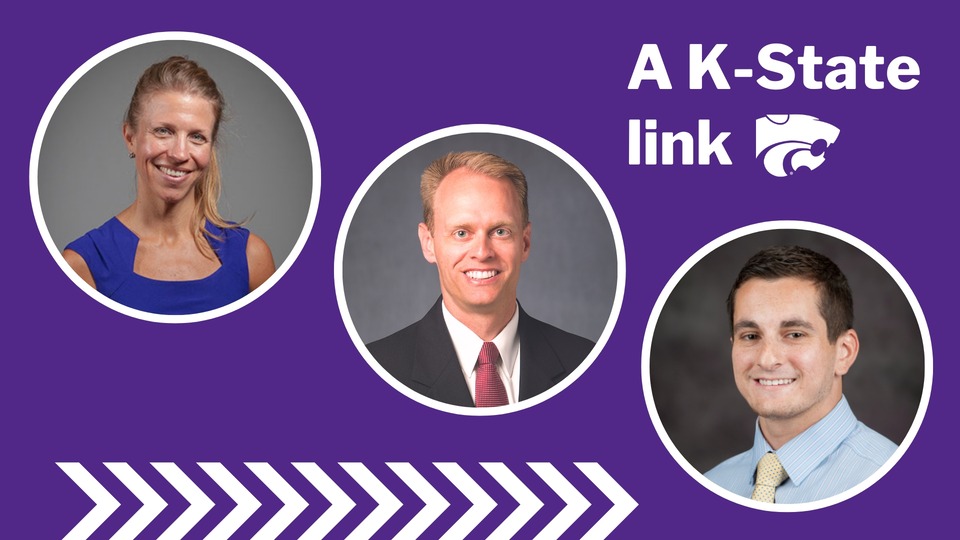 As a college student, preparing for the future can be both exciting and terrifying. What will life look like after college? What is the best way to find a job? What steps should a student take now to make the transition between college and their career as smooth as possible?

K-State alumni have already walked this path, and many of them are eager to share their wisdom (and purple pride!) with current students. WildcatLink is all about connecting these K-Staters with students who are looking for mentors.

We recently visited with three K-State alumni mentors about how they joined the program and why they'd encourage other K-Staters to get involved.


What inspired/motivated you to get involved with WildcatLink?
Dr. Lori Kautzman '99, a transplant surgeon and current College of Arts and Sciences mentor, was matched with her first mentee in fall 2022. She believes interacting with students is vital for shaping the future of health care.

"It also increases my knowledge on the interests of youth joining the field of medicine today to allow me to assist them better to succeed," she said.

Grant Janke '94, assistant vice president – network and capital planning at Union Pacific Railroad, is a College of Business mentor. He has been working with WildcatLink for over five years.

"I became involved in order to share some practical insights with the current student population that I have learned throughout my career," he said.

Scott Degan '13 is the director of physical therapy at K-State's Lafene Health Center and a College of Health and Human Sciences mentor. He officially joined the program in 2018, though he's been involved with mentoring at K-State since he started working at the university in 2016.

"I've always been passionate about 'paying it forward' — no one becomes successful without help from others, so mentoring students is one way that I can pitch in," he said. "I was fortunate to have some great mentors while I was a student, and sometimes it can be difficult to find that support system. I enjoy being a part of WildcatLink to make it easier for students to get help."


What are some of the tasks/responsibilities involved with being a mentor?
Kautzman meets with her mentee on a monthly basis, usually via FaceTime, to discuss any questions the student has for her.

"These questions range from interview processes to how to juggle a busy career and family life," she said.

Janke said it is important for mentors to be good listeners and to provide support and encouragement if the student is going through a challenging time. He recommends "asking questions that your mentee may not be considering about a particular topic in order to get them thinking."

Degan notes that since each student has a different background and level of knowledge, he tailors the mentorship to fit what they currently need.

"Since I mentor pre-physical therapy students, they typically appreciate meeting in-person at our clinic," he said. "This allows them to learn more about the profession while also getting the required shadowing hours for their physical therapy school application. The WildcatLink platform allows me to connect and communicate with the students online, that way I can answer any questions quickly and easily."


What are some of your favorite memories of working with students as a mentor?
"My favorite interaction was being able to meet the student in person at a tailgate before the Texas game," Kautzman said. "Unfortunately we lost but it was nice meeting outside of a professional setting and getting to discuss personal interests."

Janke said he enjoys helping students think through different scenarios and help them develop a game plan for how they want to approach an opportunity or situation.

For Degan, it's rewarding to hear the excitement from a student when they tell him that they've been accepted into a physical therapy program.

"It takes a lot of hard work to achieve that goal, and it's so much fun to celebrate that with them," Degan said. "I also really enjoy the enthusiasm students bring to our clinic while they're shadowing — especially when they connect what they're learning in their classes with what is happening in the clinic (e.g. applying shoulder anatomy from their Human Body class to a patient with a rotator cuff tear)."


Why would you encourage other alumni to get involved with this program?
Kautzman not only appreciates the opportunity to help a student — she said the program also inspires her.

"I highly recommend becoming a mentor," Kautzman said. "It has widened my perspective on what youth expect today in my career, which is important for the future of medicine. It also has reminded me of why I followed my path, which is refreshing during times of burnout."

For Janke, mentoring facilitates connections that could even lead to a future job hire.

"First, it is a great way to give back to the college," Janke said. "Providing practical experience examples with the students can help reinforce what is being communicated in the classroom. Second, if your organization is looking for new talent, you get direct experience and exposure with the student(s), which might lead you to finding someone that fits into your organization."

"I think it's an extremely rewarding opportunity to help these students," Degan said. "It's hard to imagine picking a career without first observing what those professionals do, or at the very least talking with a mentor who is in the field. To be able to share all the valuable things we've learned on our professional journeys can truly make an impact in a student's life."
---