Q&A with retiring president and CEO Amy Button Renz '76, '86: Favorite memories, what comes next, and lots of purple pride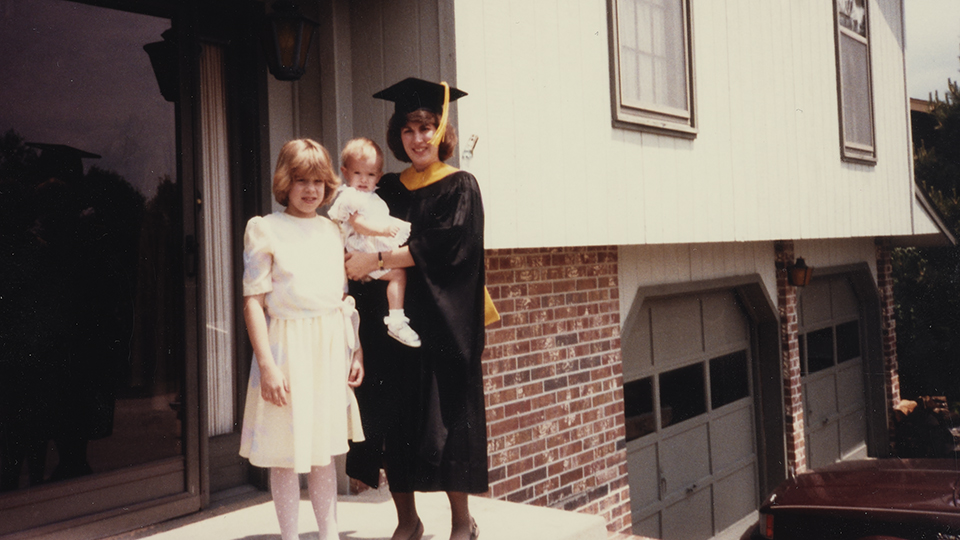 At the end of June, Amy Button Renz '76, '86 will step out of her office on the second floor of the K-State Alumni Center for the very last time as president and CEO.

It will be a bittersweet moment, as she wraps up 46 years of service to Kansas State University and begins a brand new adventure.

As Button Renz prepares for her departure, we sat down with her and asked her to share some of her favorite K-State memories, proudest accomplishments, and a preview of what comes next after she enters retirement.

At K-State: Tell us more about your K-State history and why purple pride means so much to your family.

Button Renz: When I started thinking about how many family members I had that had gone to K-State, I started counting, and I ended up coming up with 25. And that's just my immediate family. It starts with three of my four grandparents, and then obviously, my parents.

My grandfather played football for K-State back in the 1920s and scored the first touchdown in World War I Memorial Stadium the year it was built. And he was a fullback and a right tackle. He went on to score three touchdowns in the game, and they won 45 to nothing. My grandfather became the national board chair in 1954, which was also the year I was born. So I came by purple naturally.

I can remember granddaddy taking us to games in Memorial Stadium, and also taking us to games in Kansas City for the Big Eight tournament. That was over Christmas. So lots of fond memories. My parents met on a blind date through K-State, and my father played basketball in 1948 and 1949. Even our son-in-law was a member of the K-State football team when he was in college. So lots of K-State ties.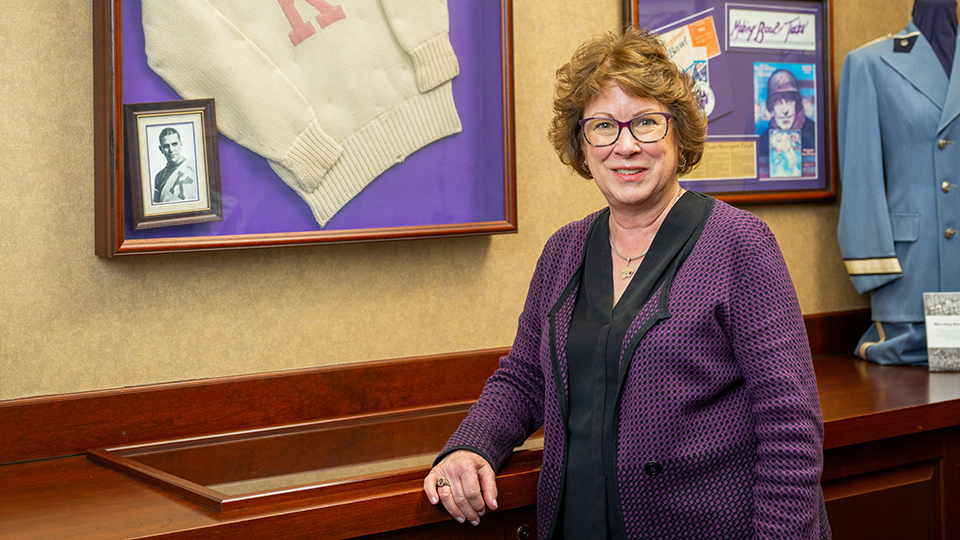 At K-State: What are some of your favorite memories and proudest accomplishments during your time working for the Alumni Association?

Button Renz: The main one would be building the Alumni Center. When we first started exploring the Alumni Center, a lot of people questioned, would we be able to raise the money to build a center, and the feasibility study that we conducted said we would. Once the board approved it, we started fundraising. So I spent a lot of time on the road.

They had shared that it would take five years to raise the money and we did it in three years. And then we burned the mortgage in the fifth year.

One of the things I'm very proud of is 1,400 people provided donations to make this building possible. And that's why I think the "K-State Alumni Center" is a very appropriate name. because it wasn't a single donor or two, it was really 1,400 people that provided the funding to make it possible.

The other thing that I'm so proud of is the money we've raised for scholarships, whether it's through the No. 1 affinity license plate in the state, or our clubs' scholarships, the Wabash CannonBalls…the fact that the Association is providing over $550,000 in scholarships to students speaks about the strong commitment we have to support the university and their mission to help students.

I'm very proud of the fact that we've been involved in diversity, equity, inclusion and belonging work since the early 1990s. We are the only association in the Big 12 that has a dedicated staff member to support DEIB work and programming for our international alumni. Our alumni board, programming we do, everything represents who the alumni body is as a whole.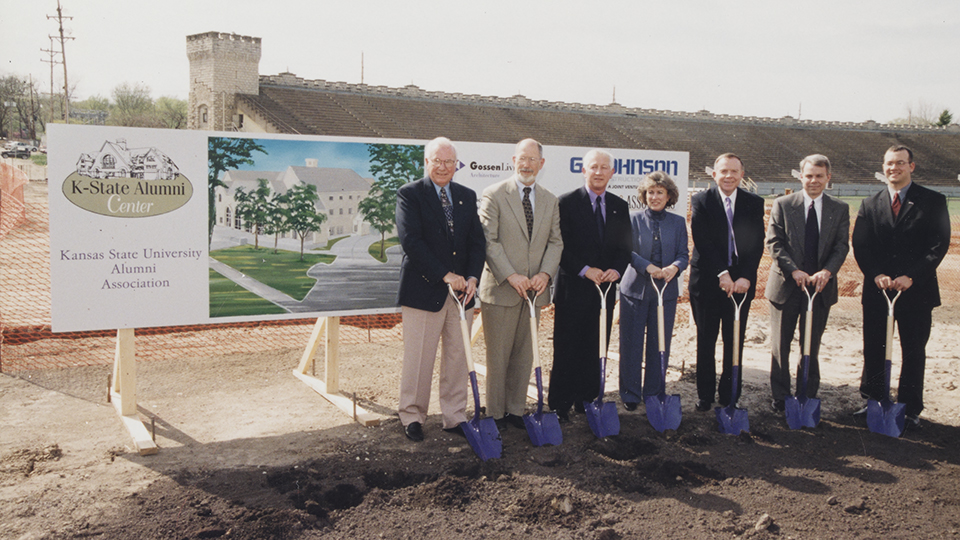 At K-State: What are some highlights from your work with students on campus?

Button Renz: I was fortunate that I had the opportunity to get to know the alumni director, H. Dean Hess '50, when I was a student. So when I moved to D.C. after graduation and went to an alumni club event for the Capital Cats, I was talking to Dean, and he asked me what my plans were. I was really thinking about going back to graduate school and getting my master's in public administration. He said, "Well, if you decide to apply and get accepted, let me know." So when I was accepted, I moved back to Kansas and set up an appointment and I walked out of his office with a job.

And my job was to start student programming because the Association had limited programming for students. My position was brand new. Working with Blue Key, we established the K-State Student Ambassador program in 1977. And then in 1981, we established a Student Alumni Board. And I think those programs, obviously, have stood the test of time. Those are incredible students that have been leaders that have gone on to do great things. Many of the Ambassadors and former SAB members are now on the Alumni Association board of directors or on college councils, active with athletics. They definitely give back to their alma mater.

I look at the student awards programs that we've created over the years. It's wonderful to be able to recognize students. It's so fun to go to those programs because the students are so appreciative, and so excited to be honored for the work that they've done.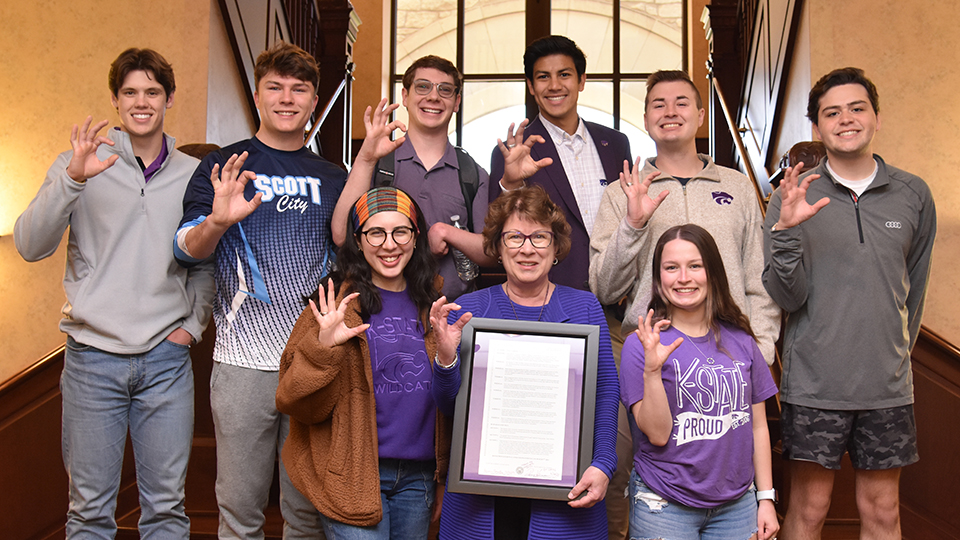 At K-State: You've had a chance to work with so many different people at K-State during your time at the Association; is there anything you'd like to share about that experience?

I have been incredibly blessed with the opportunity to work with alumni and volunteers who really made it a joy for our entire team to be able to accomplish great things. The leaders that serve on our board, whether there's someone that is just out of school a few years, or someone that graduated 40 years ago, it's a team of people that only want what's best for K-State, and the partnerships and the things we've been able to create on campus and throughout the country.

So much of that is the vision and the ability of the Association's board to create a strategic plan. That's what helped us really grow as an Association. The other thing that has truly made a big difference is the fact that our staff is so well connected on campus. I would put our staff up against anybody in the country, as far as the talent and the commitment to the university, and their willingness to do whatever it takes to get the job done.

At K-State: How do you plan to spend your retirement?

Button Renz: One of the common questions I get is, "Are you still going to live in Manhattan?" I tell everyone that Manhattan is my home. And I cannot imagine living anywhere else. However, I will spend a lot of time in Kansas City because five of my grandchildren live in the Kansas City area.

We'll continue to go to home games, and I'm hoping to be able to attend even more sporting events. Definitely we will still go to the bowl games. So much of my life growing up was around K-State sports. And even though I've never been an athlete, it's something I've always enjoyed. And I don't see that being any different.

As for other things that I plan to do, I am going to volunteer to help the K-State Department of Political Science form a Political Science Advisory Council, working with Sue Peterson '76, '05 [former K-State chief government relations officer and assistant to the president], who also has retired.

Our church, Peace Lutheran, created what we're calling the Peace-Full food pantry. The goal was to have a pantry on the west end of town, and it's been very popular. So the good thing is, I'll be able to spend more time helping with the pantry.
---