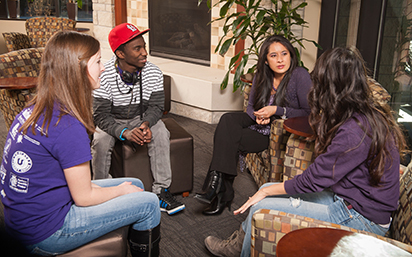 Pay it forward: Five ways you can help the next generation of K-Staters be a success
For K-State students, an internship offers an opportunity to take the skills they've learned in the classroom and apply them in a real-life, on-the-job setting.

Marone Shimekt, a senior studying human resource management at K-State, got a chance to put her major into action during an internship with the company WaterOne.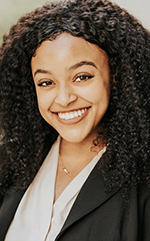 "During my internship, I was able to screen applications and conduct interviews, clean and mine data in preparation for their new HRIS system implementation, and my personal favorite: developed and presented a business case on diversity and inclusion for the senior staff."

If you're a K-State alumni or friend with a business, the K-State Career Center encourages you to consider offering an internship to current K-State students. You could help them get a head start in their future career.

"I believe my time as an intern will positively impact my future career," Shimekt said. "Being able to take on challenging initiatives was an experience that has cultivated my personal and professional growth in ways beyond measure."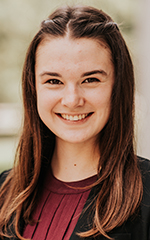 Marlaina Markwart, a senior also majoring in human resource management, has benefited from two HR internships: one at MMC Corp and one at Westlake Ace Hardware.

Markwart said in her first internship, she focused mainly on talent acquisition: registering for career fairs, posting jobs, updating recruitment presentations and preparing recruitment materials. She also created and managed a month-long, company-wide competition using an online financial wellness tool called SmartDollar, including a prize system, tracking employee points, sending weekly emails and coordinating prize distribution.

In her second internship, she processed more than 400 background checks and more than 350 Form W-4s and "change in direct deposit" authorization forms. She also observed how the company handled COVID-19 cases, helped with four store acquisitions and apprenticed the recruiting cycle for a corporate role.

"My internships have already impacted my career," she said. "I accepted a full-time position in December and I look forward to starting in the Human Resources Leadership Development Program at Parker Hannifin in June. These opportunities helped me learn how to be a young professional, allowed me to apply classroom information to the workforce and establish great contacts in my field."
Share your career knowledge as a mentor
Are there lessons you've learned throughout your career that you'd love to share with a current K-State student? Why not sign up to be a WildcatLink mentor!

WildcatLink is a networking program that connects K-State students with alumni and friends for career-related mentoring.

K-State Alumni Association board of directors member Rich Macha '80 says he has "thoroughly enjoyed being a mentor in the WildcatLink program," and he encourages other K-Staters to consider participating.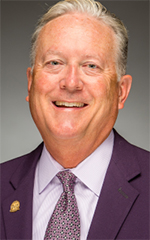 "I hit the jackpot with my first mentee. I was paired with K-State varsity basketball player Pierson McAtee '19, '20. He is on the Big 12 Conference Commissioner's Honor Roll and was selected three times as Academic All-Big 12 First Team. I assisted Pierson to understand the wealth management field he was pursuing as a career and introduced him to leaders in wealth management. It was a true pleasure getting to know him and assist him achieve his goals. Pierson is now working at a Kansas City wealth management firm.

"I'm now assisting my second mentee, Meghan Splichal. We've now had two meetings and have discussed the pros/cons of immediate employment after graduating versus pursuing law school. She is a very bright student with a tremendous future in front of her. It's been a delight getting to know Meghan.

"In both cases, it's been rewarding to assist these K-Staters achieve their career goals. It is a wonderful feeling to share advice and help them achieve success. I enjoy the stimulating conversation and having a connection to a K-State student."
Stop student hunger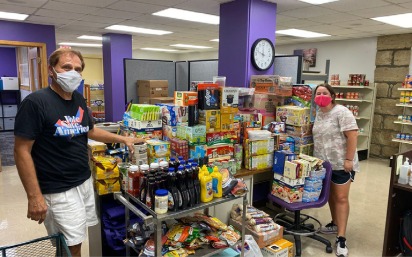 The goal of Cats' Cupboard — the K-State student food pantry — is to prevent food insecurity from being a barrier to student success.

In a Campus Climate Assessment Project, 39.4% of the students who reported financial hardship indicated they had difficulty affording food.

In a financial stress study conducted by the Office of Student Life, 14% of student respondents indicated they did not have enough money to meet their basic necessities. Furthermore, 51% indicated they didn't have enough money for groceries at least once in the three preceding months.

It's easy to make a donation to Cats' Cupboard and help stop student hunger, with options for giving online or dropping off items in person.
Help students help other students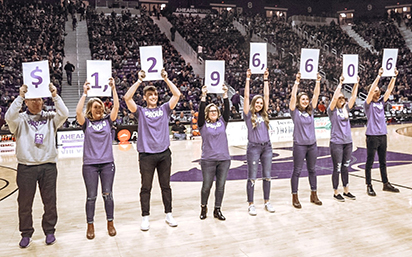 Even while they're still students, K-Staters learn how to give back. K-State Proud is a student-led, nationally-recognized fundraising campaign for K-State. Guided by the leadership of Student Foundation, the campaign encourages students to show their K-State pride through philanthropy. In the first 13 years of the campaign, students have raised more than $1.35 million for their peers who are struggling financially.
Drive with pride…and support scholarships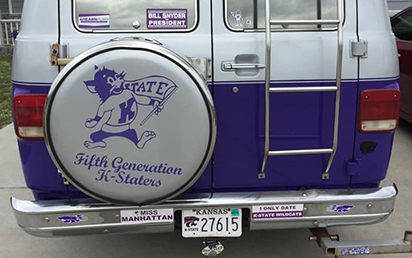 Did you know that something as simple as purchasing an official K-State License Plate can help you invest in future generations of K-Staters?

Since the program began in 1996, the tax-deductible royalties paid on K-State License Plates have raised more than $5 million for student scholarships and recognition of achievements.

K-State License Plates are currently available in Kansas, Maryland and Texas. Find out how you can get your plate today: