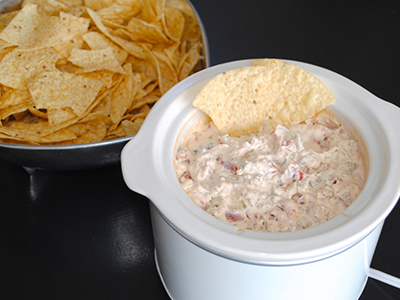 Submitted by Matthew Crow, Lenexa, Kansas
Three 8 oz. packages of cream cheese
Two 10 oz. cans of Rotel (I prefer original flavor)
One pound of mild ground sausage
Plenty of tortilla chips for dipping
Brown sausage in pan. Drain sausage grease. Add cream cheese and cook until fully melted. Watch carefully as to not burn the cream cheese.
Add cream cheese and sausage mixture into slow cooker, as well as the two cans of Rotel. Set slow cooker on low and enjoy.
Optional: Blend the Rotel before adding to slow cooker to eliminate the chunks. To double the recipe, use five and one half packages of cream cheese, three and one half cans of Rotel, and two pounds of mild ground sausage.
---