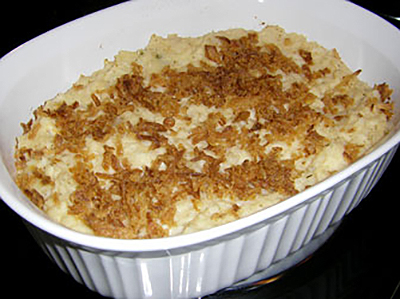 Submitted by Monta Harris, Manhattan, Kansas
4 c. frozen hash browns
1 (7-oz.) pkg. butter and herb mashed potato mix (Betty Crocker)
1/2 c. real butter, softened
4 oz. cream cheese, softened
1 c. shredded Monterey Jack cheese
1/2 c. sour cream
1/2 tsp. pepper
1/4 tsp. salt
1/4 tsp. garlic salt
2 c. boiling water
2 c. prepared french fried onion rings (optional)
Preheat over to 350° F. Bring a large pot of water (at least 8 cups) to boiling; add the frozen hash browns. Boil for 5 minutes and then drain.
In a large bowl, mix together the cooked hash browns, dry mashed potato mix, butter, cream cheese, jack cheese, sour cream, garlic salt, pepper and salt.
Stir in the 2 cups of boiling water. Place in a greased two-quart casserole dish. Bake for 35-45 minutes. Sprinkle the onion rings over the casserole and bake for about 5-8 minutes longer.
---