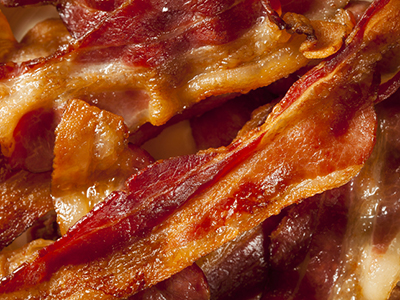 Submitted by Nathan Victor '00, Mission, Kansas
1/2 lb each of red, black and navy beans
3-4 quarts homemade chicken stock
3 lbs slow cooked/smoked pork shoulder
1 lb bacon
8 oz tomato paste
1 large white onion
3 jalapeños
3 garlic cloves
3 bay leaves
1 t cumin
1/2 t cayenne pepper
1 t chili powder
1 t salt
1 t fresh ground black pepper
Corn meal for thickening agent
Make this chili before the tailgate and reheat to serve. In at least a six-quart stockpot, crisp the bacon and set aside. Simmer the beans in the chicken stock and spices for a few hours, until the beans are done.
Chop/shread the meat. Chop the garlic, onions and jalepeños. Some jalepeño seeds may be left in depending on your preference for spiciness. Once the beans are cooked, add the rest of the ingredients to the stockpot and simmer for 30 minutes.
If chili is too thin, add a couple of tablespoons of corn meal. Serve with corn chips, sour cream and pickled jalepeños. Have fun!
---