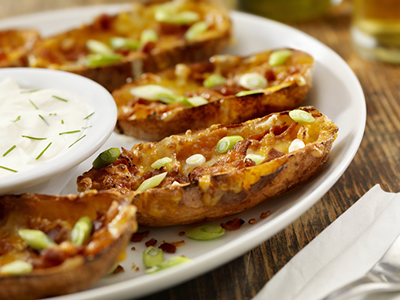 Submitted by Kate Collings Sweeten '05, Overland Park, Kansas
Russet potatoes
Butter
Seasoning salt (I like garlic salt)
Shredded, BBQ meat-of-choice
Shredded cheese
Sour cream
Green onions
Before tailgate: Bake the potatoes unwrapped on the baking rack at 450° F for 1 hour. Remove, cool.
Cut potatoes in half long-ways. Scoop out some of the potato filling, leaving 1/4" of the filling intact to create a little potato "boat."
Melt butter and brush over the inside and outside of the potato. Sprinkle with seasoning salt of your choosing (I think garlic salt and black pepper work well).
At the tailgate: Toss the skins on the grill and let them cook for a few minutes on each side until you have light grill lines and a crispy outside.
Fill the skins with toppings of your choice. My personal favorite is shredded BBQ chicken (you can make your own or buy tubs of ready-made, microwavable BBQ chicken at the grocery store), a little bit of shredded colby jack cheese, a dollop of sour cream and a sprinkling of green onions. Eat. Enjoy. Repeat.
---