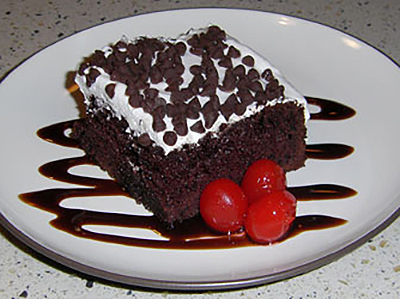 Submitted by Susan (Tuohey) Ebright '75, Lyons, Kansas
1 pkg. devil's food cake mix
1 1/3 c. water
1/2 c. vegetable oil
3 large eggs
1 c. hot fudge ice cream topping
1 (12-oz.) container frozen whipped topping, thawed
1 c. mini chocolate chips
Place a rack in the center of the oven and preheat the oven to 350° F. Lightly mist a 9x13" pan with vegetable oil spray. Set the pan aside.
Place the cake mix, water, oil and eggs in a large mixing bowl. Blend with an electric mixer on low speed for 1 minute, then for 2 more minutes on medium. Pour the batter into the pan and place in oven. Bake until the cake springs back when lightly pressed with your finger, 32 to 37 minutes.
Poke holes, 1" apart, in the cake with the handle of a wooden spoon. Fill each hole with hot fudge topping. Let the topping settle into the holes, then go back and fill them once again. Using a rubber spatula, spread the whipped topping smoothly over the top of the cake. Sprinkle with chocolate chips evenly over the top.
Cover the pan lightly with waxed paper and place it in the refrigerator to chill until it's time to serve.
---