Bringing back the beat: Cadence A Cappella alumni celebrate 20 years of music and memories at K-State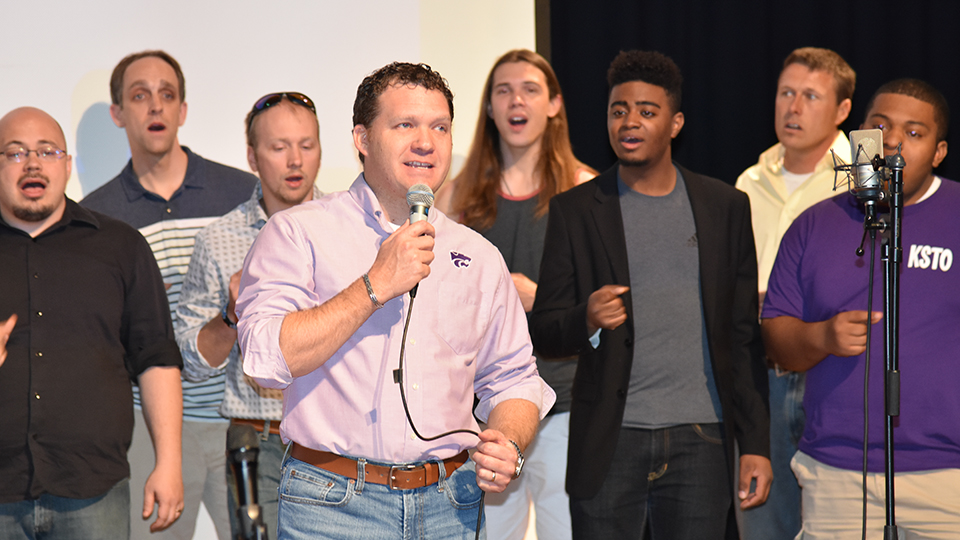 As Andy Dueringer '02 was growing up, he remembers listening to — and singing along with — a cappella music on cassette tapes his older sister brought back from college. The music made an impression on Dueringer — so much so that when he came to K-State and found the university's Glee Club didn't have an a cappella group, he knew he had to help start one.

When he arrived on campus, he started working with Jerry Polich, the director of the Men's Glee Club at the time, and some of the other members of the Glee Club to form Cadence A Cappella.

Cadence has been making music at K-State ever since and celebrated its 20th anniversary with a Reunion Concert on May 5, 2018, in Forum Hall in the K-State Student Union. Cadence alumni were invited to join the current members on stage for several songs.

"We are extremely proud to be able to look back on a rich and wonderful history," said Nils Peterson, Cadence president. "Throughout the years, Cadence has provided over 130 young men the opportunity to come together to make music with one another in an environment that wonderfully balances professionalism and pursuit for quality with our fun-loving nature. Centered around our mutual love for music, Cadence is a brotherhood that provides lasting friendships, support and a home for its members."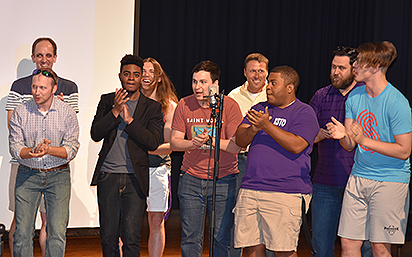 Cadence was founded in the 1998-1999 school year and covers a variety of musical styles, ranging from barbershop to popular music, classics, doo-wop and more.

Dueringer has many favorite memories from Cadence performances over the years. He remembers singing for the Kappa Kappa Gamma Mother's Luncheon their first year as they were still trying to figure things out ("God bless them for taking a chance on us," Dueringer said). On Valentine's Day every year, the group would sing all over campus and they also sang at halftime during a couple of football games with the marching band.

Paul Myers '02 said he joined Cadence because he had always loved barbershop, doo-wop and R&B groups like Boyz II Men, Silk, Shai and All-4-One. He enjoyed singing at sororities and remembers beatboxing for Creedence Clearwater Revival's song "Down On the Corner."

And, of course, there were some humorous memories as well, from times when things didn't quite go according to plan.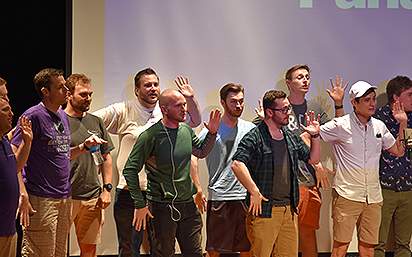 "One time we were performing for an entire high school, and the leader of our group blew the wrong note on the pitch pipe," Myers recalls. "So when we started singing, it sounded like a song none of us had ever heard and didn't ever want to hear! I didn't know what was wrong at that moment, but in my head I was thinking, 'Are we gonna just soldier on through this awful rendition?' I decided to stop us, crack a joke and get us started again. It's moments like that where you learn to improvise in front of an audience, and more importantly, be able to laugh at your mistakes. That is definitely a valuable skill to have in life!"

Life lessons and a sense of camaraderie are things Dueringer also took away from his time in Cadence.

"Cadence and the Men's Glee Club was a brotherhood that helped shaped me and impacts my life even now," Dueringer said. "I am a better teacher (I'm a middle school art teacher now) because of my time leading the group. In a similar way, K-State was always my home away from home and connected me to a family that I am proud to be a part of. I am proud to be a Wildcat and a founding member of Cadence."

LISTEN TO SAMPLES of Cadence's music online and WATCH THEM SING the rarely-heard first verse of the K-State Fight Song, coinciding with the 90TH ANNIVERSARY celebration of the song at Homecoming.

Below: Cadence A Cappella appears in the April 3, 2000, Kansas State Collegian.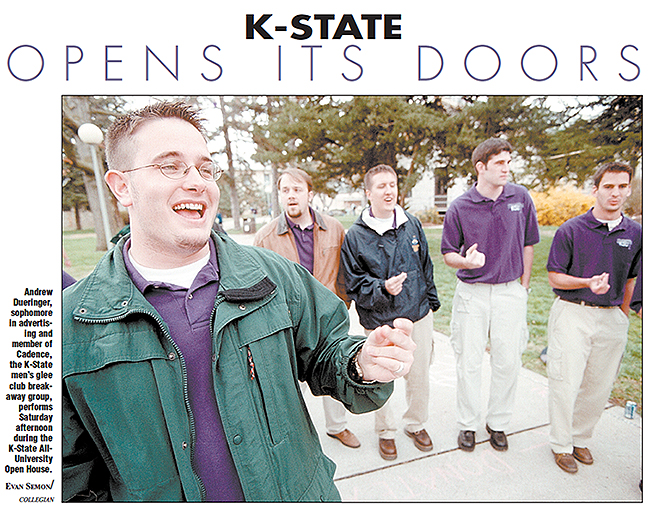 Note: This article originally appeared in the June 2018 issue of At K-State newsletter
---