Sue Peterson to receive K-State Alumni Association's 2016 Flinchbaugh Family Wildcat Pride Award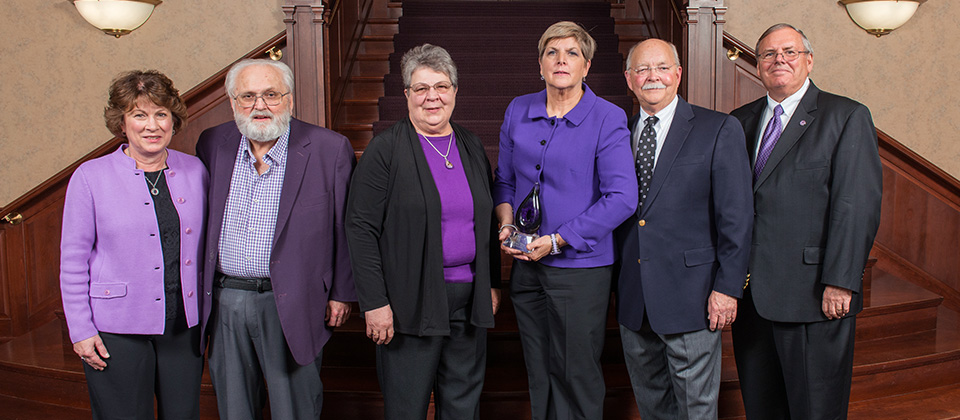 Sue Peterson, Kansas State University's director of governmental relations, has been selected to receive the 2016 Flinchbaugh Family Wildcat Pride Award. The award honors a current or emeritus K-State faculty or staff member for his or her advocacy of alumni relations, with a special emphasis on support and participation in alumni programs that engage members of the Wildcat family.
Peterson received the award during the Alumni Association's fall board of directors meeting Oct. 7.
"Sue has been a strong advocate of the Alumni Association as we partner with the university to strengthen the future of higher education in Kansas," said Amy Button Renz, president and CEO of the K-State Alumni Association. "She has dedicated her career to building invaluable ties between our Wildcat community and government officials throughout the nation and is always willing to provide assistance and leadership as we work to enhance the future of K-State. We are pleased to recognize her for her ongoing support of the Alumni Association and dedication to the university."
Peterson provides counsel and support for the Alumni Association's Wildcats for Higher Education program. Additionally, she provides legislative updates to the Alumni Association's board of directors and works with the Alumni Association staff to develop grassroots strategies that enable alumni to support higher education in the legislative process.
During the past several years, Peterson also has been instrumental in the development and success of expanded grassroots advocacy initiatives coordinated among the alumni associations and government relations offices of the six Kansas Board of Regents universities.
As K-State's director of governmental relations, Peterson works with the campus to establish K-State's state and federal legislative requests and priorities in consultation with the university president. Peterson has direct responsibility for all K-State liaison activities with the Kansas Legislature, Kansas executive branch agencies and the Kansas U.S. Congressional delegation. Additionally, Peterson serves as the chair of the University Committee on Governmental Issues.
Peterson earned two degrees from K-State: a bachelor's degree in political science from K-State in 1976, and a doctorate in curriculum and instruction in 2005. She also earned a master's degree in public administration from the University of Kansas in 1982. She began her current position at K-State in 1989.
---