Homecoming Committee donates to Pawnee Mental Health Services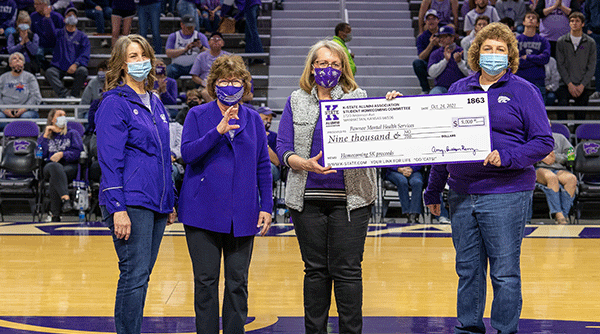 Kansas State University's All-University Homecoming Committee has donated $9,000 to Pawnee Mental Health Services. The funds were raised from proceeds collected at the 2021 All University Homecoming Philanthropy 5K Run/Walk.
Each year the Homecoming Committee identifies a benefactor for the 5K proceeds.
Pawnee Mental Health Services provides a complete range of mental health services for people of all ages. Their staff can help with anxiety, depression, gender issues, substance abuse, relationship issues and more. The services are available to everyone regardless of ability to pay. If you or someone you know is struggling with mental health, Pawnee Mental Health has experienced professionals who can help you navigate these challenges. They are close to campus at the corner of Sunset and Claflin. To schedule an appointment, go to pawnee.org. In a mental health emergency, Pawnee's crisis unit is available 24 hours a day, every day of the year at 800-609-2002.
A check for the proceeds was formally presented at the K-State women's basketball game on Jan. 29.
K-State has celebrated Homecoming for more than 100 years. The 2022 Homecoming Celebration will take place Oct. 23-29, kicking off the week with the 5K run/walk. The Homecoming 5K is sponsored by WTC Communications. Stay tuned for more details on the upcoming celebration, k-state.com/Homecoming.
---