K-State alumni leave their legacy with K-State pavers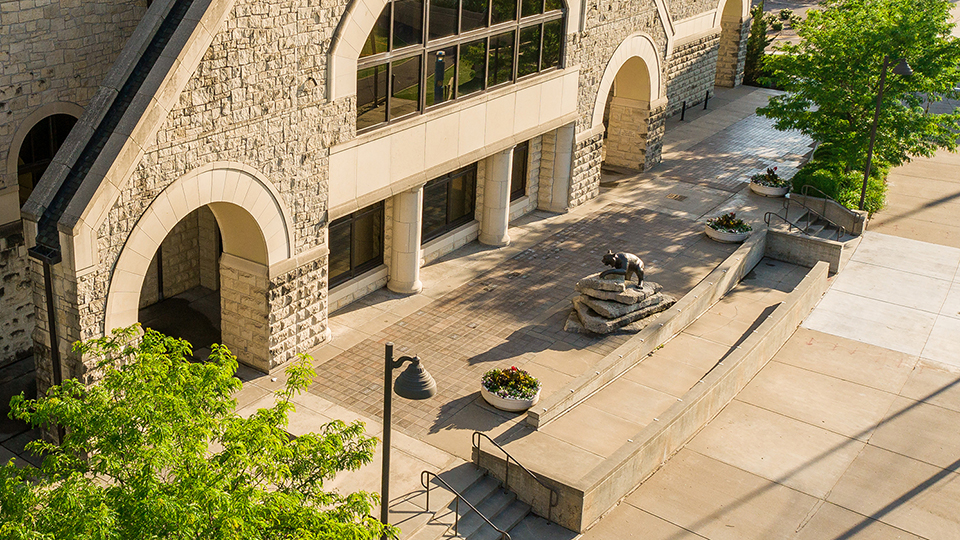 Each of the inscribed pavers lining the sides of the K-State Alumni Center has a unique story to tell.

Some pavers honor a moment in time, such as a graduation or another special occasion. Others pay tribute to a beloved family member or friend.

The names etched into these dark gray, slate pavers symbolize the K-Staters who will now forever be a part of the spot we all love full well…
"My wife Tracey '82 and I feel like the pavers are an excellent way to not only support the Alumni Association but also give future generations a permanent place to remember our legacy at K-State," says Link Evans '82, Alumni Association board of directors member and supporter of the paver program. "Our kids are fourth-generation K-State grads and it is special to have their names beside their great-grandparent's paver."
Pavers may be purchased for $600 each and are fully tax-deductible. The square 12" x 12" pavers will accommodate three lines of text with approximately 17 characters per line. You also have the option to add a Powercat to your new paver to show your K-State spirit.

The Alumni Center pavers originally debuted as part of the Alumni Center fundraising campaign to build the Center in 2002. After 20 years, the space is nearly full and we expect to fill the remaining area in 2024. Be sure to order before June 30, 2024, to secure your paver.
"Having a paver at the K-State Alumni Center was a decision I made because of the great experience I not only had during my undergrad time at K-State, but after graduation with staying engaged with K-State through the Dallas and Phoenix alumni clubs," says Brian Bednar '83. "I've also had the honor of serving on the KSU Foundation Board of Trustees the past few years and currently mentoring one of the K-State engineering students. I make visits back to the campus a couple times of the year and always enjoy touring campus and seeing the amazing changes and improvements to the campus. I also have set up an engineering scholarship for a student/s enrolling in the K-State Engineering program. I truly enjoy staying engaged with K-State and continue to wear my purple pride attire! I'm also looking forward to seeing K-State play against the Arizona teams as the Big XII expands next year and I'll be able to watch and attend those future games."
---