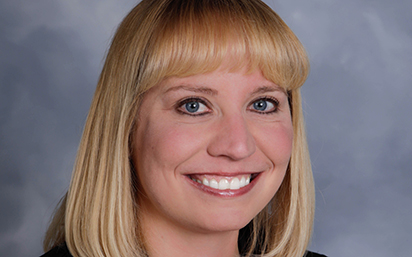 Meet our 2021 Distinguished Young Alumni Award recipient Dr. Jamie Ball '10
As Dr. Jamie Ball '10 looks back fondly on her time at Kansas State University, she remembers it as the place where she "grew up."

"I was challenged mentally in the classroom and socially and leadership-wise on campus," said Ball, now a pediatrician at Golden Valley Memorial Hospital. "K-State forced me to 'put myself out there,' and ultimately allowed me to develop in all aspects of my life."

In honor of her career accomplishments and continued support for K-State, Ball is being recognized with a 2021 Distinguished Young Alumni Award. The annual award honors K-State graduates who are younger than 35 and are using the scholarship, leadership and service experience they acquired at K-State to excel in their professions and contribute to their communities.

At K-State asked Ball to share some of her thoughts on receiving the award, her time at K-State and her goals for the future:

🏆 What are your thoughts on receiving a Distinguished Young Alumni Award?

I am incredibly honored and humbled to receive the Distinguished Young Alumni Award. To receive such an honor from my alma mater, a place I truly love full well, is such a touching award. The opportunities, education, experiences, mentorships and friendships that K-State provided, are what shaped the path that I have taken and allowed me the chance to pursue my dreams.

The K-State Alumni Association played a tremendous role in my undergraduate experience and provided me with so many amazing leadership opportunities and wonderful mentors. These experiences and individuals allowed me to truly discover who I am, my passions and helped me to carve the path that I needed to take to achieve my goals. The invaluable part of my K-State experience is the fact that it doesn't end when you graduate. These same faculty, staff and friends are the same individuals who have continued to guide me along my path, support me and allowed me to be in the position that I am in today.

🏆 What are some of the things you learned during your time at K-State?

I feel that my time at K-State allowed me to grow exponentially as a person. I grew up in rural southeast Kansas and I was one of the only students from my area that came to K-State. I didn't know anyone and was setting foot on a campus where many of my classes had more students than my entire high school. My classes demanded more of me than I had ever encountered before and I had organizational opportunities that were endless. These new challenges taught me the value of time management, prioritizing and delegating of tasks.

I had amazing advisers through the Division of Biology and through my pre-medical adviser, who allowed me the individualism to pursue my own interests, yet still complete my academic requirements. They helped to personalize my undergraduate experience to me, while ensuring that I was competitive in the future medical school market and beyond.

The amount of leadership opportunities and involvement on campus taught me priceless lessons in leadership, negotiating and delegation. These opportunities provided me with a network of peers and friends who challenged me day in and day out and allowed me to acquire skills that I use each and every day. These individuals are the same ones that I can turn to today for assistance, to bounce ideas off of and for general support.

🏆 How has your K-State experience impacted your career or made a difference in your life?

Every experience and opportunity that I was afforded at K-State has contributed to my career and personal development and allowed me to be in the position that I am today. The beauty of K-State is that it offers all of the opportunities of a major university, without sacrificing that small-town family feel and atmosphere.

From the moment that I arrived on campus, I was thrust into an environment where I was constantly challenged to expect more of myself. As a freshman, I was able to participate in cancer research through the Terry C. Johnson Center for Cancer Research. I was able to become involved in the Student Governing Association, which taught me how to allocate a major budget and to advocate for my fellow students and taught me vital leadership skills. The K-State Alumni Association offered me the opportunity to serve my university through student recruitment, retention and preservation of traditions, but also provided me with the invaluable opportunities to network with administration, faculty, staff and outstanding alumni.

Ultimately, my K-State experience provided me with a family, composed of faculty and staff, my fellow students and amazing alumni, who have continued to support me to this day. It is because of everyone and everything that K-State provided to me, that I am where I am today.

🏆 What are your career goals for the future?

My career goals for the future are to be able to build a successful pediatric practice. For me, this means that I develop a practice where my patients are able to develop a personal relationship and do not feel as if they are just a number. I desire a practice that continues to stay at the forefront of medicine to provide the best in care that medicine can provide. Ultimately, I feel that I will be successful, if when all is said and done, one patient can say that I had a positive impact on their life.

🏆 What advice would you offer to other young K-State alumni?

One important lesson that I have learned, is that in life you often set out with a specific goal and endpoint in mind. Life will throw you curves, and dreams will be deterred by bumps and forks in the road. What you once thought you were destined to do, may have been the stepping stone to something even greater. Never let one door closing cause you to cast your eyes away from what may be the curtain opening for an even greater stage of opportunity. If you truly want something, never let anyone or anything tell you that you cannot or will not make it. Hard work, passion and dedication will overcome all else. Never lose sight of yourself and your heart's desire.