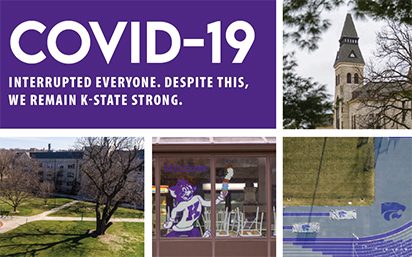 Update on K-State and COVID-19
As the state of Kansas continues to evolve its approach to addressing COVID-19, Kansas State University is gradually moving towards reopening.

K-State's plan for reopening is a phased approach with universitywide criteria that aligns with national, state, local and CDC requirements and guidance. It is designed to maintain and deliver our land-grant mission through teaching, research and extension/outreach, while also preserving the health and safety of K-State's university community and our host communities.

Individuals must maintain social distancing and proper hygiene such as frequent hand-washing and covering coughs and sneezes. Employees are asked to regularly clean high-touch surfaces, avoid shaking hands and complete safety training. Employees also are encouraged to wear face masks when social distancing is not possible and continue working remotely as much as possible.
View K-State's full reopening plan
"I am humbled by your continued resiliency during an unprecedented time in our history,' President Richard Myers '65 wrote in a letter to the K-State community. "We have taken extraordinary actions to maintain our mission, such as the transition to remote teaching and student services, all while others work diligently to keep our university operating. We've also worked to mitigate the financial effect of the pandemic on our students.'
He added that the university will be facing financial challenges in both the near and mid-term future due to the COVID-19 pandemic. Steps taken by K-State to mitigate the financial impact of the coronavirus include:
Instituting a universitywide hiring freeze and process for supporting mission critical positions. Any exemptions to this freeze must be approved by the president, provost or appropriate vice president. The hiring freeze will produce an expected $2 million in savings over the next year.
President, provost, cabinet members and senior administrators are voluntarily taking a 10% reduction in salary for the next fiscal year, which will generate at least $800,000 in savings.
Implementing targeted emergency furloughs for areas where there is an immediate or imminent lack of funding to continue operations. Human Capital Services is providing updated information about how this will function in conjunction with state and federal aid for employees.
K-State expands licensing agreement for COVID-19 antiviral treatment
Researchers from K-State are doing their part to help discover a treatment for COVID-19 through a second licensing agreement with Cocrystal Pharma.

The new agreement with Cocrystal grants the use of two patented series of protease inhibitors developed by Kyeong-Ok "KC" Chang and Yunjeong Kim, virologists in the K-State College of Veterinary Medicine.

Through the new agreement, Cocrystal Pharma, a clinical-stage biotechnology company, will use the K-State-patented protease inhibitors to further develop a possible treatment of the coronavirus infection that causes COVID-19.

A previous licensing agreement with the company included broad-spectrum antiviral compounds with a focus on norovirus and Middle East Respiratory Syndrome, known as MERS. The newly licensed technologies include broad-spectrum antiviral compounds with a specific focus on coronavirus, including SARS-CoV-2, which causes COVID-19. Read more


K-State begins offering COVID-19 testing for university students, employees
K-State also is helping combat the virus by developing important diagnostic tests and offering testing services for the university community.

The university is now able to test K-State students, faculty and staff who need testing either because they are ill and have COVID-19 symptoms or because they have been exposed to someone with the virus. The Kansas Department of Health and Environment has asked K-State to ramp up human testing and researchers are increasing their testing capacity. Read more

K-State keeping rural, urban Kansans on the forefront of COVID-19 knowledge
K-State is helping families in Kansas by arming them with new research, information, tools and outreach during the COVID-19 pandemic. From health and safety in meatpacking plants to food security and economic and mental health resources, K-State is taking a multifaceted approach to assist Kansans.

"As the land-grant university, it is our mission to support the state and its people not only through education but also research, engagement and service," said Peter Dorhout, vice president for research. "Agriculture is the largest economic industry in the state, and I am proud of the work our entire university is doing to help all Kansans, but especially those in this vital industry." Read more

Find out more about K-State's response to COVID-19 in the summer issue of K-Stater magazine, available exclusively for members of the K-State Alumni Association.