View the Distinguished Young Alumni keynote presentations tonight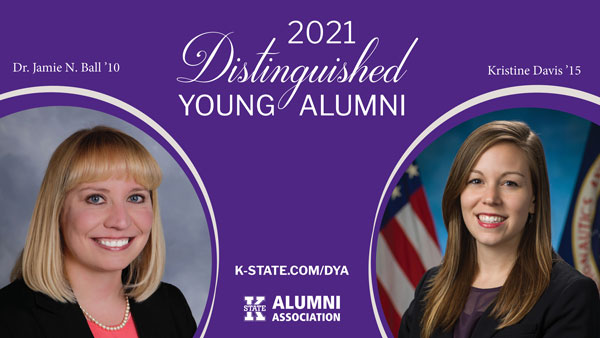 The 2021 Distinguished Young Alumni Award recipients, Dr. Jamie Ball '10 and Kristine Davis '15, will give their keynote presentations to the K-State community via YouTube Live Feb. 23.
Ball is a pediatrician at Golden Valley Memorial Healthcare. Davis is an engineer working for NASA on the Exploration Extravehicular Mobility Unit (xEMU) spacesuit, which will serve as the spacesuit for the planned Artemis missions. To learn more about the recipients, visit our website.
Anyone can view the presentations, Ball will present at 6 p.m. CST followed by Davis at 6:30 p.m. CST.
The Distinguished Young Alumni Award is given by the K-State Alumni Association and Student Alumni Board. To learn more about the award, visit our website.
---