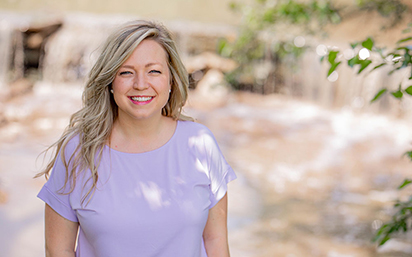 Get to know 2020 Distinguished Young Alumni Award recipient Mindy McBee '12
After graduating with her degree in agribusiness from Kansas State University, Mindy McBee '12 knew that Cargill was the perfect place to start her career — and she's been there ever since.

Currently serving as a strategic accounts sales leader for Cargill, McBee continues to promote those K-State/Cargill connections.

She serves on the K-State Steering Committee within Cargill, an alumni group that directs where company funds are donated on K-State's campus. Most recently, she helped start the Cargill Fellows Program for students, which funds a scholarship for each selected student and provides a Cargill coach. The fellows are given the opportunity to participate in diversity and inclusion trainings, service projects and other opportunities.

In honor of her career accomplishments and continued support for K-State, McBee is being recognized with a 2020 DISTINGUISHED YOUNG ALUMNI AWARD. The annual award honors K-State graduates who are younger than 35 and are using the scholarship, leadership and service experience they acquired at K-State to excel in their professions and contribute to their communities.

"Mindy's dedication to her work has had a major impact on both the company and her colleagues' well-being," said her nominator, Elizabeth Patton, K-State senior in pre-law and philosophy and Blue Key member. "She is a change agent in any position she is placed in."

At K-State asked McBee to share some of her thoughts on receiving the award, her time at K-State and her goals for the future:

What are your thoughts on receiving a Distinguished Young Alumni Award?

I am incredibly excited and honored to receive this award. This recognition coming from the Alumni Association is very special to me. The Alumni Association was a huge part of my campus life and experience. Receiving this award has been a great opportunity to pause and think about how much of an impact K-State really had on me. I am so thankful for my own personal experience at KSU, and particularly the faculty and friends of the university who helped set me on a track to be in a place to win this award today. Their leadership touched my life personally, and I love seeing it continue with students today.

What are some of the things you learned during your time at K-State?

I do not even know where to start! A couple very vivid memories I would share would be meeting with the Alumni Association board of directors as Student Alumni Board president and feeling so inspired by each of their careers and impact on their communities. I learned to really dream big after spending time with them.

Another very vivid memory is Blue Key meetings; we would have one each week during my senior year. Sitting around the table with 15 other people I had "grown up" with at K-State and who I respected as some of the most impactful student leaders on campus was such a fun and rich learning experience. We planned events and programs that really had an impact on others, and I was always very proud of the work we were able to do.

Last, I will share that I learned to choose your path based on what feels right to you. Put yourself in an environment you can be your genuine self. I did that coming to the K-State family, and I am thankful I was able to find that same family feel in Cargill where I have spent my career so far. When I visited campus it was clear the feel and fit of K-State were perfect for me. I used the same approach when choosing companies and here we are!

How has your K-State experience impacted your career or made a difference in your life?

I've been reflecting on this question since receiving the DYA Award. K-State gave me some of my very best friends, a formal education and confidence in myself gained through my on-campus leadership experiences. K-State led me to Cargill, which ultimately led me to my husband! I give K-State a huge amount of credit for the life I have today. My time at K-State was incredibly full of life experiences, FUN, meeting great alumni and being a part of organizations that I really loved.

What are your career goals for the future?

My career goals are to make a lasting impact on agriculture, females in agriculture, and to give back to people and places that have helped shape me.

What advice would you offer to other young K-State alumni?

I would tell young alumni to focus on networking and goal setting. Make an effort to keep your college network, and challenge yourself to meet new people in your industry and community regularly. I would also say setting and maintaining lofty goals is critical. I really believe what you say to yourself comes true, so you better make it good!

LEARN MORE ABOUT THE K-STATE ALUMNI ASSOCIATION'S DYA PROGRAM.