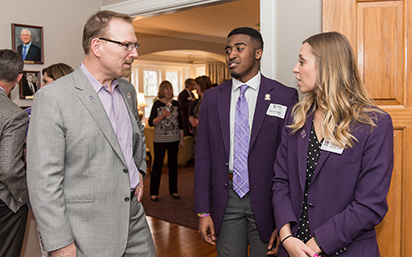 Returning to their roots: 2018 Alumni Fellows return to campus, share career advice with students
Whether they now serve as president of a company, manage a school district, participate in groundbreaking research, or are pursuing another career path, the 2018 Alumni Fellows all have one thing in common — they started as students at Kansas State University. In April, the Fellows had a chance to come full circle by returning to classrooms across campus. They spoke with students and shared how they became successful in their careers, encouraging those students to also reach for their dreams.

"Don't just follow the normal path," College of Agriculture Fellow Chuck Warta '91 told students. "Push yourself out of your comfort zone. You'll be glad you did."

The annual K-State Alumni Fellows Program is sponsored by the Deans Council, the President's Office and the Alumni Association. The Fellows are selected by K-State's nine colleges, along with Global Campus and the Graduate School. In addition to returning to campus and visiting classrooms April 11-13, the Fellows also were honored at an awards banquet.

The Fellows had a variety of insightful tips to offer students on how they can succeed once they graduate from the classroom to their career.

When Warta started his career, he told his company he was willing to travel and try different experiences. After 13 moves in 27 years and four different continents, he appreciates the diversity of experiences he can now draw from as president of Cargill Premix and Nutrition.

"How can I develop something that will make me unique?" he told students to ask themselves.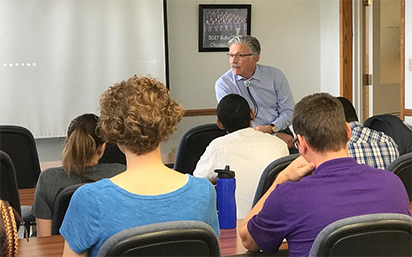 Graduate School Fellow Rolando A. Flores '89 echoed that advice.

"When you're a student, take challenges," said Flores, who is the dean and chief administrative officer in the College of Agricultural, Consumer and Environmental Sciences at New Mexico State University. "Take many opportunities. This is the only time in your life where you have the opportunity to learn without being punished for your mistakes."

Although College of Arts and Sciences Fellow Lori T. Healey '81, '84, CEO of the Metropolitan Pier and Exposition Authority, was unable to return to campus due to an unforeseen conflict, she encouraged students to find a career they are passionate about.

"Pursue your interests and your career will be most rewarding," she said.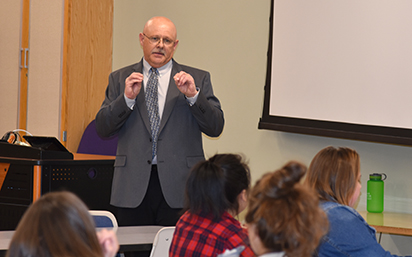 College of Education Fellow Fred Van Ranken '87, '94 advised students to look towards the future and find ways to innovate.

Van Ranken, who has spent nearly 30 years in education, started his career as a high school science teacher and is now superintendent of Twin Valley Public Schools. He shared his vision for the future of education with students at K-State and encouraged them to be a part of that future.

"I want to have the capacity to change the culture of schools," he said.

About the 2018 Alumni Fellows
The complete list of 2018 Alumni Fellows is:

• Chuck Warta '91, College of Agriculture
• Tom Phillips '80, '83, College of Architecture, Planning and Design
• Lori T. Healey '81, '84, College of Arts and Sciences
• Kenneth W. Sewell, Ph.D. '86, College of Arts and Sciences
• Robert M. Knight Jr. '80, College of Business Administration
• Fred Van Ranken '87, '94, College of Education
• Michael R. Wiegers '82, College of Engineering
• Julio Manso '12, K-State Global Campus
• Rolando A. Flores '89, Graduate School
• Lawrence Ganong '74, College of Human Ecology
• Robert Wood '80, College of Technology and Aviation
• Michael Whitehair, DVM '72, '74, College of Veterinary Medicine