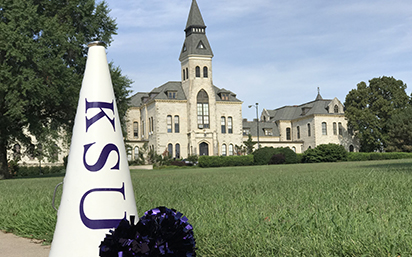 Princeton Review highlights K-State as home of 'happiest students'
No matter where you live, coming back to the K-State campus always feels like coming back home.

It's a place filled with happy memories — cheering on the 'Cats at athletics events, studying with friends at the library, or enjoying a scoop of Call Hall ice cream. As a student on the K-State campus, you aren't just an enrollment number — you're a Wildcat.

We're proud of that belonging feeling on campus, and new students always seem to notice.

As part of The Princeton Review's annual "best colleges" rankings, 2021 edition, K-State was ranked No. 1 for "happiest students." The Princeton Review surveyed 143,000 college students from across the country to determine its most recent rankings.

The words "helpful, polite and friendly" were a common theme for K-State undergraduates filling out the survey.
"At Kansas State, we live for each other, we work for each other, and most importantly, we succeed together," one student explained.

"The reason that I chose K-State was that I felt at home when I visited the campus," another student said.
"In these challenging times, it is so very gratifying to see just how much Kansas State University students truly value their university and its commitment to their pursuit of educational excellence, personal well-being and lifelong learning," said Thomas Lane, vice president for student life and dean of students. "These rankings show our student-centered approach creates an atmosphere where students can thrive."

"Happiest students" wasn't the only high ranking that K-State received; keep scrolling to see the other Top 5 rankings from the survey.