Stacia Mendoza and Josh Diazdeleon were named the 2022 K-State Student Ambassadors during halftime of the K-State Homecoming football game.

The two will represent the student body at alumni and student events for one year. The ambassadors serve a one-year term, and each receives the Kirk Family Student Ambassador Scholarship of $2,500, clothing from Borck Bros. and an official K-State ring.

The Student Ambassador program is sponsored by the K-State Alumni Association. Each year two students are elected. Mendoza and Diazdeleon were selected after completing a nomination and application process followed by a first-round interview with a student panel and a second-round interview with K-State faculty and alumni. Both were then elected by a student ballot during K-State's Homecoming week activities.
Stacia Mendoza
Junior, Finance
Lenexa, Kansas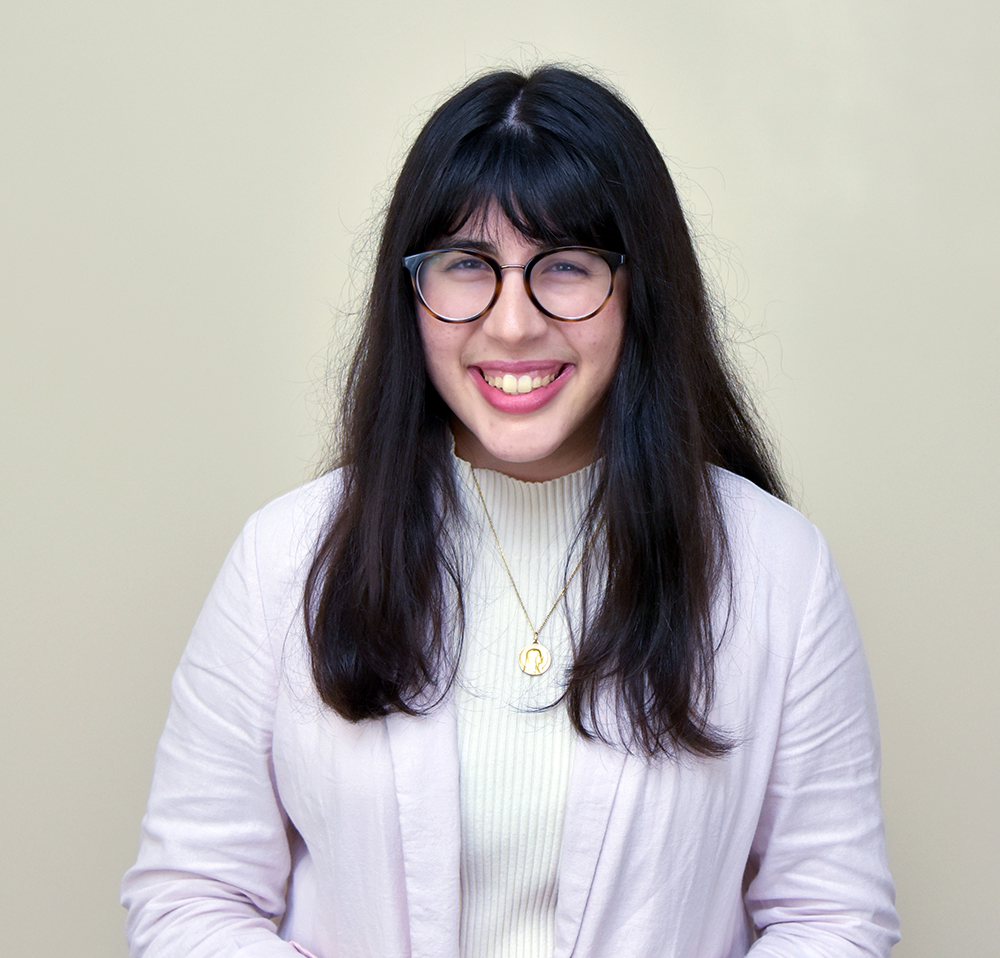 Favorite Quotes: "It is amazing what you can accomplish if you do not care who gets the credit." – Harry Truman
"Adventure is worthwhile in itself." – Amelia Earhart
Interests: Visiting national parks, game nights, eating bean dip from Lucha and discussing education systems.
Hi, I'm Stacia! I've changed my major about 10x, but one thing that's never changed is my love for K-State. I've never missed a football home opener, and in the month of September, I went to a concert almost every week. My favorite color is yellow, but I bleed purple!
1. Why is K-State important to you?
K-State is like no other place I have ever experienced (and I visited at least 20 universities!!) K-State has the resources of a large university, but the community of a small school. This means that you will find professors and peers who take time to help match your strengths to opportunities at K-State. Best of both worlds! I mean, we are No. 1 for happiest students!
2. Why did you decide to run for Ambassador?
This past semester I have experienced the support of the K-State family in ways I never could have imagined. I want others to have the opportunity to experience that same family. After spending the past three years getting involved all over campus in StuFo, SGA, and the College of Business, I know that Ambassador is a role where my passions can truly shine. It would be an honor to connect with future and current Wildcats!
3. What is your greatest challenge to overcome in projecting a positive image about K-State?
I am just one person with one experience. I think it is easy for someone to hear about my time and not know why that would impact them. It would be important to not just share my experience but instead share how K-State created a space for me to succeed. That space is available for everyone. I want students to have the freedom to make their own choices and write their own story here.
4. What qualities do you have that will allow you to succeed in the role of an Ambassador?
I am genuine, loyal, and knowledgeable. From serving on SOA committee to sitting on cabinet in SGA, I have seen K-State from many angles. I love nothing more than connecting with others. I have the ability to match high energy people but can also connect with quieter crowds too. This allows me to build good relationships so that future students feel welcomed, current students feel included, and alumni feel connected to our K-State family.
Josh Diazdeleon
Junior, Elementary Education
Liberal, Kansas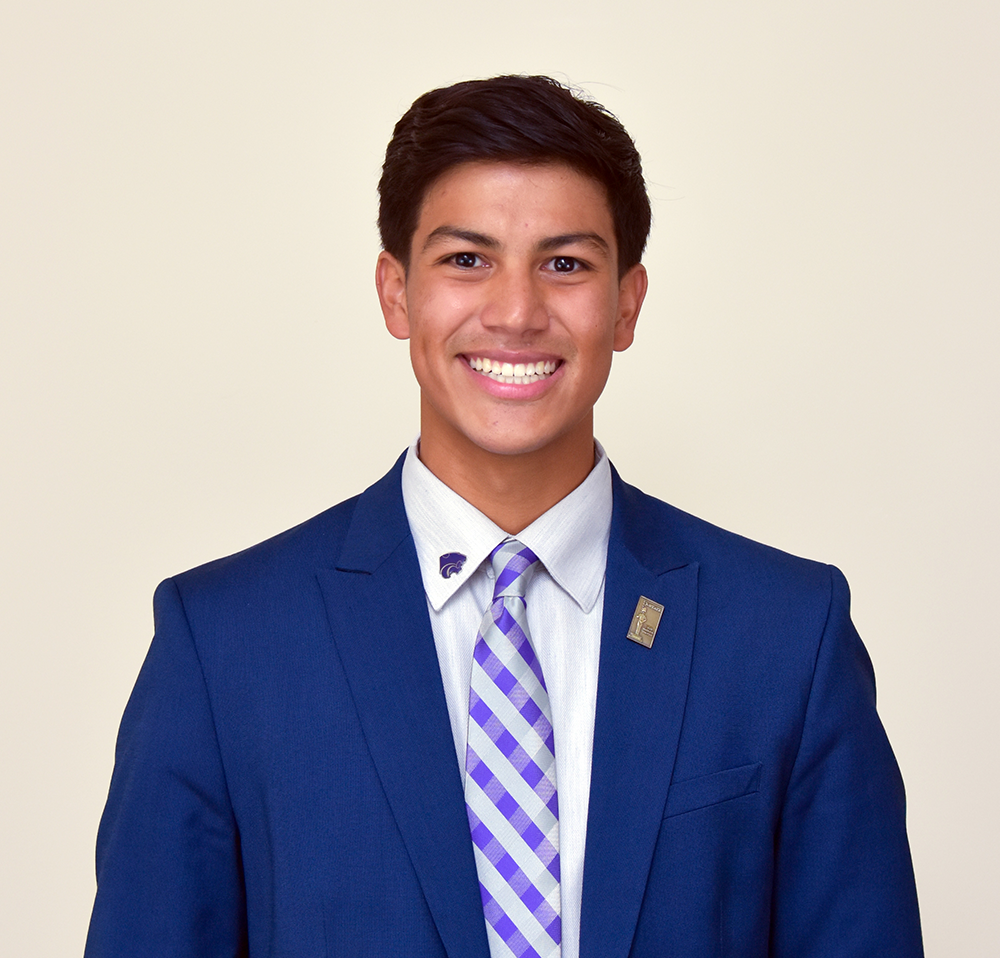 Favorite Quotes: "Only those who dare to fail greatly can ever achieve greatly" – Robert F. Kennedy
"If I went West, I think I would go to Kansas"– Abraham Lincoln
Interests: My interests include playing my trumpet in the KSU Marching Band, meeting new people, experiencing new things, and spending time with family and friends.
Hi! I am a believer in the idea that you get out what you put in and at K-State we live by everyone doing their part to make that idea true. I'm involved in everything from our marching band to our student governing association and if I could do more I would!
1. Why is K-State important to you?
K-State sets the bar high for the student experience at the collegiate level. My decision to come to K-State is reassured to me every day I'm on campus. It's here where students are valued as individuals and not numbers on a spreadsheet. I feel supported both by my K-state community on and off-campus.
2. Why did you decide to run for Ambassador?
I decided to run for Ambassador so that I could give back to students and our university for all that it has done to make me the person that I am today. K-State gives students the opportunity to succeed every day and that's a collective effort put on by everyone here at our school. Having the opportunity to not only represent the student body would be one of my greatest honors.
3. What is your greatest challenge to overcome in projecting a positive image about K-State?
In my eyes K-State is the place to be and wanting to go anywhere else seems unbelievable! However, not everyone feels this way and it's important to keep that in mind. I believe my biggest challenge is taking off my purple goggles to see everything else that lies within higher education sometimes.
4. What qualities do you have that will allow you to succeed in the role of an Ambassador?
I am loyal to the causes that I serve and this position would be NO exception. I am here to represent students and our university in everything I do as ALL students already do. I am committed to what we strive to achieve here at K-State and I do that at an accelerated level. I am inspired by the people I am surrounded by in our community to do the work that I strive to do.
---