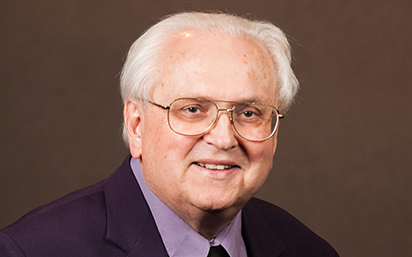 K-State honors legacy of esteemed agricultural economics professor Barry Flinchbaugh
Whenever Barry Flinchbaugh would stop by the K-State Alumni Center, he would always have a warm greeting and a smile for everyone he encountered.

The late K-State professor emeritus had office space in the building, but his relationship with the K-State Alumni Association went much deeper than that. He was a loyal friend to the K-State Alumni Association during his many years at the university, ranging from hosting Traveling Wildcats trips to endowing our Flinchbaugh Family Wildcat Pride Award.

Flinchbaugh passed away Nov. 2, and the K-State Alumni Association and the entire university community mourn his loss.

"Barry Flinchbaugh will be deeply missed by many generations of the K-State family," said K-State President Richard Myers '65. "His expertise and vast contributions to the university, the state and agricultural economics will have a lasting impact on the world for years to come through those whom he taught and counseled. His experiences have touched the lives of many and his wonderfully feisty, thoughtful, helpful and kind personality will be his legacy forever."

The charismatic Flinchbaugh was well known as one of the United States' leading experts on agricultural policy and agricultural economics. For more than four decades, he was a top adviser to politicians of both major political parties, including secretaries of agriculture, chairs of the U.S. House and Senate Agriculture committees, and numerous senators and state governors.

Flinchbaugh was involved to some degree in every U.S. farm bill written since 1968, and served on many national boards, advisory groups and task forces, providing input on domestic food and agricultural policy.


A storied career
Flinchbaugh grew up in York, Pennsylvania, and earned bachelor's and master's degrees from Penn State University. He earned a doctoral degree in agricultural economics from Purdue University before joining the K-State faculty in 1971.

At the time of his death, he was professor emeritus in K-State's Department of Agricultural Economics, teaching a 400-level course in agricultural policy each fall. He also served several years as chair of the Landon Lecture Patrons, who support the university's prestigious Landon Lecture Series.

A dynamic speaker, it was reported that Flinchbaugh would receive as many as 100 speaking invitations per year. He authored more than 100 publications and co-authored a textbook on agricultural policy.

Flinchbaugh's no-nonsense style was legendary, and K-State honored Flinchbaugh with its prestigious Outstanding Teacher Award three times during his career. It is estimated that he taught agricultural policy to more than 4,000 undergraduate students. He connected the university to hundreds of thousands of people by giving presentations to farmers, agricultural business groups and more through its Extension mission.

"Barry Flinchbaugh was a wonderful member of the K-State family and a friend to not only the K-State Alumni Association but to me and many of our staff," said Amy Button Renz '76, '86, president and CEO of the K-State Alumni Association. "His kindness, wit and infamous personality will truly be missed. We are honored to have an award named in honor of his family at the Association. Barry had unbelievable pride in Kansas State University and understood the important role that faculty and staff hold in strengthening the bond between alumni and their alma mater."

Read the full article.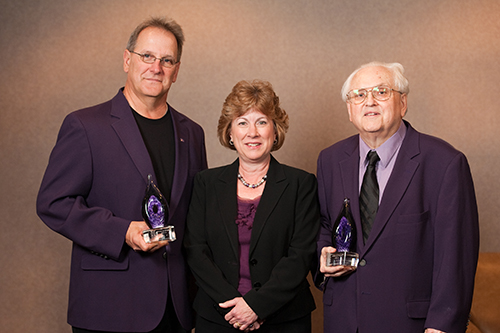 Frank Tracz (left) and Barry Flinchbaugh (right) received the Wildcat Pride Award in 2011. Also pictured: Amy Button Renz '76, '86 (center).