K-State alumni assume new leadership positions on board of directors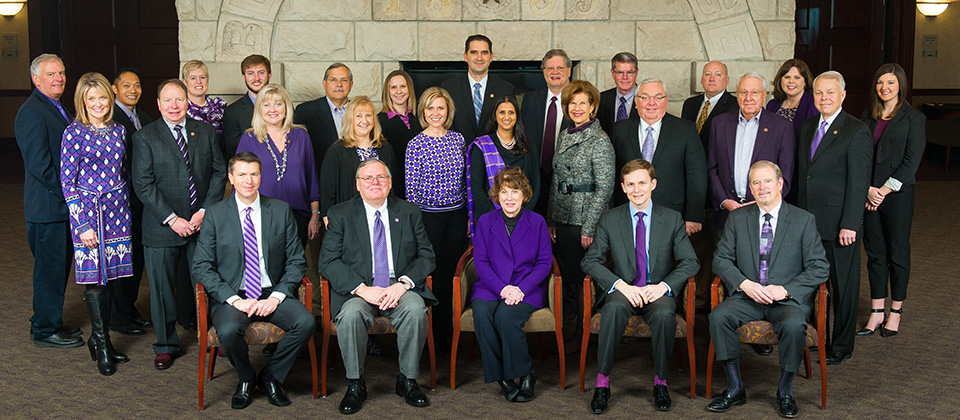 The K-State Alumni Association board of directors transitioned its membership and leadership June 4 during the board's annual meeting in Manhattan, Kansas.
Dan Yunk, Manhattan, who was named chair-elect last year, assumed his leadership position as 2016-17 chair at the annual meeting. Yunk earned his bachelor's, master's and doctorate degrees from K-State in 1971, 1975 and 1987, respectively, and is the owner of Yunk Consulting. He succeeded Travis Lenkner, Chicago, Illinois, who now fills the immediate past-chair position until June 2017. A 2001 K-State graduate, Lenkner is managing director and chief underwriting officer for Gerchen Keller Capital.
Board members elected Alan Fankhauser, Brookfield, Wisconsin, as chair-elect. He will become the chair in June 2017. A 1982 K-State graduate, Fankhauser is the project manager of consumer events marketing for Harley-Davidson in Milwaukee.
In a general election this spring, members of the Alumni Association approved a slate of four new members of the board of directors. These alumni also began their four-year terms at the board's annual meeting and will continue to June 2020.
They are Candace Hart Duncan '75, Bethesda, Maryland, a retired partner for KMPG; Debra Downing Ball '81, Eureka, Kansas, a speech/language pathologist for the Eureka Unified School District; Skye Hang Nguyen '97, Olathe, Kansas, director of marketing and communications for NCM Associates; and William Keller '72, Pratt, Kansas, president and owner of Stanion Wholesale Electric Company.
Additional board leadership includes Rand Berney '77, Round Rock, Texas, chairman, Kansas State University Foundation board of directors; Curt Frasier '73, Beloit, Kansas, treasurer; Amy Button Renz '76, '86, Manhattan, president and CEO of the Alumni Association and board secretary; Greg Willems, Manhattan, president and CEO of the KSU Foundation; and retired
Air Force Gen. Richard B. Myers '65, Manhattan, university interim president.
Two K-State students filling yearlong standing appointments also assumed their seats on the board. They are Taylor Fry, Great Bend, Kansas, Student Alumni Board president, and Jessica Van Ranken, Lindsborg, Kansas, K-State student body president.
Outgoing members recognized for their service to the Alumni Association's board of directors were Kristy Tredway Hawkins '05, Auburn, Kansas; Courtney Novak Riley '91, Hiawatha, Kansas; Allan Sicat '03, Marietta, Georgia; Tina Martin Glover '80, '84, Mission Viejo, California; and Roger McClellan '88, exiting past-chair, Wichita, Kansas.
Andy Hurtig, Wichita, 2015-16 K-State student body president and outgoing student member, also was recognized for his services.
---