Students receive scholarships from Southwest Catbackers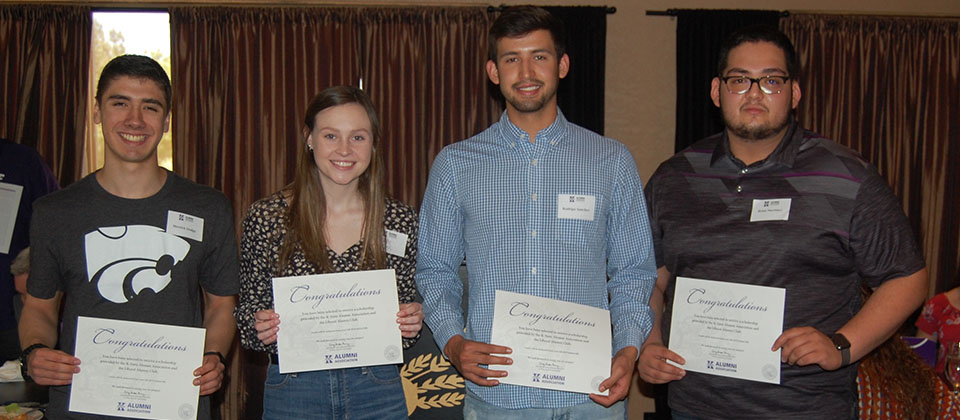 Nineteen area students have been awarded $10,350 in scholarships to Kansas State University from the Southwest Catbackers. Catbacker Clubs are co-sponsored by K-State Athletics and the K-State Alumni Association. These groups are located only within the state of Kansas. The Southwest Catbackers are located in the Liberal-Seward County area. There are more than 379 K-State alumni and friends in the Liberal-Seward County area.
The recipients are Claire Clark, Sesthleng Garcia and Rodrigo Sanchez, Hugoton, Kansas; Logan Cox, Hutchinson, Kansas; Emily Headrick, Kismet, Kansas; Sarah Aichele, Jose Andres Garcia, Caleb Brond, Joshua Diazdeleon, Merrick Dodge, Ethan Hatcher, Rebecca Irby, Veronica Lopez Rodriguez, Brian Martinez, Juliet Nava-Chavez, Esvin Ruiz-Perez, Hallie Wettstein and Haley Yancey, Liberal; and Bailey Ross, Meade, Kansas.
The scholarships were awarded by the Southwest Catbackers and the K-State Alumni Association.
"We are so pleased to congratulate these outstanding students," said Amy Button Renz, president and CEO of the Alumni Association. "The Alumni Association board of directors is committed to helping prospective students attend K-State, and the alumni club scholarship program is a vital component in assisting those efforts. We greatly appreciate local alumni and friends who have helped make these awards possible through their loyal support."
The scholarships are for the 2019-20 academic year. The Alumni Association annually awards approximately $550,000 in student scholarships with funding provided by local K-State alumni and friends and Alumni Association programming.
---