K-State students select 2020 Student Ambassadors
Two students have been chosen to represent Kansas State University as the 2020 Student Ambassadors.
Sam Bond, junior in human development and family sciences, Olathe, Kansas, and Chaz Corredor, junior in finance, Lenexa, Kansas, were announced as the ambassadors Oct. 26 during halftime of K-State's Homecoming football game against the University of Oklahoma.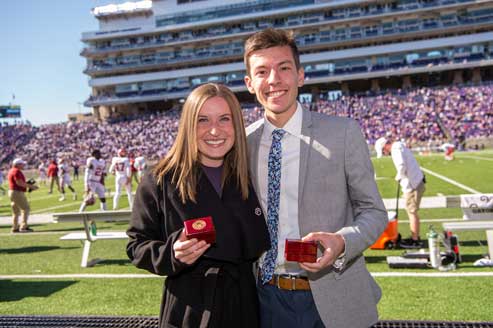 Established by the K-State Alumni Association in 1977, the Student Ambassador program elects one male and one female student each year to represent the student body at Alumni Association events throughout the state and at university activities.
Bond and Corredor will visit with prospective students and alumni; attend Student Alumni Board meetings and activities; assist with programming on campus such as the Alumni Fellows program, All-University Homecoming Committee and other special events; and assist the President's Office as needed.
They were elected during Homecoming Week by a student vote from a group of six semifinalists. The ambassadors serve a one-year term, and each receives a $1,500 scholarship, clothing from Manhattan clothing store Borck Brothers and an official K-State ring from the Alumni Association.
Typically, ambassador candidates excel academically and are extensively involved in volunteer and philanthropic activities. Bond and Corredor are role models for these qualities.
Bond is a member of Alpha Delta Pi sorority. She has served her sorority as philanthropy chair and retention specialist. Additionally, she is a certified peer educator for mental health and wellness with the Peer Advocates for Mental Wellness and Success or P.A.W.S., a student senator for the College of Health and Human Sciences, a K-State Orientation and Enrollment leader and a Wildcat Warm-up counselor. She also is involved with New Student Services and the Child Development Center. She is the daughter of Susie and Scott Bond.
"I want to be able to emulate genuine kindness and loving connections for future students and alumni of K-State," Bond said.
Corredor is a member of Delta Sigma Phi fraternity. He has served as the director of philanthropy and vice president for recruitment. Corredor also is involved with K-State Athletics' Student Advisory Committee, the Financial Planners Association and St. Isidore's Catholic Student Center. Additionally, he is involved with New Student Services and is a K-State Orientation and Enrollment leader. Corredor is the son of Mary Bryant and Carlos Corredor.
"K-State has given me the experience of a lifetime, and I can think of no greater gift to my school than to foster this passion for K-State in past, present, and future students," Corredor said.
"Like their predecessors, Chaz and Sam have a strong love for our university," said Alan Fankhauser, assistant director of alumni programs and adviser to the ambassadors. "The Alumni Association is excited to host them at our upcoming events for the year. We look forward to when they have the opportunity to meet more of the K-State family."
For more information on the Student Ambassador program, visit k-state.com/studentambassadors.
---