Homecoming Committee donates to K-State's multicultural center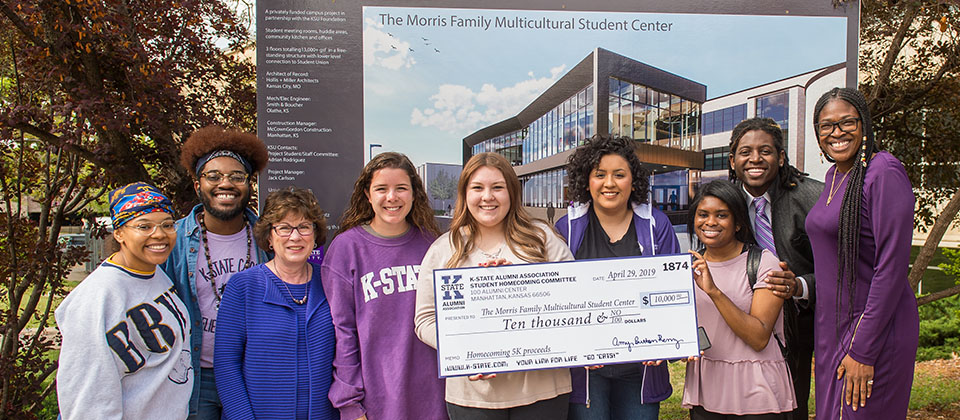 Kansas State University's All-University Homecoming Committee has donated $10,000 to the effort to build the Morris Family Multicultural Student Center. The funds were raised from proceeds collected at the 2018 Homecoming 5K run/walk.
Each year the Homecoming Committee identifies a benefactor for the 5K proceeds. Marcus Kidd, Alumni Association assistant director of student programs and All-University Homecoming chair, said the Morris Family Multicultural Student Center was selected by the Homecoming Committee because of its broad impact on campus.
"Having a place to gather that is welcoming and fosters intercultural learning is a critical need for our campus," he said. "The Homecoming Committee felt it was important to help make this need a reality. The Alumni Association is extremely proud of the work these students have put in and the money they raised to help fund the Morris Family Multicultural Student Center."
The Morris Family Multicultural Student Center will be located immediately east of the K-State Student Union and will include gathering, meeting and performance practice spaces, student and multicultural student organization group spaces, a kitchen, office spaces, prayer/meditation room, and additional core support spaces.
A check for the proceeds was formally presented at the center's site unveiling on April 29.
K-State has celebrated Homecoming for more than 100 years. The 2019 Homecoming Celebration will take place Oct. 20-26, kicking off the week with the 5K run/walk. Stay tuned for more details on the upcoming celebration.
Learn more about the Morris Family Multicultural Student Center.
---