Registration open for K-State's Homecoming 5K Run/Walk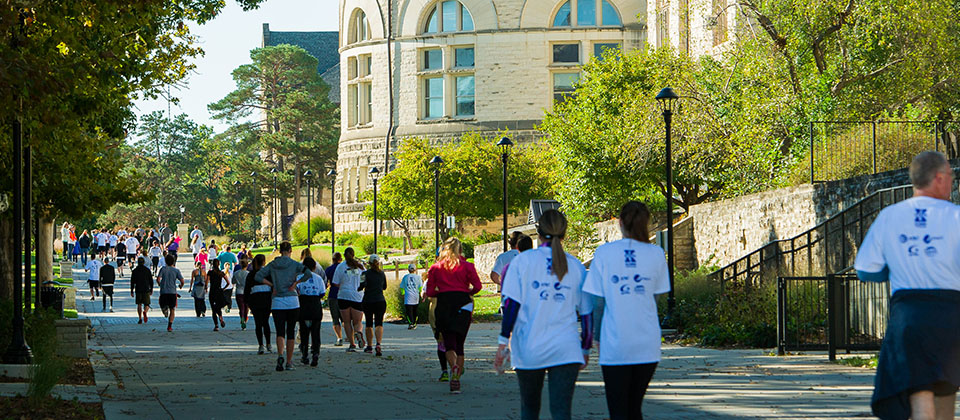 The K-State Alumni Association invites Kansas State University students, alumni, friends and community members to kick off K-State's 2019 Homecoming week by participating in the annual Homecoming Philanthropy 5K Run/Walk on Oct. 20.
This year's theme, "Manhappiest Place on Earth," salutes K-State's hometown, Manhattan. The week marks K-State's 104th Homecoming celebration. Homecoming is a universitywide celebration sponsored by the K-State Alumni Association.
Registration for the 5K, which benefits the Boys and Girls Club of Manhattan, is open and can be completed online or via mail. The annual 5K has raised more than $68,000 for community organizations since it began in 2003.
For registrations submitted online or postmarked by Oct. 10, the cost for K-State students or Alumni Association members is $17 and $20 for nonmember or nonstudents. For all registrations submitted or postmarked after Oct. 10, the cost is $25. To register online, visit k-state.com/5K.
"Each year the Homecoming Committee supports a cause or initiative through the proceeds of the 5K," said Jessica Elmore, associate director of alumni programs. "The Boys and Girls Club of Manhattan is a great resource in the community and touches so many families and youth."
The 5K course begins and ends at the K-State Alumni Center, located at the corner of 17th Street and Anderson Avenue, and travels through the K-State campus. The race will take place rain or shine. Parking will not be allowed in the Alumni Center lots. Please park in the West Stadium lots. For additional details on the 5K Run/Walk and the full schedule of Homecoming events, visit k-state.com/Homecoming.
---