170 Kansas State University students receive 2019-20 Legacy Scholarships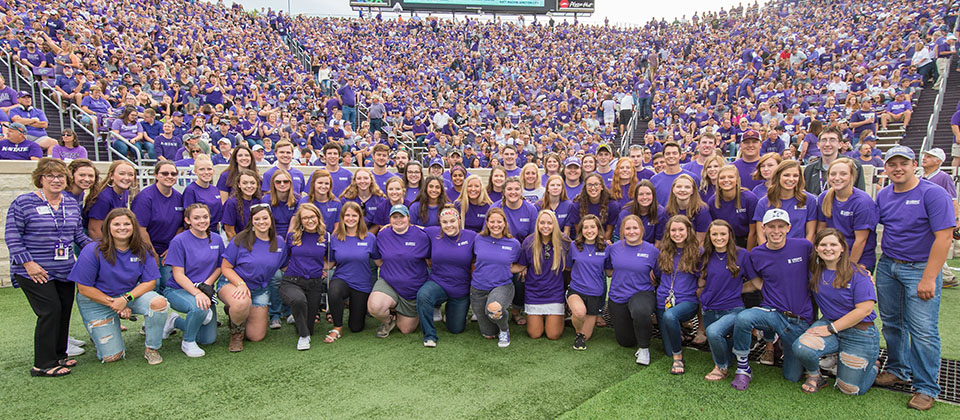 One Hundred-Seventy K-State legacies have been recognized with the K-State Alumni Association's Legacy Scholarship.
The $1,000 scholarships were awarded to 170 students who are children and grandchildren of K-State alumni for the 2019-20 academic year. K-State students receiving the scholarships are incoming freshmen as well as current and transfer students. The recipients include both in-state and out-of-state students. Applicants are considered if at least one parent or grandparent is a K-State alumnus, with preference given to members of the Alumni Association.
"Alumni across Kansas and the nation have encouraged the university and Association to address tuition issues of legacy students, and this program greatly assists us in those efforts," said Amy Button Renz, president and CEO of the Alumni Association. "The Association's board of directors is committed to helping prospective students attend K-State."
The scholarships are made possible through funds generated by the K-State License Plate program, administered by the Alumni Association for the university.
The state-issued license plates with the purple Powercat logo can be found on the back of more than 10,000 vehicles in Kansas. The program, administered locally in all 105 county treasurer offices, began in 1997, and the tax-deductible royalties paid on K-State License Plates have raised more than $4.5 million for student recognition and scholarships.
The Legacy Scholarship recipients listed by Kansas hometown Rebekah Cain, Allen; Roger Clark, Anthony; Kaylee Heimer and Adrienne Pohl, Assaria; Alicia Walker, Augusta; Hanna Schmitz and Oliver Schmitz, Axtell; Taylor Bruna, Barnes; Kendra Scott, Belleville; Avery Gates, Kirsten Joy and Karsen Odle, Beloit; Quinton Clymer, Brewster; Hunter Little, Centralia; Shelbi Emling, Chanute; Taryn Lonker, Cheney; Jordan Carinder, Cherryvale; Joseph Hornung and Jaeden Werth, Cimarron; Alice Davidson and Bethanee Plochberger, Clay Center; Anna Spexarth, Colwich; Cayden Kerr, Dodge City; Jonna Owens, Elkhart; Cody Wondra, Ellinwood; Karsen Deweese, Emporia; Kreed Curran, Farlington; Alyson Daniels, Gardner; Remington Hedges, Garnett; Christian Hawkins, Goddard; Emily Meier and Madeline Meier, Goessel; Kinsey Volk, Goodland; Nathan Buss, Grantville; Anna Frizell, Great Bend; Sean Robben, Grinnell; Kylie Hynek, Hanover; Elizabeth Eikenberry, Hays; Bryn Swearingen, Hiawatha; Aaron McDowell and Alexandra McDowell, Hill City; Matthew Denholm, Hillsboro; Emma Howes, Holton; Shannon Bellamy, Destiny Casanova-Hinshaw, Kaitlin Colle and Kevin Colle, Hutchinson; Alexis Clapp and Jeb Stafford, Independence; Katelyn Harbert, Kingman; Rachael Gros, La Crosse; Michaela Wassall, Latham; Jordan Pine, Lawrence; Josie Dulan and Gwen Pitts, Leawood; Hanna La Londe, Lenexa; Jarrod Kuckelman, Lewis; Caitlin Morgan, Liberal; Kinsey Harlan, Madison; Cody Begnoche, Luke Benfer, Aletheia Delort, Morgan Feldkamp, Yasmine Flores, Kaden Frasier, Nadiyah Gamble, Justin Gittle, Jayden Gittle, Grace Harms, Kevin Harper, Anna Hastings, Georgia Hatesohl, Seth Hoffman, William Holeman, Faith McClaskey, Sean McGimpsey, Chessa Parker, Katelyn Pinkston, Taylor Rangel, Evan Ridder, Kelsi Seiler, Logan Senecal, Elizabeth Smith, Parker Woodworth and Makayla Zeller, Manhattan; Samuel Gleason and Taylor Nikkel, Maple Hill; Kellsie Corrigan, McPherson; Kensley Fleischer, Meriden; Erin Miller, Moundridge; Griffin Kepple, Ness City; Grace Woods, Norton; Kel Grafel, Oberlin; Abbey Heller, Jacob Ostertag and Molly Smith, Olathe; Isaac Wingert, Ottawa; Ryan Bender, Logan Evans, Melinda Johns and Samantha Traffis, Overland Park; Taylor Hamon, Ozawkie; Erica Stuhlsatz, Paxico; Claire Keeten, Phillipsburg; Amanda Hoffman, Pittsburg; Avery Bolar, Graham Bolar and Kailey Rawson, Prairie Village; Ciara Hodgkinson and Kamryn Stark, Pratt; Morgan Woodbury, Quenemo; William Wright, Rose Hill; Branson Basinger and Cortney Berndt, Salina; Colton Sutterby, Savonburg; Kayla Craigmile, Shawnee; Trenton Wood, Solomon; Emileigh Dinkel and Cade Mayer, St. Francis; Alexias Rose, Sterling; Grace Hunter, Stilwell; Jenna Ketter, Tipton; Diana El-Koubysi, Justin Logan, Thomas Meek and Madison Rogers, Topeka; Amanda Hinnen, Towanda; Emma Schwertfeger and Josie Zink, Turon; Jacob Korb, Valley Falls; Christopher Hartley, Wamego; Shane Newton, Waverly; Rebekah Purvis, Westmoreland; Aubrey Wright, White Cloud; and Joshua Biby, Wichita.
Out-of-State recipients are Krishan Baniqued, Bartlesville, Oklahoma; Nicholas Yuska, Berthoud, Colorado; Gabriela Gutierrez, Eden Prairie, Minnesota; Tylar Hood, Florissant, Missouri; Andrew Dorsch, Fort Collins, Colorado; Sarah Pitzer, Fort Worth, Texas; Peyton South, Glencoe, Illinois; Kristen Kimbrell, Harrisonville, Missouri; Aidan Lammers, Jefferson City, Missouri; Quinn Hall, Catherine Nelson, Gabrielle Simms and Margaret Williams, Kansas City, Missouri; Kooper Holbrook and Tillie Wheeler, Kearney, Missouri; Rhianna Thomas, Kettering, Ohio; Caden Stirtz and Mason Stirtz, Liberty, Missouri; Garrett Brown, Lincoln, Nebraska; Hannah Klippenstein, Maysville, Missouri; Jacob Fisher, Metamora, Illinois; Kendra Marstall and Sierra Marstall, Murphy, Texas; Reed Roney, Northfield, Minnesota; Hayden Jarvis, Oakton, Virginia; Naomi Pieper, Oklahoma City, Oklahoma; Isaac Henson and Kathleen Walker, Omaha, Nebraska; Kharli Schiffner, Ozark, Missouri; Katherine Little, Raton, New Mexico; Jenna Ellison, St. Joseph, Missouri; Cora Astin, Sumter, South Carolina; Denny Graham, Van Alstyne, Texas; Hattan Mollnow, Wasilla, Alaska; Tyler Galante, West Bend, Wisconsin.
---