K-State Alumni Association unveils stained glass mural paying tribute to icons of Kansas State University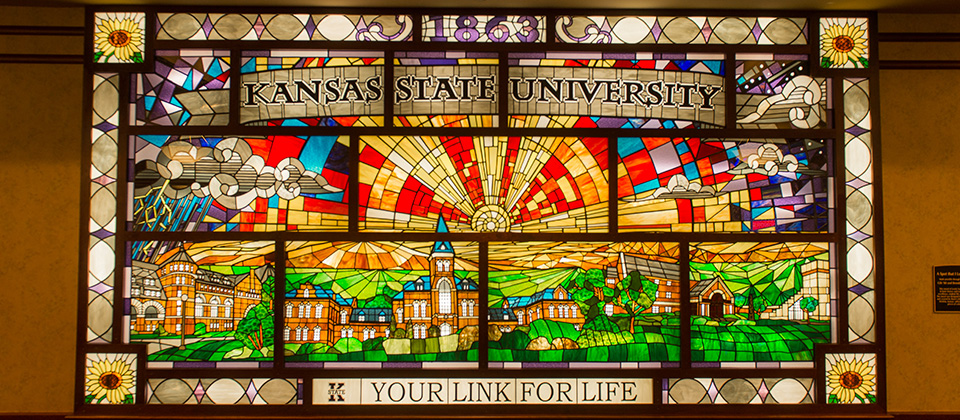 On Sept. 2, the K-State Alumni Association unveiled a stunning 14 feet x 7 feet stained glass mural paying tribute to four iconic buildings on campus – buildings that represent K-State's history and tradition, academic excellence, student life, and campus beauty. The stained glass masterpiece, revealed during a donor reception, is the newest K-State artifact on display at the Alumni Center and is located on the first floor of the facility, adjacent to the Tointon Great Room.

The mural, entitled "A Spot I Love Full Well," was made possible through the generosity of Gib and Brenda Compton of Park City, Kansas. Both are graduates of K-State, Gib in 1980 and Brenda in 1977.

"A stained glass mural representing K-State has been a vision of ours for many years," said Amy Button Renz, president and CEO of the K-State Alumni Association. "The Alumni Center was designed to serve as a welcoming home base for alumni and friends returning to campus. The many artifacts and memorabilia displayed throughout the facility are reminders of K-State's traditions and this new mural now serves as a centerpiece for our heritage. We are fortunate to have loyal and passionate alumni like Gib and Brenda Compton who made this artistic tribute possible and a talented team of individuals with the skills to make our vision a reality."

The artwork for the mural was designed by Marcus Gilbert, a 2016 K-State graduate, who entered a campus-wide design competition sponsored by the Alumni Association. The competition, open to K-State faculty, staff and students, had one guideline: create a drawing of classic K-State icons showcasing the university's tradition and history. Gilbert, a printmaker from Manhattan, submitted the winning entry which included images of Anderson Hall, Hale Library, the Alumni Center and the Berney Family Welcome Center/World War I Memorial Stadium, as well as various elements representing the state of Kansas.

A team of ten individuals from Rayer's Bearden Stained Glass in Wichita, Kansas, created the mural from Gilbert's design utilizing nearly 5,000 hand-cut pieces of colored glass. Compton Construction Services, also located in Wichita, made the wood framework for the mural and was responsible for the installation at the Alumni Center. It took approximately one year to complete the intricate work involved in making the mural.

"We are passionate about K-State and very pleased in the way Marcus's design captures the beauty of campus and the pride alumni have for K-State," said Gib and Brenda. "Rayer's Bearden Stained Glass did a masterful job in translating the design and handcrafting it into the stained glass mural. We are honored to be able to pay tribute to K-State in this way and to share this work of art with all who visit the K-State Alumni Center."

"This project truly is a dream come true for the Alumni Association," added Renz. "It was a team effort to make it possible and I thank everyone who had a role it, from Gib and Brenda, to Marcus, the team at Rayer's Bearden Stained Glass, Compton Construction Services and the staff at the Alumni Association who helped in coordinating the project. It's an achievement that we can all be proud of and will be enjoyed by generations to come."

Individuals credited for making the mural from Rayer's Bearden Stained Glass and Compton Construction Services include:
Rayer's Bearden Stained Glass
Randall Rayer, CEO
Ashley Rayer Bryan, Artist and Development
Heather Gigax, Production and Art Manager, and 2006 K-State graduate
Project Artists: Kellie Bartnick, Dani Medrano, Sterling Sowers, Michael Henesey, Gerry
Tull, Jake Thomas and Susan Olson

Compton Construction Services
Steve Rotramel

The public is invited to see "A Spot I Love Full Well" during the Alumni Center's regular office hours from 8 a.m. – 5 p.m., Monday through Friday. In addition, the Alumni Association will celebrate the Alumni Center's 15th anniversary with a Showcase Celebration from 3-7 p.m. on Oct. 12. The public is invited to attend the open house and will be able to see the mural while exploring the facility, visiting the exhibits and participating in the anniversary activities. For more details on the event visit: www.k-state.com/ac15.


---