Alumni Association announces 2018 Homecoming theme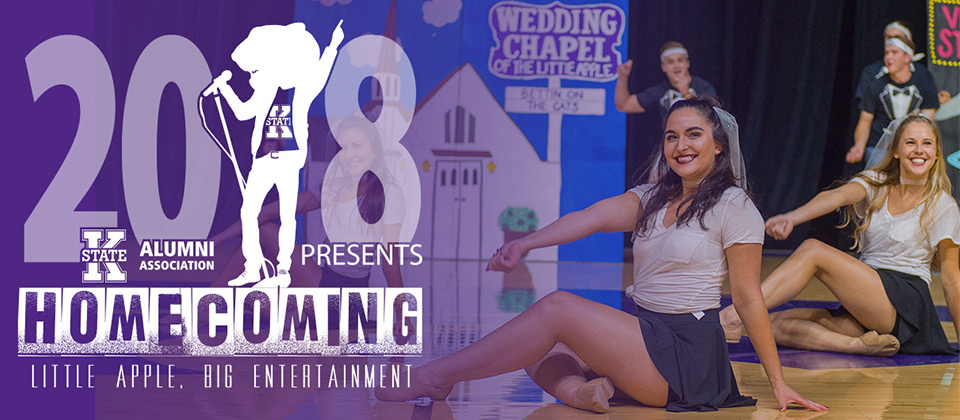 The K-State Alumni Association and Student Homecoming Committee are proud to announce this year's Homecoming theme: Little Apple, Big Entertainment.
Kansas State University's 2018 Homecoming Week will take place Oct. 7-13. The week marks K-State's 103rd Homecoming celebration. K-State students, alumni, families and friends are invited to participate in the events and activities.
"For our alumni adventures, good times and fun always abound on their next trip to Manhattan," said Marcus Kidd, assistant director of student programs for the Alumni Association. "That's what makes this place and time of year so special. And that's the inspiration behind this year's Homecoming theme: Little Apple, Big Entertainment. So, make plans to head back to Manhattan Oct. 7 through 13 and celebrate K-State by attending some of our events, which are all open to the public."
Fraternities and sororities, residence halls and student organizations interested in participating in Homecoming are invited to attend the Homecoming meeting at 6:30 p.m. Monday, Aug. 28, at the K-State Alumni Center. Learn how to get involved in Homecoming Week activities such as Pant the Chant, Wildcat Request Live, the Homecoming parade and more.
All Homecoming events are open to the public. Homecoming is a universitywide celebration sponsored by the K-State Alumni Association. The most updated Homecoming information is available here.
See who's going on Facebook:
5K Philanthropy Run/Walk | Pant the Chant | Wildcat Request Live | Children's Carnival | Parade | Pep Rally | Pregame Party
---