Two K-State graduates to receive 2019 Distinguished Young Alumni Award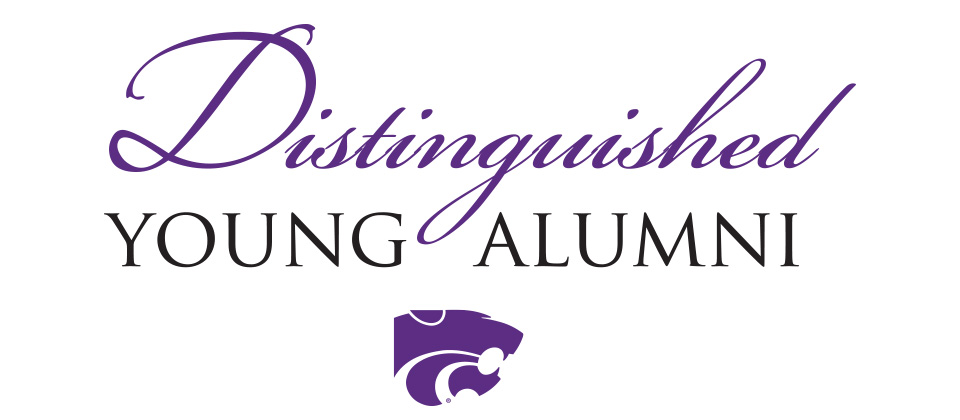 Two Kansas State University graduates — Dr. Charley Cull, Oakland, Nebraska, and Kale Monk, PhD, Columbia, Missouri — are the recipients of the K-State Alumni Association Student Alumni Board's 2019 Distinguished Young Alumni Award.
The award recognizes two K-State graduates who are younger than 35 and are using the scholarship, leadership and service experience they acquired at K-State to excel in their professions and contribute to their communities. The Alumni Association and Student Alumni Board will honor Cull and Monk when they return to campus Feb. 25-27 to give keynote presentations and visit with student groups and university classes.
"The Alumni Association is pleased to support the Student Alumni Board in presenting this award," said Amy Button Renz, Alumni Association president and CEO. "The award simultaneously honors some of our most accomplished young graduates while creating new ties among alumni, students and faculty."
Cull, a native of Oakland, Nebraska, is a veterinarian and clinical research associate and director of stocker and grazing cattle operations for Midwest Veterinary Services Inc. and Central States Research Centre Inc. of Oakland, Nebraska, and the satellite facility, Veterinary Biomedical Research Center Inc. of Manhattan, Kansas.
While at K-State, Cull was a member of Alpha Gamma Rho fraternity. He graduated from K-State in 2012 with a bachelor's in veterinary science, a Doctor of Veterinary Medicine in 2014, and a doctorate in Pathobiology in 2016. Cull was the first student to complete concurrent DVM and PhD degrees through the dual-degree scholarship program in the College of Veterinary Medicine. His doctoral research was focused on the areas of epidemiology and food safety.
Cull is a member of the Oakland-Craig Science Technology Engineering and Math (STEM) program that organizes science workshops for high school students. Additionally, he serves as a scientific mentor for a critical workforce development program called "Pathways to Tomorrow," an internship program to match non-college bound high school students with vocational and technical jobs in rural communities. Cull also is an active participant in professional organizations, including the Academy of Veterinary Consultants, the American Association of Bovine Practitioners, the American Association of Swine Veterinarians and the American Veterinary Medical Association.
"His leadership and expertise are respected by professional colleagues and industry executives, and his work has tremendous impact on academic programs and the advancement of animal health industries," said his nominator, Dr. Bonnie Rush, interim dean of the College of Veterinary Medicine at K-State.
Monk, a native of Bennington, Kansas, assistant professor, state Extension specialist, and Center for Policy and Family Research Fellow at the University of Missouri. He graduated from K-State in 2010 with dual bachelor's degrees in psychology and family studies and human services and in 2013 with a master's degree in family studies and human services.
While at K-State, Monk was a member of Mortar Board Honor Society, HandsOn K-State, K-State Cru and the Staley School of Leadership Studies.
As a professor, Monk's work focuses on establishing and maintaining healthy relationships. As a primary social context in which people develop, relationships are a vital part of life. To date, he has published over 21 scholarly manuscripts in outstanding peer-reviewed journals. His research has also been featured in prominent national and international media outlets, including The New York Post, USA Today, TIME, Science Daily, Men's Health, Huffington Post and The Wall Street Journal. As a state specialist for University of Missouri Extension, Monk oversees initiatives providing educational opportunities and programs to those who would otherwise not have access throughout the state.
"Kale's expertise and promise as a scholar alone make him an excellent candidate for this award given he has made significant contributions to communities throughout the nation by advancing research with practical utility and clinical implications," said his nominator, Briana Nelson Goff, professor of family studies and human services at K-State.
"Kale and Charley have accomplished so much very early in their careers," said Marcus Kidd, assistant director of student programs and Student Alumni Board adviser. "We are thrilled to honor these amazing leaders and look forward to hosting them on campus so they might have the chance to meet with and inspire our current K-State students."
---