171 Kansas State University students receive 2018-19 Legacy Scholarships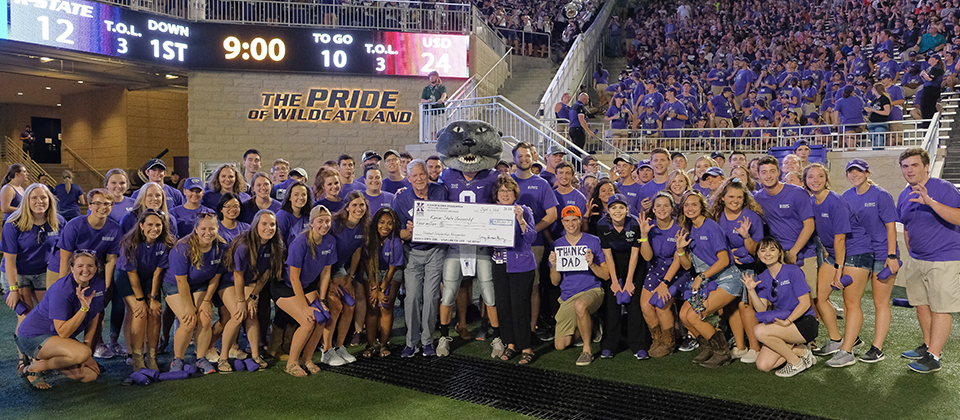 More than 170 K-State legacies have been recognized with the K-State Alumni Association's Legacy Scholarship.
The $1,000 scholarships were awarded to 171 students who are children and grandchildren of K-State alumni for the 2018-19 academic year. K-State students receiving the scholarships are incoming freshmen as well as current and transfer students. The recipients include both in-state and out-of-state students. Applicants are considered if at least one parent or grandparent is a K-State alumnus, with preference given to members of the Alumni Association.
"Alumni across Kansas and the nation have encouraged the university and Association to address tuition issues of legacy students, and this program greatly assists us in those efforts," said Amy Button Renz, president and CEO of the Alumni Association. "The Association's board of directors is committed to helping prospective students attend K-State."
The scholarships are made possible through funds generated by the K-State License Plate program, administered by the Alumni Association for the university.
The state-issued license plates with the purple Powercat logo can be found on the back of nearly 10,000 vehicles in Kansas. The program, administered locally in all 105 county treasurer offices, began in 1997, and the tax-deductible royalties paid on K-State License Plates have raised more than $4.0 million for student recognition and scholarships.
The Legacy Scholarship recipients listed by Kansas hometown Jaden Walters, Abilene; Nikole Cain and Rebekah Cain, Allen; Kenneth Deweese, Americus; Brynnan Norris, Andover; Oliver Schmitz, Axtell; Kathleen Eberth, Basehor; Quinton Clymer, Brewster; William Holeman, Bronson; Hunter Little, Centralia; Benjamin Stich and Molly Ward, Chanute; Torrey Lonker, Cheney; Jordan Carinder, Cherryvale; Trenton Busch, Cimarron; Katelyn Pinkston, Clay Center; Elissa Zerr, Colby; Anna Spexarth, Colwich; Ryan Kohr, Cottonwood Falls; Trenton Brubaker, Delphos; Jonna Owens, Elkhart; Cody Wondra, Ellinwood; Colton Potts and Mikala Potts, Elmdale; Karsen Deweese, Emporia; Brayden Carlgren, Formoso; Kendall Madison, Fort Scott; Matthew Brungardt, Galesburg; Thomas Helten, Garden Plain; Remington Hedges, Garnett; Faith McClaskey, Girard; Mary Jamison, Goddard; Jamie Nemechek, Parker Nemechek, Berkley White, Brianna White and Kelsey White, Goodland; Ella Barrett and Nathan Buss, Grantville; Vinton Robuck and Carter Zongker, Halstead; Parker Woodworth, Haysville; Alexis Schwalm and Kyle Tollefson, Hiawatha; Alexandra McDowell, Hill City; Matthew Denholm, Hillsboro; Jamie Rock, Hope; Shannon Bellamy, Kevin Colle, Grace Harms and Kai Peirce, Hutchinson; Isaiah Wicoff, Iola; Theodore Bynum, Kansas City; Abigail Harbert and Katelyn Harbert, Kingman; Carley Deege, Kinsley; Elizabeth Scarbrough, Lawrence; Ellen Bodine, David Feist, Hanna La Londe and Molly Young, Lenexa; Jarrod Kuckelman, Lewis; Caitlin Morgan, Liberal; Alexandra Aye, Louisburg; Luke Benfer, Sidney Bovee, Hunter Christensen, Jaime Clotfelter, Lacy Fisher, Grace Linder, Emily Londeen, Ryan Oberrieder, Katie Pierce and Joshua Stock, Manhattan; Justin Bina and Terry Jones, Marion; Karli Fleischer and Kensley Fleischer, Meriden; Anne Pruitt, Miltonvale; Erin Miller, Moundridge; Christian Tipton, Munden; David Hiebert, Newton; Moriah Cobb, Ogden; Ryan Brockschmidt, Leah Faust, Brooklyn Griffin, Sydney Rettig, Molly Smith and Samantha Wright, Olathe; Ryan Bender, McLain Hymer, Olivia Kunkel, Milan Minocha, McKenna Regan and Noah Wilhoit, Overland Park; Erica Stuhlsatz, Paxico; Claire Keeten, Phillipsburg; Amanda Hoffman and Seth Hoffman, Pittsburg; Graham Bolar, Prairie Village; Ciara Hodgkinson, Pratt; Tanya Brooks, Quinter; Emileigh Dinkel, Saint Francis; Amanda Guenther, Saint George; Quinton Burger, Aaron Jensen, Graham Mathews and Colton Maxwell, Salina; Colton Sutterby, Savonburg; Allison Steward, Sedan; Janelle Frasier, Sharon Springs; Alaina DeVolder, Shawnee; Chase Gigstad, Soldier; Jesse Garetson, Sublette; Rachel Brown, Diana El-Koubysi, Justin Logan and Madelyn Pieschl, Topeka; Amanda Hinnen, Towanda; Lane Etherton, Troy; Emma Schwertfeger, Turon; Evan Balthazor, Valley Center; Ashley Coffman, Vassar; Johnathan Disberger and Jordan Disberger, Wamego; Arlis Troutman, Wellington; Rebekah Purvis, Westmoreland; Aubrey Wright, White Cloud; Leah Brock, Grant Deiter, Max Domnick, Sydnee Doyle, Kealey Dwyer, Alexandra Grieve, Regan Mousley and Taylor Rangel, Wichita.
Out-of-state recipients are Hattan Mollnow, Wasilla, Alaska; Nicole Rule-Davis, Crowley Lake, California; Nicholas Yuska, Berthoud, Colorado; Stephen Malone, Fort Collins, Colorado; Collette Lemanske, Littleton, Colorado; Graham Johnson, Johns Creek, Georgia; Mitchell Bennett, Frankfort, Illinois; Stephen Kirkwood, Pingree Grove, Illinois; Madelyn Hollander, Village of Lakewood, Illinois; Brady Knowles, Apple Valley, Minnesota; Megan Niblock, Fergus Falls, Minnesota; Dylan Roney, Northfield, Minnesota; Maly Sears, Adrian, Missouri; Elena Mannebach, Benjamin Rauth, Tyler Rodvelt and Gabrielle Simms, Kansas City, Missouri; Tillie Wheeler, Kearney, Missouri; Kaitlyn Butler, Lee's Summit, Missouri; Garret Prendergast, Kathryn Prendergast and Mason Stirtz, Liberty, Missouri; Molly Bertz, Mayview, Missouri; Andrew Rash, Springfield, Missouri; Jaden Siegle, Deshler, Nebraska; Isaac Henson and Kathleen Walker, Omaha, Nebraska; John Sullivan, Superior, Nebraska; Amelia Brandt, Vandalia, Ohio; Zayin Brunson, Cedar Park, Texas; Teagan Dahl, Fort Worth, Texas; Erin Ruby, Hurst, Texas; Denny Graham, Van Alstyne, Texas; Hayden Jarvis, Oakton, Virginia; Alexander Mitchell, Gardner, Wisconsin.
---