Homecoming committee members selected to assist K-State Alumni Association with 2019 Homecoming activities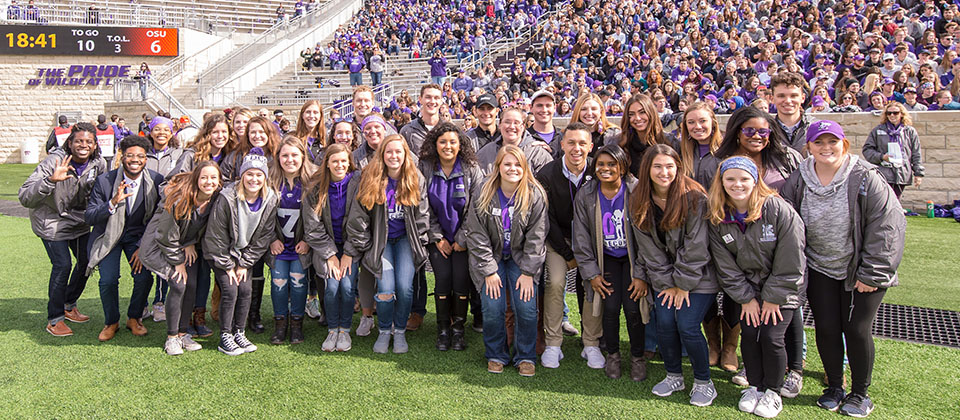 Forty-five Kansas State University students were recently selected to serve on the 2019 Homecoming student committee. Homecoming activities will take place Oct. 20-26.
The week marks K-State's 104th Homecoming celebration. Homecoming is a universitywide celebration coordinated by the K-State Alumni Association.
A committee of K-State Alumni Association staff members selects students for the Homecoming student committee after an application review process. Homecoming committee members are responsible for selecting and planning all Homecoming events, creating rules and guidelines for student competitions, and promoting and staffing all events.
"Homecoming is one of K-State's oldest traditions, and the Alumni Association has always played a role in welcoming K-Staters back to campus," said Marcus Kidd, assistant director of student programs for the Alumni Association. "These student leaders will help us continue to build on a century of cherished and memorable Homecomings."
Helping lead the committee are three K-State students who were selected by the Alumni Association to serve as Homecoming interns. The interns are responsible for coordinating several Homecoming events including the 5K run/walk, parade and pep rally in addition to other programmatic support. They are Morgan Elliott, Fort Worth, for the 5K; Daja Coker, Olathe, Kansas, for the parade; Michael Leverett, Memphis, Tennessee, for the pep rally.
"The leadership our interns take on is invaluable to the success of Homecoming," Kidd said. "Morgan, Daja and Michael will do an excellent job helping to ensure the 2019 celebration is extraordinary."
The 2019 K-State Student Ambassadors also will serve on the committee. They are Maddy Mash, Wichita, Kansas; and Tel Wittmer, Holton, Kansas.
The following in-state students were selected:
Alexis Hoskinson, Burrton
Breanna Hasenkamp, Centralia
Caylynn Hartman, Herington
Kendra Overdick, Hiawatha
Morgan Caywood, Hutchinson
Madison Carlin, Iola
Brogan Ryan, Lawrence
Sydney Stewart, Leawood
Kyra Manner, Leavenworth
Caroline Wilkus, Lenexa
Talia Calhoun, Lenexa
Emily Armbrust, Manhattan
Kendra Geisbrecht, Manhattan
Abby Denshaw, McPherson
Bennett Shipley, Olathe
Colton Owens, Olathe
Machaela Madsen, Olathe
Marissa Lux, Olathe
Owen Haake, Olathe
Rebecca McCartney, Olathe
Annaleigh Hobbs, Overland Park
Lucas Hill, Overland Park
Matt Meinhardt, Overland Park
Caroline Gambill, Shawnee
Karaline Schreiner, Topeka
Jennifer Gamblian, Topeka
Emma Meyer, Valley Center
Kristen Keene, Wichita
Tim Munson, Wichita
The following out-of-state students were selected:
Jessica Cude, Arlington, Texas
Evan McCleary, Denver
Jordan Peyton, Fort Worth
Jacob Campbell, Lee's Summit, Missouri
Addison Klover, Newalla, Oklahoma
Logan Glazier, Plano, Texas
Sylvester Badua, San Jose City, Phillippines
Katherine Trupp, Scottsdale, Arizona
Eden Monrad, Southlake, Texas
Jacob Goodwin, Springfield, Missouri
Stay up-to-date on all 2019 Homecoming activities.
---