Student Alumni Board selects 20 new members, earns two awards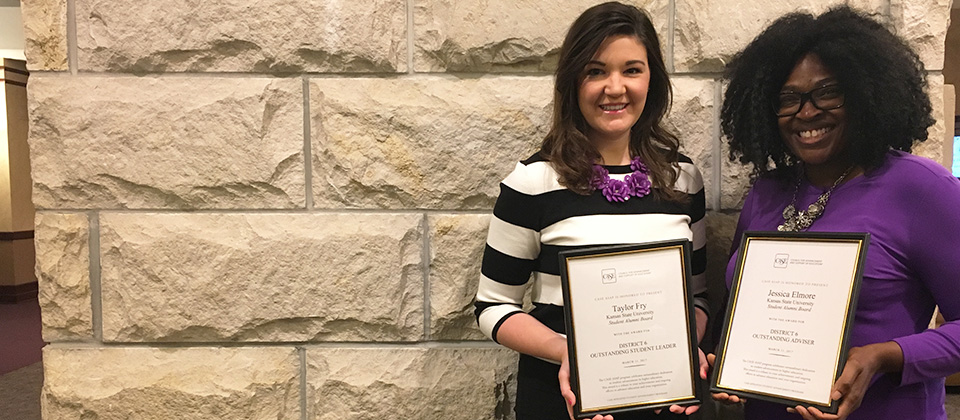 Twenty Kansas State University students recently were selected to serve on Student Alumni Board, a group of approximately 40 students who promote and serve the university and the K-State Alumni Association. SAB works to enhance the K-State experience by creating a link between the Alumni Association and past, present and future students. Additionally, SAB was recognized with two awards at the Council for Advancement and Support of Education – Affiliated Student Advancement Programs' District VI conference in March.
Jessica Elmore, an SAB adviser and associate director of diversity programs for the Alumni Association, was awarded the Outstanding Adviser Award and Taylor Fry, SAB president, Great Bend, Kansas, was awarded the Outstanding Student Leader Award. Both Elmore and Fry are in the running to receive the national awards in these categories. The winners will be announced this summer.
"Our entire Student Alumni Board works incredibly hard throughout the year to showcase K-State," said Andrea Bryant Gladin, director of alumni programs for the Alumni Association. "The recognition our SAB leaders earned this year shows their commitment to the organization and its programs."
SAB members are responsible for planning and hosting several programs to recruit students to K-State, including the For Sophomores Only program for high school sophomores and the Just For Juniors program for high school juniors and their parents. SAB members also coordinate and assist with Wildcats Forever Student Alumni Association, Grad Bash, the Distinguished Young Alumni Award, Junior Wildcats Club and other Alumni Association programs and events.
Marcus Kidd, SAB adviser and assistant director of student programs for the Alumni Association, said the Alumni Association received a record number of applicants to join SAB.
"The Student Alumni Board did an excellent job of diversifying its membership," Kidd said. "Our new members were selected from a group of nearly 150 applicants. From this pool we were able to increase the diversity of the board to better reflect the student body at K-State."
This year's incoming class of SAB students increased the number of out-state-students, ethnic diversity and college representation within the group.
"I am so pleased with this new member class and can't wait to see the amazing things that they will accomplish during their years on SAB," Fry said. "This group brings a wide variety of backgrounds and opinions which will propel SAB forward as it continues to grow and enhance its programs."
"I am excited to work with such a diverse group of passionate K-State students," Ashley Ebeck, SAB vice president for membership. "Each new member really impressed our current members during the application and interview process, so I am looking forward to the impact this group will have on Student Alumni Board."
The following students from Kansas were selected:
Kaine Fredrickson, Oberlin, sophomore in life sciences, son of Gary and Sarah Fredrickson.
Alexandra Troike, Hepler, freshman in cultural anthropology and pre-medicine, daughter of James and Alicia Troike.
Colby Works, Iola, freshman in kinesiology and psychology, son of Fred and Judy Works.
Keaton Petite, Junction City, freshman in marketing and finance, son of Keith and Traciann Petite.
Amy Scott-Sanjur, Junction City, sophomore in accounting, daughter of Gadira Scott-Sanjur.
Taylor Beashore, Kansas City, sophomore in psychology, daughter of Teri and Gary Beashore.
Carrie Mulder, Lenexa, sophomore in human resource management, daughter of Julie and Scott Mulder.
Zach Galyon, Lyons, sophomore in political science and pre-law, son of Phillip and Robyn Galyon.
Jaiden Ochoa, Newton, freshman in psychology and pre-medicine, daughter of Heather and Jimmie Ochoa.
Natalie May, Peck, freshman in entrepreneurship and apparel and textile marketing, daughter of Jeanette and Chris May.
Katie Buhler, Pratt, freshman in elementary education, daughter of Don and Sue Buhler.
Michelle Anderson, Topeka, freshman in finance and accounting, daughter of Pam and Marc Anderson.
Hunter Nelson, Topeka, sophomore in theatre and English, son of Larry and Valerie Nelson.
The following out of state and international students were selected:
Kelly Wilkerson, Columbia, Missouri, freshman in communications sciences and disorders, daughter of Carroll and Judy Wilkerson.
Erin Smith, Charleston, South Carolina, sophomore in construction science and management, daughter of Suzanne and Chris Smith.
Gloria Arpellet, Eden Prairie, Minnesota, freshman in psychology and pre-medicine, daughter of Celeste Arpellet.
Alexis Cushshon, Florissant, Missouri, freshman in architectural engineering, daughter of Stacee McKinley.
Monica Diaz, Frisco, Texas, freshman in journalism and mass communications, daughter of Cesar and Jessica Diaz.
Lolwa Alfourdari, Kuwait City, Kuwait, junior in architectural engineering.
Laura Rouw, Omaha, Nebraska, freshman in animal science, daughter of Mike and Kellye Rouw.
---