Students receive scholarships at K-State event in Garden City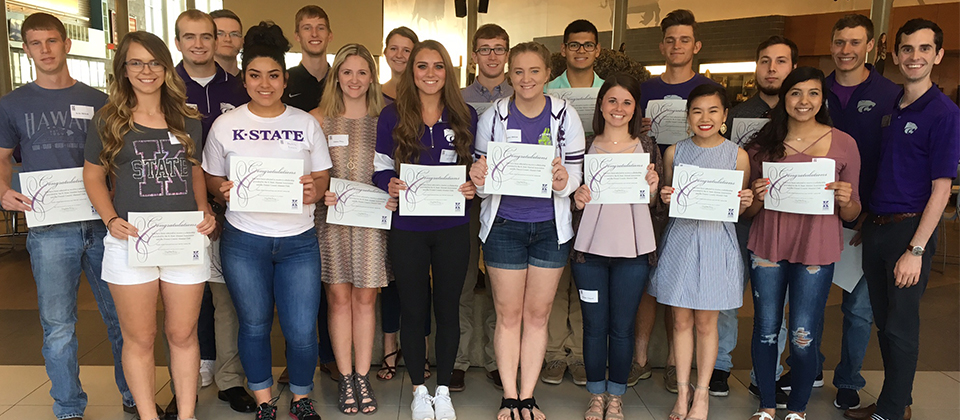 Eighteen area students were awarded scholarships to Kansas State University totaling $7,200 at the Finney County Alumni/Student/Catbacker Golf Tournament and K-State night on May 16 in Garden City, Kansas.
The recipients are Brooklyn Withers, Copeland, Kansas; Ezekiel Engler, Deerfield, Kansas; Naydelin Barrera, Tyler Cloud, Rebecca Doll, Jerica Garcia, Chris Green, Garrett Kipp, Alexander Nelson, Agustin Rodriguez and Christina Tran, Garden City; Tanner Mongeau, Holcomb, Kansas; Kelsie Conard, Leoti, Kansas; Haley Allen, Emma Price and Edward Tilton, Scott City, Kansas; and Brooke Hickok and Kyle Hickok, Ulysses, Kansas.
The scholarships were awarded by the Finney County K-State Alumni Club, the Col. Gayle Foster Endowed Scholarship Fund, Charles and Rebecca Claar Family Scholarship Fund, Mike and Judy O'Brate Family Scholarship Fund and the K-State Alumni Association.
"We are so pleased to congratulate these outstanding students," said Amy Button Renz, president and CEO of the Alumni Association. "The Alumni Association board of directors is committed to helping prospective students attend K-State, and the alumni club scholarship program is a vital component in assisting those efforts. We greatly appreciate local alumni and friends who have helped make these awards possible through their loyal support."
The scholarships are for the 2017-18 academic year. The Alumni Association annually awards approximately $400,000 in student scholarships with funding provided by local K-State alumni and friends and Alumni Association programming. There are more than 2,900 K-State alumni and friends in the Finney County area.
---