2018 Homecoming committee members selected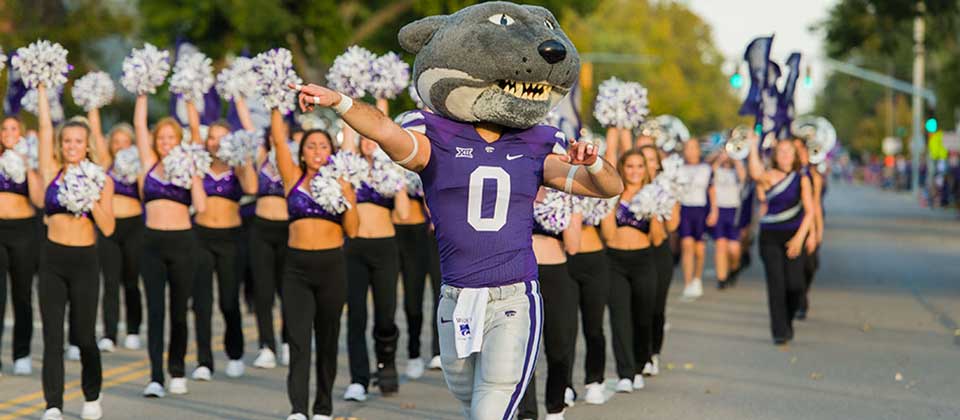 Fifty Kansas State University students were recently selected to serve on the 2018 Homecoming student committee. Activities will take place Oct. 7 through Oct. 13, concluding with the football game against Oklahoma State University on Oct. 13.
The week marks K-State's 103rd Homecoming celebration. Homecoming is a universitywide celebration coordinated by the K-State Alumni Association and sponsored by AT&T.
A committee of K-State Alumni Association staff members selects students for the Homecoming student committee after an application review process. Homecoming committee members are responsible for selecting and planning all Homecoming events, creating rules and guidelines for student competitions, and promoting and staffing all events.
"Homecoming is one of K-State's oldest traditions, and the Alumni Association has always played a role in welcoming K-Staters back to campus," said Marcus Kidd, assistant director of student programs for the Alumni Association. "These student leaders will help us continue to build on a century of cherished and memorable Homecomings."
Helping lead the committee are three K-State students who were selected by the Alumni Association to serve as Homecoming interns. The interns are responsible for coordinating several Homecoming events including the 5K run/walk, parade and pep rally in addition to other programmatic support. They are Taylor Beashore, psychology/pre-medicine, Kansas City, Kansas; Eli Berner, life science, Salina, Kansas; and Lindsay Huddlestun, social work, Overland Park, Kansas.
"The leadership our interns take on is invaluable to the success of Homecoming," Kidd said. "Taylor, Eli and Lindsay will do an excellent job helping to insure the 2018 celebration is extraordinary."
The 2018 K-State Student Ambassadors also will serve on the committee. They are Michelle Anderson, finance and accounting, Topeka, Kansas; and Darrell Reese Jr., mechanical engineering, Dallas.
The following in-state students were selected:
Alexis Burns, family studies and human services, Overland Park
Daja Coker, chemical engineering, Olathe
Katherine Donaldson, advertising, Prairie Village
Victoria Everett, management, Topeka
Sarah Flax, marketing and management, Shawnee
Alyssa Frey, social work, Manhattan
Sophia Gonzales, marketing, Shawnee
Elizabeth Hartley, public relations, Wichita
Hunter Hill, horticulture-golf course management, Valley Center
Laken Horton, journalism, Kansas City
Hanna La Londe, architectural engineering, Lenexa
Brooke McNickle, animal sciences and industry - bioscience/biotechnology option, Stafford
Matt Meinhardt, mechanical engineering, Overland Park
Kyra Nickel, human development and family sciences, Wichita
Carly Rasmussen, medical biochemistry, Topeka
Ashlyn Ries, advertising, Wichita
Mercedes Rodriguez, agribusiness, Ulysses
Brogan Ryan, architectural engineering, Lawrence
Karaline Schreiner, marketing/sales, Topeka
Jill Seidl, criminology, Valley Center
Meghan Stobel, business, Baldwin City
Austin Telck, architectural engineering, Manhattan
Madeline Triggs, industrial engineering, Topeka
Karsen Webber, human resource management, Topeka
Madeline Wilkus, life science/pre-nursing, Lenexa
The following out-of-state students were selected:
Heather Albers, apparel and textile marketing, Warrensburg, Missouri
Marissa Baird, open option, Edmond, Oklahoma
Morgan Elliott, open option, Keller, Texas
Jake Goodwin, open option, Springfield, Missouri
Caitlin Harkleroad, kinesiology, Geneva, Illinois
Evan Jones, kinesiology and Spanish, Lee's Summit, Missouri
Julia Juarez, marketing, San Antonio
Michael Leverett, social sciences, Memphis, Tennessee
Sydney Masters, life science/pre-optometry, Shenandoah Junction, West Virginia
Evan McCleary, open option, Centennial, Colorado
Caroline McFeeters, communications studies/pre-medicine, Kansas City, Missouri
Kaylee McGlasson, art, U.S. Army Garrison Stuttgart, Germany
Jordan Peyton, biological and agricultural systems engineering, Crowley, Texas
Christopher Rieber, business, Orange, California
Dhruthi Singamsetty, biology/pre-medicine, India
Megan Stoa, nutritional sciences/pre-medicine, Scottsdale, Arizona
Katy Trupp, biology and secondary education, Scottsdale, Arizona
To stay up-to-date on all 2018 Homecoming activities, visit www.K-State.com/Homecoming.
---